In 2015, Alice Cooper along with Johnny Depp and Joe Perry introduced the world to The Hollywood Vampires. The name is fitting in that in the 1970's Alice was also part of a celebrity-drinking club that went by the same name. The group would meet in a loft of the Rainbow Bar and Grill in Hollywood and see who could out drink the others. Some of the principle members of the group included Alice of course, Keith Moon, Ringo Star, John Belushi, and John Lennon. Those days are long gone as are a fair amount of its membership.
As part of his dedication to honor those lost, Alice formed The Hollywood Vampires with Johnny Depp and Joe Perry of Aerosmith.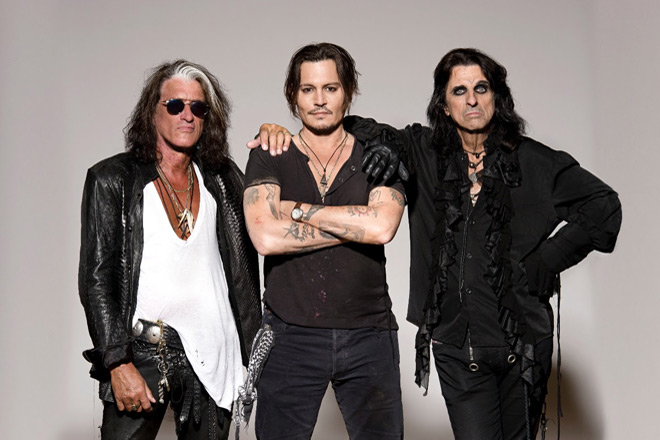 In 2019, The Hollywood Vampires will release their sophomore album called Rise.
The opening track "I Want My Now" speaks Dirty Diamonds era Alice Cooper. With Joe Perry and Johnny Depp on guitar, it is the first hint that there is some serious chemistry. Rise transitions into "Who's Laughing Now," an old school sounding track with some wicked bass. As with any Alice project Rise includes the ominous introductions like "How The Glass Fell," which leads into the groovy old school bluesy sounds of "The Boogieman Surprise." A couple royal guests on Rise include Jeff Beck & John Waters on "Welcome To Bushwackers."
A voice you'll remember…
Rise not only showcases original material but three covers that hold true to the mission of The Hollywood Vampires. The first is "Heroes" which was originally sung by David Bowie and is magically recreated with Johnny Depp on vocals. If you ever wondered if Johnny Depp has a good voice, wonder no more. Depp not only captures the essence of Bowie's voice beautifully but also encapsulates the subtle nuances that were David Bowie. Joe Perry's guitar work on "Heroes" is absolutely breathtaking. He flows through each verse with ease and so effortlessly.
Another cover is Jim Carroll Band's "People Who Died." The Vampires carry the soul of Carroll's version and it comes across with a punk flare to it. "People Who Died" is one of my favorite tracks on Rise. Johnny sings lead vocals with the swag you would expect from Johnny.
The third cover is Johnny Thunder's "You Can't Put Your Arms Around A Memory." Joe Perry sings it masterfully with a Mark Knopfler sound in his voice.
An Alice project would not be complete without a song called "Mr. Spider." The track has a Welcome to My Nightmare essence to it and with Depp and Perry on guitar it rises to the top as a favorite.
Then we come to "We Gotta Rise." Think of a modern day "Elected" and you will love this song. Its parade-like sound will leave you wanting to join a marching band just to play it.
Rise comes to a fitting closure with "Congratulations." The best way to describe this track is a vocal soliloquy provided by Depp.
An album you won't forget…
To call The Hollywood Vampires a 'super group' is an unfair categorization. Yes, they all have their successes rooted in other projects, but it is obvious from the first riffs that Rise was built on passion and chemistry. That doesn't happen just by sticking a group of legends together. The Hollywood Vampires have just raised the bar for any collaboration and they will go down as one of the best in history.
Be a part of history and get your copy of Rise when it releases on June 21, 2019 via earMusic.