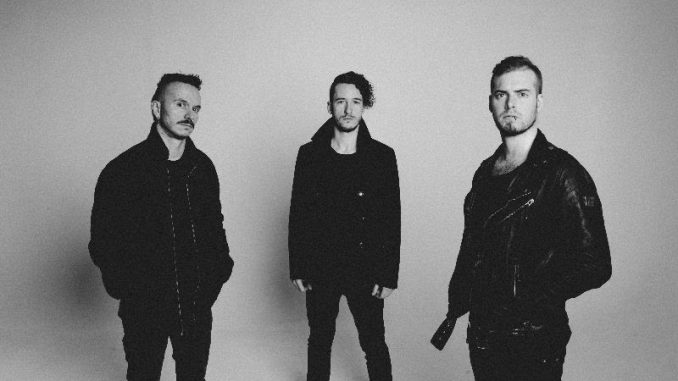 New EP 'SOLITAER' Coming August 26th!
German progressive metal trio The Hirsch Effekt have released their new single "Palingenesis", along with a music video. The new track is the second single taken from their upcoming EP 'Solitaer', out August 26th, 2022 via Long Branch Records.

Stream PALINGENESIS here: https://thehirscheffekt.lnk.to/solitaer

Watch the video here: https://youtu.be/7SgQ1xLBmn4

The Hirsch Effekt bassist Ilja John Lappin on PALINGENESIS:

"PALINGENESIS is my contribution to the SOLITAER EP, on which each band member wrote a song. It's the memory of a path that I inevitably had to take. When life as we knew it suddenly came to a stop with the first lockdown of the COVID-19 pandemic, I was forced to confront a very dark place that I had mentally arrived at. A crisis of purpose, sealed by a cycle of loneliness and depression as well as the tireless and at the same time unstable routine of the previous years, unfolded with full force in a new, unknown surrounding. During this long period of isolation, I took a desperately needed break for myself. In able to stop. In able to understand who I actually had become over the years and where I had landed in life. PALINGENESIS is a hymn to the battle itself. To your own strength, of which you're often sure you no longer have, especially when greater, darker clouds are gathering on the horizon once again. A hymn to the fight back to your own heartbeat."
The Hirsch Effect – "Palingenesis" (Official Video)
Tracklist SOLITAER LP:
Side A
PALINGENESIS
NARES
Side B
AMORPHUS
GREGAER (Solitaer Version)
Tracklist SOLITAER / GREGAER CD:
SOLITAER
1 PALINGENESIS
2 NARES
3 AMORPHUS
4 GREGAER – Solitaer Version
GREGAER
5 NATANS – Orchestral Version
6 DOMSTOL – Orchestral Version
7 KOLLAPS – Orchestral Version
8 GREGAER – Orchestral Version
'SOLITAER' will be released as limited and serially numbered LP Edition incl. black vinyl, Exclusive Napalm Records Shop Edition incl. colored vinyl, CD Edition incl. both 'SOLITAER' and 'GREGAER' EP's, stream and download. The Hirsch Effekt's latest vinyl EP 'GREGAER' is now available again as a limited reissue with red colored LP.
All formats are available for pre-order here: https://thehirscheffekt.lnk.to/solitaer
THE HIRSCH EFFEKT
SOLITAER TOUR 2022/2023
04.08.22 DE, Elend – Rocken am Brocken
17.08.22 UK, London – New Cross Inn*
18.08.22 UK, Reading – The Face Bar*
19.08.22 UK, Brighton – Green Door Store*
20.08.22 UK, Bristol – ArcTanGent
02.09.22 DE, Bremen – Tower •
03.09.22 DE, Erfurt – Engelsburg •
08.09.22 DE, Bochum – Rotunde +
09.09.22 DE, Saarbrücken – Garage +
10.09.22 DE, Augsburg – Soho Stage •
11.09.22 CH, Luzern – Sedel •
14.09.22 DE, Leipzig – Naumanns +
15.09.22 DE, Marburg – KFZ +
16.09.22 DE, Siegen – Vortex +
17.09.22 DE, Düsseldorf – Tube +
21.09.22 DE, Hamburg – Logo +
22.09.22 DE, Wiesbaden – Schlachthof +
23.09.22 DE, Göttingen – Exil +
24.09.22 DE, Braunschweig – Eulenglück +
24.02.23 DE, Rostock – M.A.U Club
25.02.23 DE, Kiel – Die Pumpe
01.03.23 DE, Nürnberg – Z-Bau
04.03.23 DE, Stuttgart – JuHa West
* Special Guest: Sunfall
• Special Guest: Anthony Williams
+ Special Guest: A Kew's Tag
The Hirsch Effekt are:
Nils Wittrock (Guitar, Vocals)
Ilja John Lappin (Bass, Vocals)
Moritz Schmidt (Drums, Vocals)
For More Info Visit: