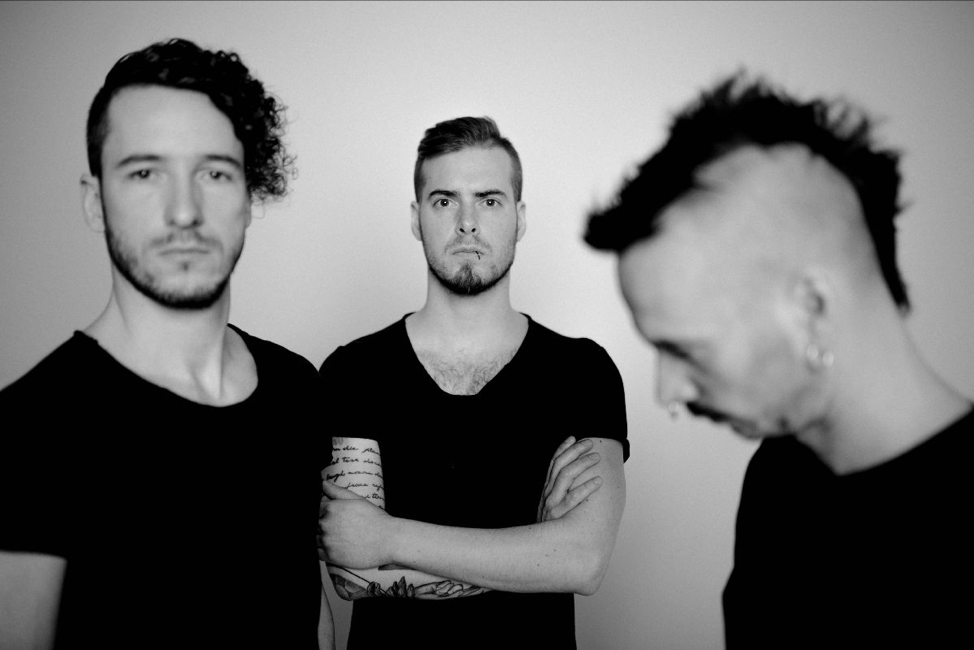 Album "KOLLAPS" Coming May 8th, 2020
The Hirsch Effekt return with their new single NOJA. It's the first track from the bands 5th studio album KOLLAPS coming May 8th, 2020 via Long Branch Records. KOLLAPS encounters everyday madness with elaborate counterpoints and ludicrous lyric lines. In a heavier manner, the band slips into the roles of other, social actors to reflect the aspects of their agenda: a dispute with the systematic collapse is thematized from the perspective of the "Fridays For Future"-movement, depicted in a musical dainty or a bizarre way, then again also to corrode opposers in a strobe-like manner.
"NOJA" is now available as Stream and Download on all digital platforms.
The Hirsch Effekt about the new single "NOJA":
"NOJA – equivalent to panic or fear – makes an allusion to our musical roots. Partially, the song pays reminiscence to the band The Fall Of Troy. We actually even ended up dubbing some musical parts in the piece after their song names. The intro was firstly only an attempt to use a delay effect in a certain way, that musician Steven Wilson enthusiastically thematized in a rig rundown video on Youtube. Somehow this song suddenly came about from all of that. The rap part was originally performed by Nils in English and intended to be a spontaneous prank at a vocal session in our rehearsing space."
Tracklist:
1 KRIS
2 NOJA
3 DEKLARATION
4 ALLMENDE
5 DOMSTOL
6 moment
7 TORKA
8 BILEN
9 KOLLAPS
10 AGERA
The Hirsch Effekt's Nils Wittrock about the album cover and title:
"Kollaps – the Swedish equivalent to "collapse" – is the name of a book, which I stumbled upon while doing research on the album's overall theme. In it, the author investigates why historical societies perish and designates conclusive factors, that could lead to a perishing of present-day societies. Remarkably, the man-made climate change ranks first, although the book saw the light of the day already fifteen years ago. As an example for an extinct, historical society, the inhabitants of the Easter Island also find mention in Kollaps. In line with this, the title track bears the same name. Together with the song "Torka" it tells its own, fictional story, that could have taken place at the mentioned site. For all titles on the album (except "Allmende") we chose a term that either derived from the Swedish language or existed in it itself, hereby alluding to the famous, Swedish environmental activist Greta Thunberg.
With "Kollaps" we once again continued our cooperation with American artist Alejandro Chavetta, with whom we've worked already for the past 11 years. To us as a band it's invaluable to receive such a unique artwork from album to album, that at the same time has become our corporate identity and indivisible from our semblance. Even if Alejandro's take on the cover of "Kollaps" turned out more colourful this time, it's obvious at first sight that it's a "The Hirsch Effekt" album. The elements and the executions are fitting to and in line with the album theme, in which the movement of young adults and kids are lyrically thematized. Besides from the skull, which has become a recurring element in Alejandro's works for the band, dangerous and wild animals can be spotted as well as Latin terms for life and death. In between them the upper body of a man has been drawn to attention in a way, although surrounded by menace, may still have the control over the direction he's heading to."
THE HIRSCH EFFEKT "KOLLAPS" TOUR 2020
presented by VISIONS, FUZE, GUITAR, FRITZ-KOLA & IMG STAGELINE
*Special Guest: HYPNO5E
07.05. DE, Hamburg – Logo*
08.05. DE, Hannover – Musikzentrum*
09.05. DE, Karlsruhe – Stadtmitte*
10.05. DE, Köln – Club Volta*
11.05. DE, Frankfurt – Nachtleben*
13.05. AT, Wien – Flex Café*
14.05. DE, München – Backstage Halle*
15.05. DE, Jena – F-Haus*
16.05. DE, Berlin – Gretchen*
23.05. DE, Marburg – KFZ
28.05. DE, Bochum – Rotunde
29.05. DE, Dresden – Beatpol
22.08. UK, Bristol – ArcTanGent Festival
11.-12.09. DE, Bremen – Hellseatic Festival
After their last album "Eskapist" (2017), which charted #21 on the German album charts, and formidable show-offs at Wacken Open Air, Full Force Festival and as recent headliners at the renowned Euroblast Festival, The Hirsch Effekt have now spawned their new ogre. Musically, the trio from Hanover, Germany, has once again settled in the microcosm of progressive metal and enhanced their songs with their typical trademark of – at first glance totally out of the line – genre-hopping.
Similar as on previous records, it happens again by Hirsch-style chopping of parts and beats, that first off felt safe and usual. In between chorals resound, helping to find one's way back to a necessary recollection. On the one side it's a euphonious, on the other side a hurting listening experience that leads to a heightened perception of the exposure of the human disorientation, and serves as a call to the solitary consciousness of courageous individuals – to gather together at concerts.
Live, this symbolic demise is celebrated purification. This can be celebrated together with the fans at upcoming shows, by the way of indulging unison and clamor, questioning oneself whether the own heart and thoughts have gone prone to egoism or still are in line with the harmony of hope, that is hidden within "Kollaps".
Line Up:
Moritz Schmidt (Drums)
Nils Wittrock (Guitar, Vocals)
Ilja John Lappin (Bass, Vocals)
For More Info: