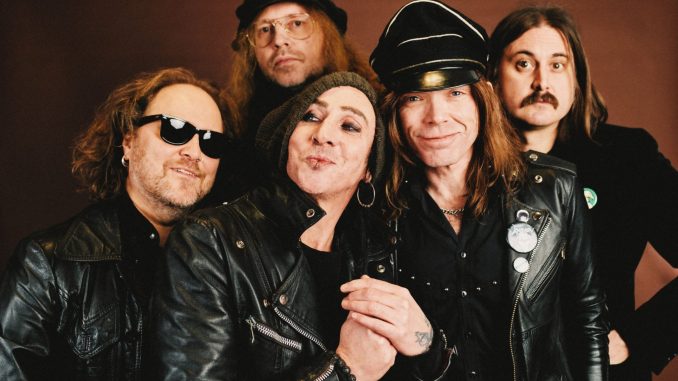 More Live Dates Confirmed For Autumn 2022
Today, Swedish high-energy rock'n'roll band THE HELLACOPTERS have released an EP called Through The Eyes Of The Hellacopters. It contains the four bonus tracks that have previously only been available on the 2CD Box edition of their highly-acclaimed comeback album, Eyes Of Oblivion, namely Eleanor Rigby' (The Beatles Cover), 'Circus' (String Driven Thing Cover), 'I Am The Hunted' (GBH Cover) and 'I Ain't No Miracle Worker' (The Brogues Cover). Currently, the EP is only available as a digital album as the limited run of 10" vinyl has already sold out!LISTEN TO THROUGH THE EYES OF…: hellacopters.bfan.link/through-the-eyes-of-EPFurthermore, THE HELLACOPTERS have announced a few more European live shows for 2022. Scroll down for a list of all dates that have been confirmed so far-

SOME OF THE PRAISE FOR THEIR LATEST ALBUM, EYES OF OBLIVION:
"
The album adds another exclamation mark to one of the most entertaining bands of the past few decades.
"
– VISIONS (DE) – Album Of The Month
"
What a band! What a comeback! […] perhaps one of their strongest albums to date.
"
– GUITAR (DE) – Album Of The Month
"The rock'n'roll album of the year" […] "all killer, no filler!"
– ROCK HARD (DE) – Album Of The Month
"
Fast, loud and exhilarating, Eyes Of Oblivion is a most welcome return to action.
"
– CLASSIC ROCK (UK)
"
Hurray, The Hellacopers are back! […] one of the best albums in the history of the band.
"
– METAL HAMMER (DE) – Soundcheck #2
"
[…] a resounding return and well worth the wait. Welcome back. We've missed you.
"
– FIREWORKS (UK)
"
Eyes of Oblivion is the best possible comback
"
– SCIENCE OF NOISE (ES)
"
[…] snappy, timeless rock'n'roll that demands to be played live.
"
– CLASSIC ROCK (DE)
"
A new album by The Hellacopters in 2022 is a big deal if you're into electric guitars and catchy choruses
"
– SWEDEN ROCK (SE)
"
Even after the long hiatus, The Hellacopters remain the gold standard of retro rock with a punk edge and grand choruses.
"
– POWERMETAL.DE (DE)
REVISIT THE SINGLES & VIDEOS FROM EYES OF OBLIVION:
THE HELLACOPTERS were formed in 1994 by Nicke Andersson (vocals and guitar), Dregen (guitar), Kenny Håkansson (bass) and Robert Eriksson (drums). At that time Andersson was renowned in the metal scene for his work in well-known Swedish death metal band ENTOMBED and Dregen had built a reputation as co-founder and guitarist of his main band BACKYARD BABIES. Next to THE HIVES and THE BACKYARD BABIES, THE HELLACOPTERS are considered one of the most important and influential Swedish rock bands of the 1990s and 2000s – they achieved two Gold certifications, won the Swedish Grammy and a Kerrang! Award, have amassed 100 million streams to date and have supported and toured with the likes of The Rolling Stones, Kiss, Black Sabbath, ZZ Top or the Foo Fighters. They have released seven albums, ranging fuzzed-out & supercharged garage punk on Supershitty To The Max! (1996) & Payin' The Dues (1997) to perfectly crafted & soulful high-energy rock'n'roll with a strong vintage vibe on the following albums, Grande Rock (1999), High Visibility (2000), By The Grace Of God (2002) and Rock & Roll Is Dead (2005). A compilation of cover songs called Head Off was released in 2008 and marked the band's last album before ultimately dissolving. In addition THE HELLACOPTERS have released almost four dozen singles, splits and EPs until this day, most of which got the limited 7inch or 10inch vinyl treament, making them a vinyl collector's dream … or worst nightmare.THE HELLACOPTERS reunited in 2016 to play a few shows for the 20th anniversary of their debut album, and have proven an unstoppable force ever since, performing at Sweden Rock Festival, Psycho Las Vegas, Download, Hellfest, Roskilde, Ilosaarirock, among others. In October 2021 they announced that they had signed a deal with Nuclear Blast Records and a new album would be in the works for Spring 2022. The first new single, 'Reap A Hurricane,' saw the light of day on December 17th, 2021, and was premiered live on stage at a sold out show at Globen in Stockholm on the very same day. Their critically acclaimed 8th studio album, Eyes of Oblivion, was released on April 1st, 2022, and has gained them international chart success, e.g. in Sweden (#1 for two consecutive weeks), Finland (#2 Physical), Germany (#3 Album Charts), UK (#5 Rock), Switzerland (#11 Album Charts) and many other countries.
The Hellacopters – Live in Concert 202224 Jun – Oslo, Tons Of Rock Festival, Norway 03 Jul – Bilbao, Bilbao Bizkaia, Spain 29 – 30 Jul – Reymire, Sweden 19 Jul – Athens, Release Athens, Greece 22 Jul – Ullevi, Gothenburg, Sweden w/ IRON MAIDEN, Airbourne 30 Jul – Rejmyre, Skogsröjet, Sweden 06 Aug – Pori, Porispere, Finland 27 Aug – Hamburg, Damage Done Fest, Germany 19 Nov – Eindhoven, Helldorado, Netherlands 21 Nov – Köln, Palladium, Germany w/ Kadavar & The Datsuns 22 Nov – Berlin, Columbiahalle, Germany w/ Kadavar & The Datsuns

(more dates to be confirmed!)