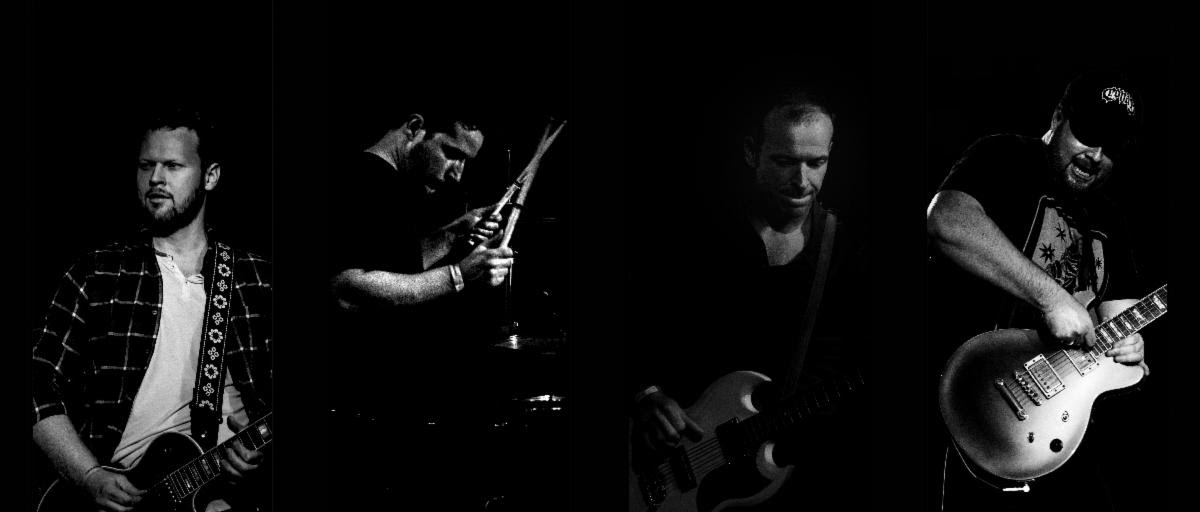 Love Like Machines is the forthcoming new full-length from Memphis-based psychedelic blues rock veterans, THE HEAVY EYES, set to drop March 27th via Kozmik Artifactz.
Their fourth full-length and first new offering since 2015's critically adored He Dreams Of Lions, THE HEAVY EYES continues to deliver their fuzzed out, bluesy, hypnotic riffs, this time with the addition of long-time recording engineer, Matthew Qualls, as second guitarist. Adding a new layer of depth to their groove, Qualls – who's worked with the band for many years and has performed with them live in the past – enabled the band to collaborate in a different way exploring new song structures, tones, and attaining a bigger sound overall without stripping any of the grittiness and love of '60s and '70s rock that has shaped their sound since inception.
In advance of the release of Love Like Machines, The Obelisk is currently streaming "Late Night," noting of the album overall, "Their sonic identity remains based around their songwriting, and though Qualls and [Eric] Garcia both add percussion here and there, [Tripp] Shumake blends acoustic and electric guitar on opener 'Anabasis,' and the later part of 'Bright Light' and the especially catchy fuzzer 'A Cat Named Haku' dig into highlight low end and drum compression, the overarching impression Love Like Machines makes – the album's title line delivered in side A's 'Late Night' – is one that can't help but be considered straightforward with such a focus on structure and such tightness of their performance. The grooves swing and aren't shy about it, and Shumake"s vocals and Southern-tinged lyrical patterns can call to mind Clutch, All Them Witches, and Valley Of The Sun at any given moment – and that's before you get to the hyper-Queens of the Stone Age vibes of the penultimate 'Vera Cruz' (with guest piano by Carmen Fowlkes) – but if THE HEAVY EYES are sending a message in this sharp-dressed ten-track/thirty-four-minute outing, it's that they're getting down to business."
Read more and stream "Late Night," courtesy of The Obelisk, at THIS LOCATION.
The ten-track Love Like Machines was produced by Qualls in New Mexico and Memphis and comes shrouded in the kaleidoscopic cover art of Emil Orth. The record will be released digitally by the band with Kozmik Artifactz handling the vinyl edition this spring.
Find Love Like Machines preorders HERE where first single, "The Profession" can be streamed.
Despite the rabid reception of their first three albums, Love Like Machines almost never existed. In 2017, the band was put on pause, with each member living in a different state. Spread across the Southwest and Midwest, there were new jobs, new cities, a marriage, and even kidney disease. In short, there was every indication that the pause might become permanent. But by 2019, THE HEAVY EYES had found a second wind and was actively working on new material, exchanging beats, licks, and lyrics long-distance. After two bouts of recording, Love Like Machines is finally here, five years in the making.
THE HEAVY EYES is currently booking a European tour for early October 2020 and will appear at Keep It Low Festival in München, Germany with more dates to be announced in the weeks to come.
THE HEAVY EYES Live:
10/09-10/2020 Keep It Low Festival – München, DE
THE HEAVY EYES:
Tripp Shumake – lead vocals, acoustic/electric guitar
Matthew Qualls – electric guitar, percussion, backing vocals
Wally Anderson – bass guitar
Eric Garcia – drums/percussion
Guests:
Justin Toland – guitar tracking, solo ("God Damn Wolf Man")
Justin Tracy – guitar solo ("The Profession")
Carmen Fowlkes – piano ("Vera Cruz")