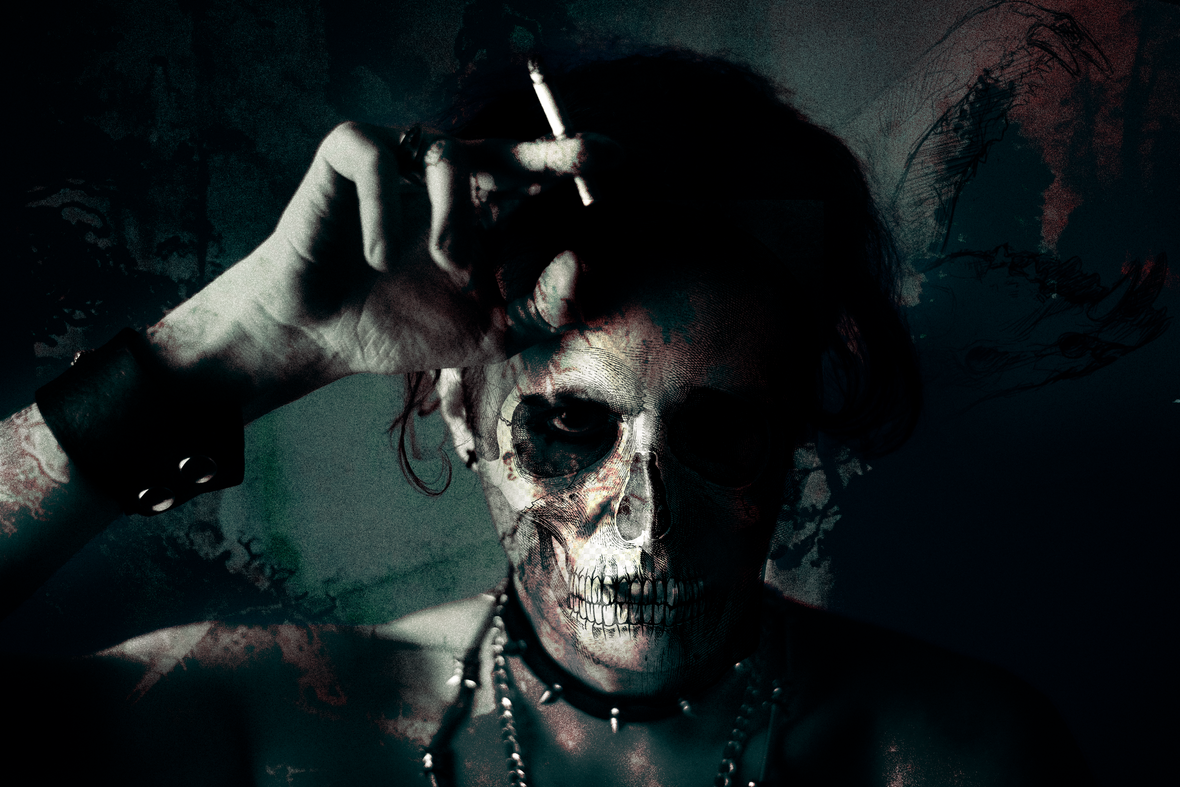 Heavy Metal / Industrial artist THE HATE CLUB has released their new EP titled DEATH OF THE PROTAGONIST via The Label Group/INgrooves.
"DEATH OF THE PROTAGONIST signals new growth of THC as an artist and a band, thus moving toward heavier sound for a specific reason. Compared to previous EPs and releases DOTP aims at releasing inner tension and turmoil that is tearing the world and society apart today. There's no need for words to explain how you feel, but rather for energy of music to speak for itself" says Alex Poe.
An artist needs room for growth and the ability to live on the edge. Unwilling to be defined by merely one element or another, Alex Poe is a one-man band quenching his creative thirst with The Hate Club.
An Industrial Metal act spawned in 2017 from Poe's desire to satisfy a diverse vision, The Hate Club is a mix of social satire and aggression. While still taking shape as a musical entity, the journey for Poe began much earlier on with eccentric tastes ranging from Jazz to Rock-n-Roll.
A native of the Ukraine, Poe left the confines of home at only 18 years of age with his eyes set on Los Angeles. Now calling the City of Angels his own, as a self-starter he has already released 3 EPs, several singles, as well as multiple music videos. Very hands on, he has also organized 2 DIY tours in the US, achieved formidable online press placement, and remains active performing on the West Coast.
Yet still this does not tell the whole story of The Hate Club. With The Hate Club's eyes set on the future, Poe continues to spread his wings as a triple threat: writer, producer, and performer. Often bipolar in approach yet never lacking sincerity or originality, The Hate Club lies somewhere in between Nine Inch Nails, Led Zeppelin, and Gorillaz. Possessing a Punk Rock attitude with a harsher Electronic and Heavy Metal-edged soul, The Hate Club is a reflection of the hypocrisy that is society. Something Poe is fascinated by, look at The Hate Club as the agnostic peddler not dragging you into the fire, but enticing you to observe from afar.
Well-versed in both music and literature, Poe proudly flies the flag of his eclectic background. Factors that only add to the depth of an ever-evolving sound, he exclaims, "I think of music as a painting – it tells a story and has a hidden meaning, an argot. While the song stays one, ways of hearing it are incalculable."
Now set to write the next chapter in The Hate Club's saga, out comes the pivotal Death of The Protagonist EP. A new layer of artistic development, and the stepping stone for a plotted full-length album, it is harsher yet more refined. It is The Hate Club refocused and ready to sweep the door of curiosity wide open, only to step out of the shadows and into the light.
"I think of music as a painting – it tells a story and has a hidden meaning, an argot. And while the song stays one, ways of hearing it are incalculable" says Alex.
All songs written, recorded, instruments played, produced and engineered by Alex Poe
The Hate Club – Fire (Anime Music Video Edit) 350,000 streams on Spotify: https://www.youtube.com/watch?v=KKS-RiRETqs&feature=youtu.be
The Hate Club – Hello, My Friend (Official Music Video, English Subs): https://www.youtube.com/watch?v=BC9wQKzXbe4&feature=youtu.be
TRACK LISTING:
1 – CERBERUS
2 – A DYING DREAM
3 – I AM A DISEASE
4 – MY NAME IS LEGION