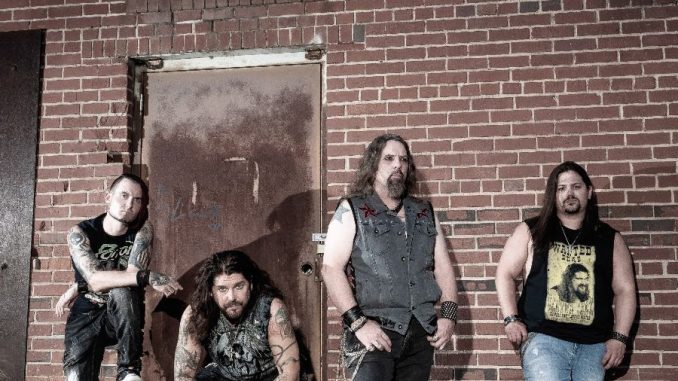 North Carolina hard rock quartet THE FIFTH are set to hit the road in support of their self-titled Ep, currently out on Weapon Records / Vanity Music Group. Dubbed the 'Calm Before the Storm' Tour it's the first opportunity for the band to play their new release in a live situation.
Frontman Roy Cathey says, "It's finally great to get out there to play the new record in front of an audience. We've had a couple of false starts that Covid interfered with. We're just happy to finally get out there and destroy some stages."
The dates begin on 25 March in Martinsburg, WV, run through the Midwest and mid-Atlantic region and winds up back in West Virginia on 2 April. Guitarist, Justin Womble adds to Cathey's anticipation, "I can't wait to get out on the road on the 'Calm Before the Storm Tour' and present THE FIFTH's brand of rock n' roll to so many new cities and faces! We're so proud of the new Ep and now with the momentum of signing with RFK Media in our corner, it's high time we brought the music LIVE to the people! It's guaranteed to be one hell of a rock n' roll party, and rest assured, me and the boys are going to let it all hang out and leave it all on the stage!!"
THE FIFTH are also the first band signed to world renowned singer Ron Keel's brand new label RFK Media, for whom they'll begin work on a new full-length album later this year. Cathey states, "We're more than excited and honoured to be selected as the first band Ron and his staff believed in for RFK. His experience, knowledge and relationships will be nothing but further positivity for THE FIFTH and we are thrilled to be in business together."
THE CALM BEFORE THE STORM dates are as follows:
25 March – Martinsburg, WV – Bad Habits
26 March – Newark, DE – Halftime Sports Bar
27 March – Baltimore, MD – Fish Head Cantina
28 March – Turtle Creek, PA – Sub Alpine Society
29 March – Hamtramck, MI – New Dodge Lounge
30 March – Indianapolis, IN – Black Circle
31 March – Louisville, KY – 21st in Germantown
01 April – Dayton, OH – Little York Tavern
02 April – Parkersburg, WV – The Dils Center
Support on all dates comes from Maryland band Offensive.
For more information and show coverage, reach out: Dave Tedder at
dave@headfirstentertainment.com
or via phone – 702.333.1309