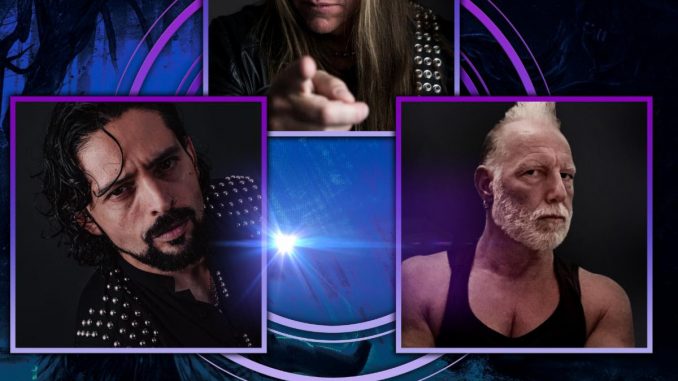 'ONE MORE RIVER TO CROSS' OUT JANUARY 21, 2022

NEW SINGLE & VIDEO 'ONE WORD' OUT TODAY
Frontiers Music Srl is excited to announce the release of the third album, "One More River To Cross" from international heavy metal group The Ferrymen on January 21, 2022. Fans can get their first taste of new music from the band (Magnus Karlsson, Ronnie Romero, and Mike Terrana) with the release of the single and video, 'One Word'. See the video HERE:
https://youtu.be/_3is5pOencY
The Ferrymen have become an established name amongst European melodic metal fans after their first two successful albums, the self-titled debut and the follow-up "A New Evil", and said fans should now prepare themselves for album three, "One More River To Cross". The trio, formed by masterful Swedish guitarist/songwriter/producer Magnus Karlsson (Primal Fear, Magnus Karlsson's Free Fall), awesome vocalist Ronnie Romero (Lords of Black, Sunstorm, Rainbow), and thunderous drummer Mike Terrana (Rage, Axel Rudi Pell, etc.), deliver powerful, muscular metal on "One More River To Cross". Once again, The Ferrymen take the classic heavy metal sound and combine it with heavier, updated songwriting textures and arrangements. "One More River to Cross" is another huge shot of adrenaline for all lovers of melodic heavy metal.
Musically, you can expect quality heavy, melodic metal fusing the songwriting and epic structures of the great Karlsson, who is known for his work with Primal Fear, Allen/Lande, and more, with the huge, powerful vocal approach of Romero, and the driving, mind-bending drumming of Terrana.
With stunning artwork courtesy of Stan W. Decker (who handled the artwork for the first two albums) and an outstanding mix courtesy of Simone Mularoni (DGM, Sunstorm, etc.), The Ferrymen's latest album, " One More River to Cross" will take the metal world by storm in 2022!
Tracklist:
1. One Word
2. The Last Wave
3. Shut It Out
4. City Of Hate
5. One More River To Cross
6. Morning Star
7. Hunt Me To The End Of The World
8. Bringers Of The Dark
9. The Other Side
10. The Last Ship
11. The Passenger
LINE-UP:
Ronnie Romero – Vocals
Magnus Karlsson – Guitars
Mike Terrana – Drums
THE FERRYMEN Social Media: