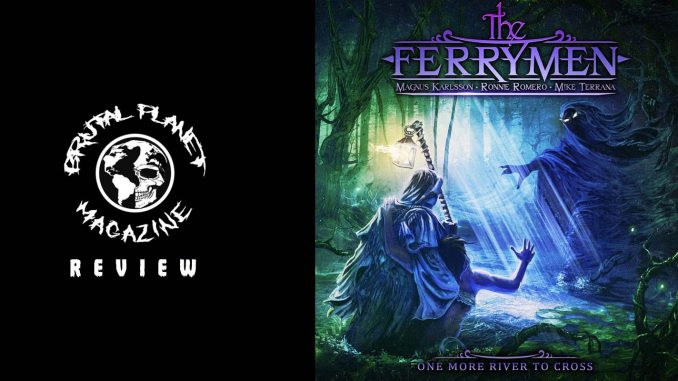 In 2017 mastermind Magnus Karlsson released The Ferrymen's self-titled debut album to the world with an impassioned response from fans everywhere. In 2019 they released the follow up, The New Evil. This was an equally impressive album that saw the band refining their sound. It's 2022 and we have another chapter in this storied legacy shaping up to be equivalently as epic as it's predecessors. On January 21, 2022 The Ferryman will release One More River to Cross featuring Magnus Karlsson (Primal Fear, Magnus Karlsson's Free Fall), one of my favorite vocalists – Ronnie Romero (Lords of Black, Sunstorm, Rainow), and drummer Mike Terrana (Rage, Axel Rudi Pell, etc.).
One More River to Cross opens with an eerie piano sequence that is abetted by choiring as "One Word" gets gaudier as we hear Ronnie Romero's voice introduced. The fast pace of the track follows in the footstep of the previous two albums but adds the choir element for a more theatrical sound.
Thumping drums accompanied by more choiring introduce "The Last Wave." The song has such a passionate sound amplified by the trio's strengths shining through. "Shut It Out" uses more of a melodic metal beat and sound to mesmerize. The guitar has an amplified sound in the song that gives it a particularly larger than life sound. "City of Hate" has a style reminiscent of Allen/Lande, which was also created by Magnus. When it comes to tracks that define an album there is none more epic than the title track, "One More River To Cross." This song exemplifies a genre that Magnus may not have created but that he has advanced by leaps and bounds. A heavy mid paced track with orchestration that flows perfectly in with a choir that adds a supernatural like element to the song. Ronnie's voice adds desperation to the performance in this larger-than-life masterpiece. If you check this album out for one reason make it this song, you will be sold.
As One More River to Cross continues "Morning Star" incorporates a great Black Sabbath "Heaven and Hell" like vibe into it musically mixed with Ronnie's brilliant vocals. "Hunt Me To The End Of The World" continues a sound that harkens back to the two previous Ferrymen albums. "Bringers Of The Dark" starts out with an empty piano that quickly moves into a frantic paced song with a guitar sound that only Magnus can deliver. "The Other Side" sounds like a missing track from Magnus's solo project Freefall. If you like that side of him you will love "The Other Side." As "The Last Ship" sets off for sail more guitar driven waves are thrown auditorily like sledge hammers.
This epic album concludes with "The Passenger." It will not go quietly, as The Ferrymen bury every ounce of energy into this ambitious piece. Filled with thrashing guitars and thundering drums, the trio lays it all out till the final moments of the song.
It is not often that I can predict the future but I will make a guarantee that One More River to Cross will be in my top ten for 2022. It is that good. As Magnus continues to perfect his legacy in the history books I will continue to listen.
Dare to make the journey with One More River to Cross from The Ferrymen as it sets sail on January 21, 2022 via Frontiers Music s.r.l.