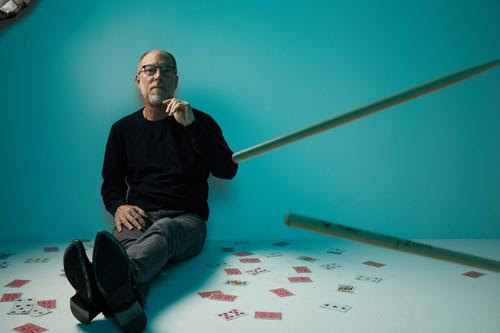 Pixies' David Lovering * Photo Credit: Travis Shinn
LOS ANGELES, CA – Tuesday, August 10, 2021 – When Pixies hit the road on September 10 for their special 11-date U.S. run, the band's drummer David Lovering will be playing the drums like he hasn't been able to play them in years, and all due to a bit of serendipity.
"I've had carpal tunnel in both of my hands for years," he explains, "and I've been relegated to that way of life for years, just having to deal with it. Back in March, 2020, when we had to cancel our world tour because of the pandemic and everything shut down, my hands had been getting worse. But, this unexpected break allowed me to have surgery on both hands, and now I really am a new man. I can do card magic better than I can remember, play drums like I haven't been able to in some time, hold an iPhone, use my metal detector, and ride my bike."
Since his surgery and recovery, Lovering, a long-time, card-carrying member of the prestigious private Hollywood club, The Magic Castle, has also been able to launch his "Magic Monday" prestidigitation series on Pixies' Instagram –
https://www.instagram.com/p/CSEURdADTHk/
and Facebook
https://www.facebook.com/pixiesofficial/videos/1671805396351710
And, he's spent copious amounts of time metal detecting near his Southern California mountains home, as well as exercising his geological interests in fluorescent mineral hunting with a device he built that can also illuminate scorpions. For real.
Throughout the pandemic, the other Pixies also gravitated to activities that they've previously never seemed to quite have enough time for: Black Francis has been raising chickens and doing a lot of painting; Paz Lenchantin focused her time on art projects, music, film and surfing, and Joey Santiago, who lives in the Los Angeles area, bought a new bicycle and has been biking up Highway 1/Pacific Coast Highway from Cambria to Big Sur. He also bought an old (and, he emphasizes expensive) acoustic guitar that he said he's been strumming a lot so he can get his money's worth…..and – very exciting for him – he was interviewed on SiriusXM's Beatles Channel to promote the Paul McCartney tribute album Ram that he played on. Joey is a really funny – VERY dry – guy…on his Twitter page, he introduces himself as "I have attended every show the Pixies have ever performed."
Pixies are about to celebrate the 30th anniversary of their 1991 album Trompe Le Monde, that will be reissued September 24 on limited marbled green vinyl. On the band's upcoming run that kicks off at The Capitol Theatre in Port Chester, NY on September 10, Pixies will play headline theatre dates, outdoor summer festivals, and multiple concerts with Nine Inch Nails. The full itinerary is below.
SEPTEMBER
10 Capitol Theatre, Port Chester, NY
11 Stage AE, Pittsburgh, PA
13 Old Forester's Paristown Hall, Louisville, KY
14 Foellinger Theatre, Fort Wayne, IN
16 Summerfest, Milwaukee, WI
17 The Factory at The District, Chesterfield, MO
18 The Waiting Room/Outdoors – Omaha, NE
19 Riot Fest, Chicago, IL
21 Jacobs Pavilion, Cleveland, OH (with NIN)
23 Jacobs Pavilion, Cleveland, OH (with NIN)
26 Cain's Ballroom, Tulsa, OK
About the Pixies
The Pixies have been acclaimed as the most influential, pioneering band of the late 80s alt/rock movement, having blazed the trail for artists from Nirvana to Radiohead to Pearl Jam. Over the past decade or so, a whole new generation of music fans have been discovering the band's iconic "loudquietloud" signature sound. After five genre-defining studio albums — including the now-Platinum-certified Doolittle – Pixies disbanded in 1993, and then launched their reunion tour in April 2004, playing to sell-out crowds across the globe for 15 years, a far longer period of time than they were a band originally. But writing, recording, and releasing new music was something that the band had been wanting to do for a long time, so they secretly booked studio time in Wales for the fall of 2012. Six days into the recording, founding bassist Kim Deal decided to leave the band; Black Francis, Joey Santiago and David Lovering made the decision to carry on, finishing and releasing the band's first studio album in more than two decades, 2014's Indie Cindy. Also wanting to play live, the three began working with a number of touring bassists, including former A Perfect Circle bassist, Paz Lenchantin who came out on the road with the band in 2014. The band welcomed her as Pixies' permanent bassist in 2016. Since then, Pixies have released two more studio albums: Head Carrier in 2016, that marked Paz's recording debut with the band, and 2019's Beneath the Eyrie that was recorded with producer Tom Dalgerty.