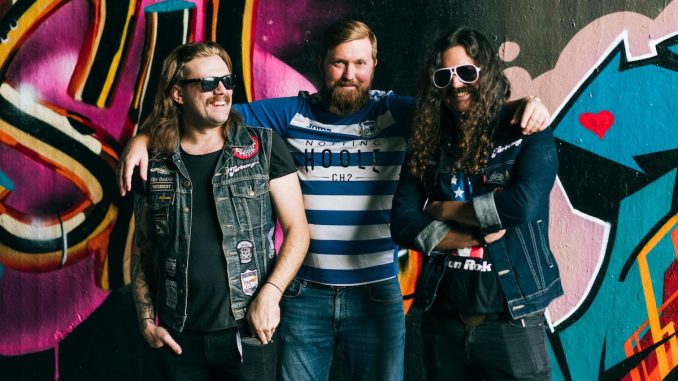 'Scandinavian Thunder' is the second studio album by Swedish action rock group The Drippers. Following the success of their praised debut LP 'Action Rock' in 2019, the Gothenburg power trio returns with an album that's more furious and action-packed than ever before. With all knobs turned to eleven, the band delivers an uncompromising discharge of raw power. An intense dual vocal attack with screaming guitars, thunderous bass, and hammering drums.
The new album contains 11 tracks of high-energy rock n' roll, and the band has once again teamed up with Tomas Skogsberg, who recorded and mixed 'Scandinavian Thunder' in the legendary Sunlight Studio in Stockholm, Sweden. Tomas is the operator behind classic recordings from The Hellacopters, Gluecifer, Entombed, and Backyard Babies, to name a few.
Viktor Skatt (vocals, bass) of The Drippers, comments:
"Scandinavian Thunder is the ultimate record that we wanted to make, we wanted to push everything to the max. The idea was to make the punky filth blend with the authoritarian power of hard rock, all with a straightforward Rock n' Roll drive. The songs are kinda catchy and structured, we set it up to be controlled chaos."
Viktor goes on to add:
"With the state of the world, we had so much frustration to channel and it gave us that extra spark. The screams on the album are from the bottom of our souls. Tomas Skogsberg stepped up into another level of producing on this one, he really took on the George Martin role and was super involved in every detail. He would push us until our fingers and vocal cords were bleeding, and in the end, it paid off. Get ready for some Scandinavian Thunder!"
'Scandinavian Thunder' is out today on all streaming platforms, with CD and vinyl releases set for early 2022.
THE DRIPPERS – "Time For Some Action" (Official Video)
THE DRIPPERS Are:
Viktor Skatt – Vocals/Bass
William Dickborn – Vocals/Guitar
Niclas Kristoferson – Drums