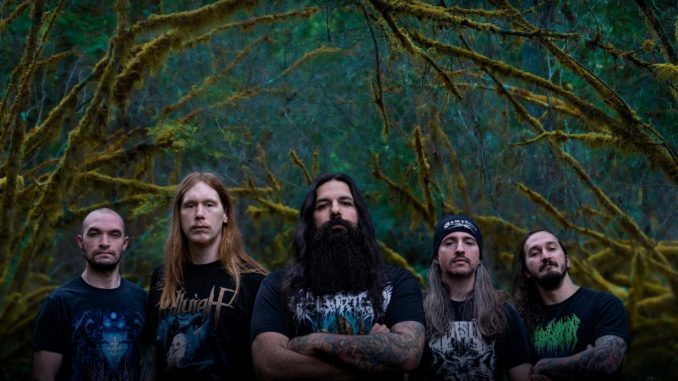 New Album 'Escaping Eternity' out February 11th
Melodic black metal outfit THE DEVILS OF LOUDUN have released the third single from their upcoming studio album, 'Escaping Eternity'. The Seattle-based band has dropped a lyric video for "Praise the Eternal Nightmare", which can be seen
here
. The new album from The Devils of Loudun, 'Escaping Eternity' will see a February 11th, 2022 release via The Artisan Era.
THE DEVILS OF LOUDUN – "Praise the Eternal Nightmare" (Lyric Video)
Escaping Eternity' Tracklist

The Scourge of Beasts
Ex Nihilo
Incarnate
Anamnesis
The Death of Sleep
Evolving Wilds
Praise the Eternal Nightmare
Abysswalker
Formless
Arcana Imperii
About THE DEVILS OF LOUDUN:
Active since 2009, the Pacific Northwest-based act the Devils of Loudun spent years honing their chops before the 2015 release of their first highly praised EP, Entering Oblivion. With the EP showcasing their unique brand of fast-paced, melodic death metal the band quickly gathered a devoted following. With Kyle McGinn of Dead Rhetoric calling the release "the clear cut Bandcamp winner of the year," and Danny Sanderson of Metal Temple commenting "In less than twenty minutes, this band has managed to craft something that is not only more unique than what most underground Death Metal acts are peddling, but also significantly better. " The Devils of Loudun wasted no time and in 2016 released their follow-up EP, Enduring Creation. A conceptual sequel to Entering Oblivion, the band's ever-evolving sound was taken to the next level which again garnered praise from the metal community. Toilet ov Hell commenting "I was hooked the instant I hit play. This is excellent melodeath with a lot of motion and a symphonic flair." Now, after five long years spent crafting and conjuring the next evolution of their form, The Devils of Loudun are ready to re-emerge with their most ambitious and epic release yet.
FFO: Arsis, The Black Dahlia Murder, Children of Bodom, Wintersun
The Devils of Loudun are:
Vance Bratcher – Vocals (Aethereus)
Scott Hermanns – Guitars (Aethereus)
Drew Tuel – Guitars
Ben Velozo – Keyboards
LJ Cline – Bass