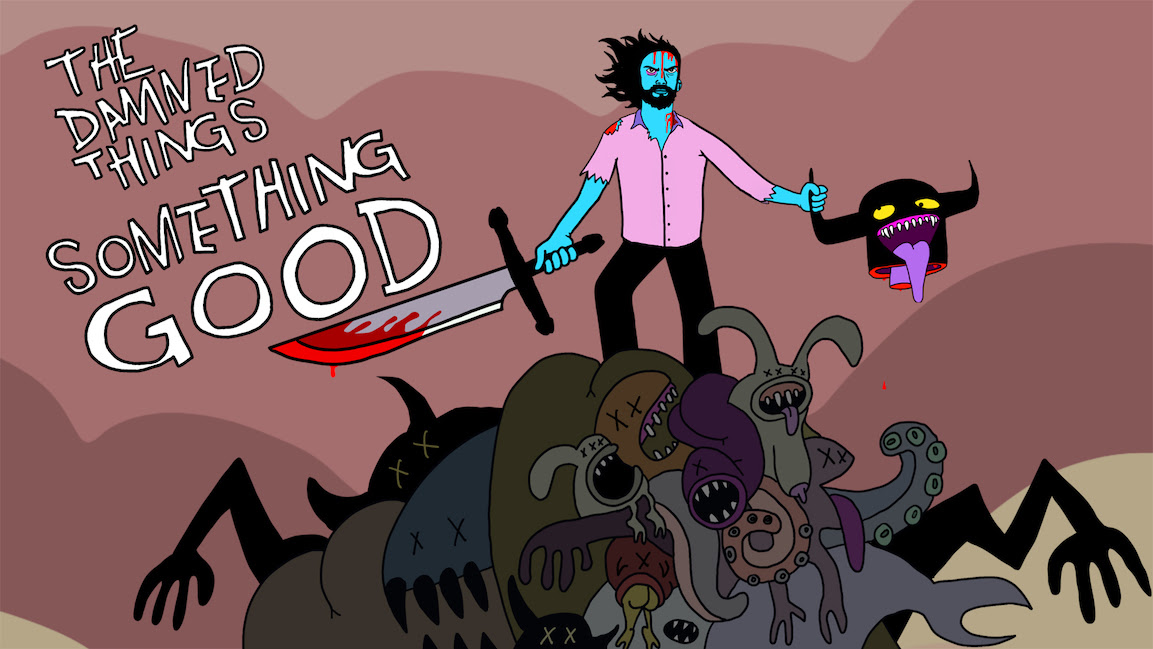 THE DAMNED THINGS RELEASE ANIMATED VIDEO FOR "SOMETHING GOOD"
*NEW ALBUM, HIGH CRIMES, OUT NOW!*
**BAND SET TO PERFORM AT RIOT FEST IN SEPTEMBER**
Fresh off the release of their critically praised new album, High Crimes, heavy rock powerhouse THE DAMNED THINGS has released a brand new animated video for their fan-favorite single "Something Good." Watch it now below and catch the band in Chicago this September for a performance at Riot Fest. Tickets on sale now at https://bit.ly/2ZEPYHT.
More from High Crimes:
"Cells" Official Music Video – https://youtu.be/ZKdULf6iCng
"Something Good" Lyric Video – https://youtu.be/IvV3mDZVVNg
"Omen" Lyric Video – https://youtu.be/JQ4MOIsUGE4
Video Trailer #1 "Band Lineup & Sound" – https://youtu.be/0WD1eBeZA2Q
Video Trailer #2 "About The Song "Cells"" – https://youtu.be/tRSD-NLOqR0
Video Trailer #4 "On Signing To Nuclear Blast" – https://youtu.be/iMDNd5EMN0U
Video Trailer #5 "About The Song "Something Good" – https://youtu.be/NM6NTQ2H4bo
Video Trailer #6 "Why Now?" – https://youtu.be/UlPwO0wjQCY
Video Trailer #7 "Album Recording" – https://youtu.be/RlC8uMX1aPc

Purchase High Crimes in various formats, here: nuclearblast.com/thedamnedthings-highcrimes

High Crimes was produced by Jay Ruston (ANTHRAX, STONE SOUR, AMON AMARTH) and is the follow up to 2010's hugely successful debut album, Ironiclast.

Nine years ago, Scott Ian – guitarist and co-founder of legendary thrash metal outfit, ANTHRAX – took a meeting with the Joe Trohman (also a guitarist, and a co-founder, of the band FALL OUT BOY). He and Scott hit it off, and started making songs together. With the help of drummer Andy Hurley (Fall Out Boy) and the irreverent vocals of Keith Buckley (EVERY TIME I DIE), THE DAMNED THINGS were formed. The band has gone through changes since its inception and now features Dan Andriano of ALKALINE TRIO on bass.

THE DAMNED THINGS are:
Dan Andriano – Bass
Keith Buckley – Vocals
Scott Ian – Guitar
Andy Hurley – Drums
Joe Trohman – Guitar
Visit THE DAMNED THINGS at