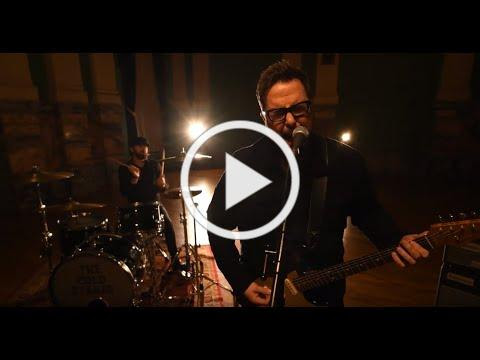 New Album 'WAYS' Out Now
Listen Here
"By far my favorite new musical discovery of 2019"
– Joe Bonamassa
Friday November 15th 2019 – Heavy Blues-Rock two-piece and Joe Bonamassa's 'favorite new musical discovery of 2019' -THE COLD STARES, have dropped the official video for new track 'Into Black' today. Watch here and above. Taken from their highly anticipated new album 'WAYS' that was released on October 18th to much acclaim from fans and has clocked up over a million album streams across streaming platforms, immediately hitting #1 on Amazon's Hard Rock Best Sellers list. You can find the album on your streaming platform of choice
here
.
Speaking on the new video for 'Into Black' frontman, guitarist and songwriter, Chris Tapp says:
"Location for the video was one of the oldest courthouses in America. It oddly enough had these huge ballrooms upstairs that had been empty for years, and the basement and catacombs that run from the courthouse through downtown Evansville are on ghost hunters list for most haunted places in America.
"We were looking for a location that had some space to it and felt timeless. The story of "Into Black" is timeless in the way that the writer is searching for lost love across space and time and trying to bring that love back. Plenty of ghosts in the lyrics, and the setting felt right for that."
The Cold Stares

'WAYS' Tracklisting

Any Way the Wind Blows
Ways
Into Black
Thorns
White Girl
Down Again
I Was a Fool
Angeline
Going Down Easy
I Ain't The One
Headstone Blues
Might As Well Die
Jackson Mississippi
Recorded at legendary Sam Phillips Recording Studio in Memphis, 'WAYS' is a culmination of the various influences that make up the band's unique sound. 'WAYS' is made up of 3 different EPs, WAYS Black, WAYS White and WAYS Blue. Speaking on this unique way of putting an album together, frontman and guitarist, Chris Tapp says
"I thought it might be cool to construct the 12 songs for the record as 3 separate EP's or collections of songs that basically were from the 3 areas of inspiration for the band. One, hard rock. Two, the blues. Three, country, western and folk ballads. Three different "WAYS" if you will. So I wrote the songs in groups separately, each with their own mindsets as separate pieces that could stand on their own, but also in the end combine into a 12 song album."
The album was recorded at legendary Sam Phillips Recording Studio in Memphis where many musical legends such as Johnny Cash, BB King, Howlin Wolf and Elvis Presley created rock n roll history. Speaking on this choice of studio and the experience of recording on such hallowed ground, Tapp adds
"Sam Phillips studio in Memphis was on my radar for the blues EP, but when I started to really research the albums that had been made there we found that it was the one studio where really all three of our influences had really been recorded there. One thing we didn't take into consideration was that making a record using a vintage based studio with great analog gear also meant us dealing with 70 year old equipment which can be temperamental to say the least. What started out as a few days ended up being over a month of back and forth trips to Memphis to complete the album.
'We cut all the tracks live in the same room our heroes like Jerry Lee Lewis, Howling Wolf and Bob Dylan had. I sang on Wolf's old microphone, and we sat at Sam's desk upstairs and made revisions in the same chair Elvis sat in. We made an honest blue collar rock and roll record with a tip of the hat to our heroes, and hopefully left another memory in those walls."
'WAYS' has already received nearly 500,000 streams on Spotify. Two of the tracks released from the album so far have been chosen as "Track of the Week" in the UK's Classic Rock Magazine. So far, tracks from the album have had over 20 major playlist adds across streaming platforms including Spotify's 'All New Rock', 'Southern Comfort' and 'Nu-Blue', Apple Music's 'Breaking Rock' and Deezer's 'La Grange: Blues Guitar Heroes' and 'Hot New Rock' .
Formed in 2012 after the duo had spent a number of years in other bands, Chris Tapp and Brian Mullins got together initially just to jam. No preconceived notions on what the project should be. The result is a hard rocking, story-based brand of rock and roll that is sung from the soul. Chris' unique guitar rig along with Mullin's giant bass drum provides a vast and robust sonic highway for the two to travel that truly sets them apart from other acts. It is genuinely astonishing that a two-piece can create the layers and depth found in the music made by THE COLD STARES. Speaking on his first live experience of the band, Nashville radio personality Dan Buckley says "The first time I saw them, I thought they had at least two other musicians secretly behind the curtain. There's just no way that sound comes from the two of them."
THE COLD STARES have had tracks featured by Dodge Motor Company, ESPN, NFL, X-Games, TNT Network and Monster Energy and are endorsed by PRS Guitars.
THE COLD STARES will be playing the following live dates:
2019
11/20/19 The Viper Room, Los Angeles, CA
11/22/19 Count's Vamp'd Rock Bar & Grill, Las Vegas, NV
2020
01/04/20 Lafayette's Music Room, Memphis, TN
01/18/20 The Astra Theater, Jasper, IN
01/24/20 The Cowan, Nashville, TN
02/29/20 The Bokeh Lounge, Evansville, IN
08/14-19/20 Joe Bonamassa Keeping the Blues Alive at Sea II Spain, Italy, France