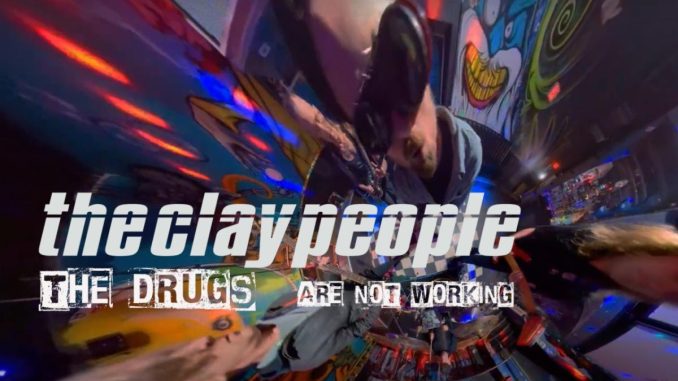 Second Single from Cult Hypnotica Album
and Dance Remix Version released September 5
Watch "The Drugs (Are Not Working)" https://youtu.be/06AUz6VHw54
The track continues with the narrative of 'Cult Hypnotica', first single from the the same-named album released July 1. A realization that the stigma of over saturated propaganda and the means of keeping the mob distracted is the drug. The drugs only work if we allow this madness to continue in our lives. However, becoming aware of our surroundings and how it is affecting us is only valuable if you are willing to make a change.
Observing chaos more and empathy less, will we all make a conscious effort to make the correct decision or make change.
The track starts with Dan Neets personal experience with addiction. Dan explains "The more I self- medicated, the more it took to keep myself numb. Numb to my issues and numb to the madness around me. It can't hurt me if I keep myself sedated. In the end, I needed more and more of the drug to keep myself numb. Eventually the drug has little to no effect, so the quantity gets higher and higher. Transparency is the mantra for a stoic life. Not drinking the kool-aid is a good start."
Get "The Drugs (Are Not Working)" Dance Remix (released September 5) here:
Apple Music: https://music.apple.com/us/album/the-drugs-are-not-working-remix-version-single/1641172935
Spotify: https://open.spotify.com/track/3hbi9sW1J3pN8jFMDpfDLQ?si=2c596f662f8048d3
Arts and music collide to produce a story of intolerance, drug addiction, poverty, and ultimately grisly revenge!
About THE CLAY PEOPLE:

The Clay People have been a powerful presence in the American Hard Rock Metal Punk scene for over two decades. The band has nurtured their kinetic, crafty narrative—a constructed evolution—drawing from the roots of early heavy-rock metal-punk scenes, while pushing boundaries and bending contemporary genres to achieve their distinguishable sound.

The highly-anticipated album Cult Hypnotica will top off The Clay People's discography in the summer of 2022. This record was recorded during the first 2 years of the pandemic and is the first release of a tracked 40-song library produced during this period of chaotic global unrest. Inspired by truth and awareness, the band delved into the onslaught of misinformed media, religion misinformation, the corruption of political agents, and the use of technology to control human behavior and societal control.

Their live shows are always a visual and musical display of artistic intensity and prowess—noted readily by their rabid fan base which grows steadily as The Clay People continue to produce groundbreaking projects with creative fervor. The band has shared the stage with such acts as Disturbed, Stained, Clutch, Rob Zombie, Static X, Stabbing Westward, Filter and many more. From modest beginnings in the underground Industrial Darkwave scene, to the breakout release of their 1998 self-titled album on SlipDisc/Mercury records, this New York band has forcefully and expertly delivered an accomplished and ever-evolving canon of sound. The furiously propulsive lead single "Awake" climbed the radio Billboard charts to launch the band as an international touring act. The song also appears on the soundtrack for American horror flick "Strangeland" with other acts like Marilyn Manson, System of a Down, and Anthrax. In 2018, The Clay People released Demon Hero with Overit. The single "Colossus," inspired a comic book, "The Clay People: Colossus", from Top Cow Productions and Ep1t0me Studios in March of 2022, placing The Clay People on a very short list of rock bands to have an internationally-released comic feature their work. The book boasts a dark and grisly story by comic legend Matt Hawkins (Image Comics) and unparalleled art by Christian Dibari ("Deadpool"). Born from the unique creative bond of Daniel Dinsmore, Brian McGarvey, and Daniel Neet, the band has grown to include guitarist Jared Weed and bass player Eric Braymer.

THE CLAY PEOPLE online:

https://www.facebook.com/demonhero/

https://www.instagram.com/claypeople1/