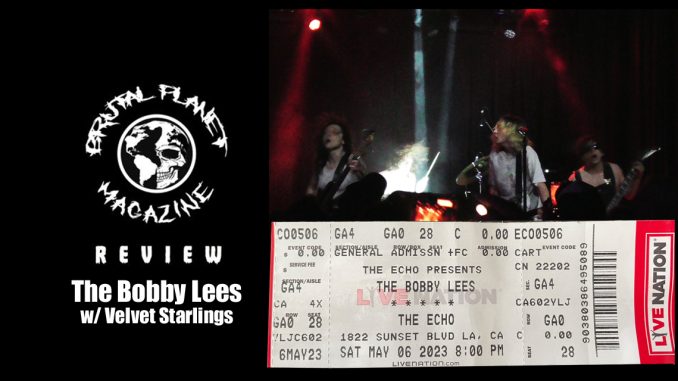 The Echo Park streets bustled with energy on a Saturday night… as they usually do. Tonight however, reliable indie venue The Echo had been taken over by indie punk darlings The Bobby Lees.
The opening act Velvet Starlings had some interesting tunes and a high energy set that included a flute. They got crowd moving with their fun, upbeat indie stylings and the room was jam packed by the time they finished their last song.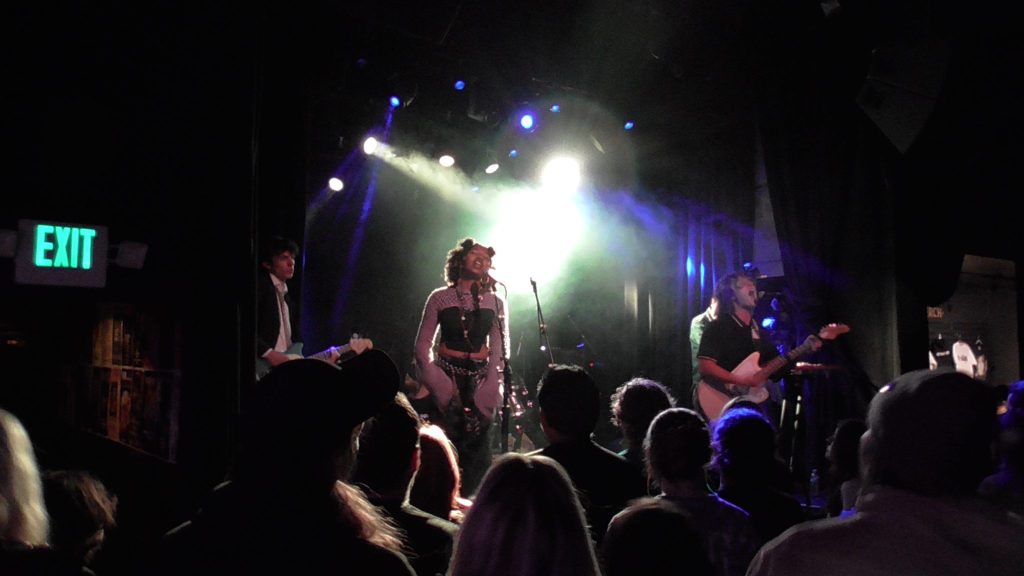 Anticipation built for the main event and the crowd buzzed with excitement. A hush fell over the crowd as drummer Macky Bowman walked out to the front of the stage and stripped down to his underwear. He began jumping up and down while the surprised crowd gazed on in confusion. Eventually he walked back, sat down at his drum-kit and began screaming at the audience as the other members of the band filed on to the small stage. Bassist Kendall Wind, lead guitarist Nick Casa and finally singer / guitarst Sam Quartin emerged and The Bobby Lees broke into their first song.
The middle of the room opened up into a mosh pit as The Bobby Lees tore through an impressive set brimming with indie punk energy. The crowd was diverse in just about every way – including age. I interacted with a few younger indie-rock types and exchanged a friendly nod with several older gentlemen like myself.
The song "Strange Days" slowed things down a bit. The crowd sang along at the breaks and this one really showcased Sam's vocal range. Bass player Kendall Wind also deserves a ton of credit for ultimately steering the band. Her dirty driving bass lines are the glue that hold it all together and her stage presence and fierce tone kept the energy levels at peak throughout the band's performance.
One of the things you have to love about a band like The Bobby Lees is the raw, no-frills nature of the music they are making. There are no keyboards or samples, no backing tracks to make the vocals sound pretty, no pre-recorded back beats. Just raw, live guitar, bass, drums and vocals… real punk rock. It's inspiring to see that there are still new bands out there that value this aesthetic and pride themselves in delivering a legitimate live performance to their fans without any of the bullshit or window dressing that has become so prevalent in music in the 2020's.
The band has a few more dates in the US and then heads overseas. Be sure to catch them while they're out touring in support of their latest album "Bellevue"