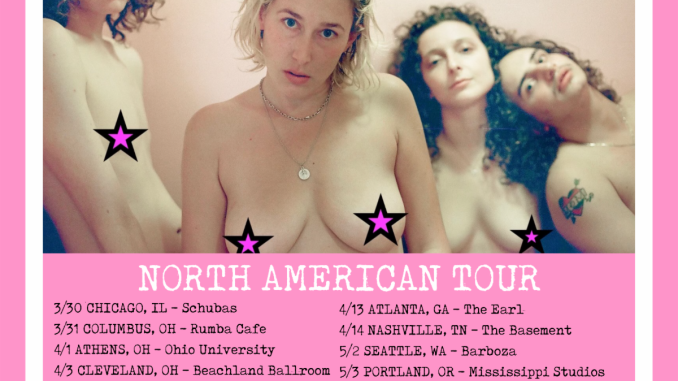 (IPECAC RECORDINGS) "The Bobby Lees are the real deal, the kind of band that gets you to stop what you're doing and demands your attention. This is a stunner." – New Noise "…screaming feedback, howling vocals, and a thumping beat suggest that rock'n'roll is still very much alive" – The Arts Desk "The Bobby Lees' music, with its Sonic Youthian freakouts and barebones grit, is kind of like the best bad trip ever." – Consequence "… I'll take the Bobby Lees over Greta Van Fa–, er, Fleet every time." – Punk News
"…deliciously sleazy garage rock 'n' roll. It's an old-school adrenaline rush, overrun with jagged guitar work and vocals that recall the spit and vigor of CBGB's in the '70s." – Guitar World
Jan. 24, 2023, Woodstock, N.Y. – The Bobby Lees, who recently released their Ipecac Recordings' debut, Bellevue, head out on their first North American tour in support of the album, which PopMatters dubbed their "most scorching and essential recording to date." "This will be our first time playing Bellevue in all of these cities," said the band, collectively. "Come watch us play like it's our last night on earth!" The Bobby Lees tour dates:
February 3 Atlantic City, NJ Anchor Rock Club (w/Jon Spencer) March 30 Chicago, IL Schubas TavernMarch 31 Columbus, OH Rumba CaféApril 1 Athens, OH Ohio UniversityApril 3 Cleveland, OH Beachland BallroomApril 4 Toronto, ON Monarch TavernApril 6 Philadelphia, PA Kung Fu NecktieApril 7 New York, NY Mercury LoungeApril 8 Troy, NY No FunApril 11 Washington, DC DC9April 12 Carrboro, NC Cat's CradleApril 13 Atlanta, GA The EarlApril 14 Nashville, TN The BasementMay 2 Seattle, WA BarbozaMay 3 Portland, OR Mississippi StudiosMay 5 San Francisco, CA Bottom of the HillMay 6 Los Angeles, CA The EchoMay 7 San Diego, CA The CasbahMay 11 Austin TX MohawkMay 12 Dallas, TX Three LinksMay 13 Tulsa, OK The Vanguard
Tickets for all shows are on sale this Friday at 10 am local time. Ticketing links can be found via Ipecac.com/tours.
Iggy Pop, Debbie Harry, Henry Rollins…these are just a few of the punk icons who have shown support for Woodstock, NY based band The Bobby Lees. Sam Quartin [vocals, guitar], Macky Bowman [drums], Nick Casa [guitar], and Kendall Wind [bass] — make music that is punk in spirit and soul; unfettered and resolutely honest. To say their sound is wild and untethered is an understatement. It's the kind of aural exorcism any listener can tap into, something that struck a chord with Henry Rollins who brought them to Ipecac Recordings where Mike Patton and Greg Werckman signed them. The Woodstock, N.Y.-based band have released three albums: Beauty Pageant (2018), Skin Suit (2020), and Bellevue (2022), Classic Rock Magazine adeptly said of the band: "Rock and roll as it ought to be: off the hook, unhinged, ravaged by Satan, hysterically vital, both kicking serious arse and against polite society's pricks. As undisciplined as No Wave, as steeped in comatose cool as '70s CBGB's blank generation, and as stylishly ferocious as the Yeah Yeah Yeahs."