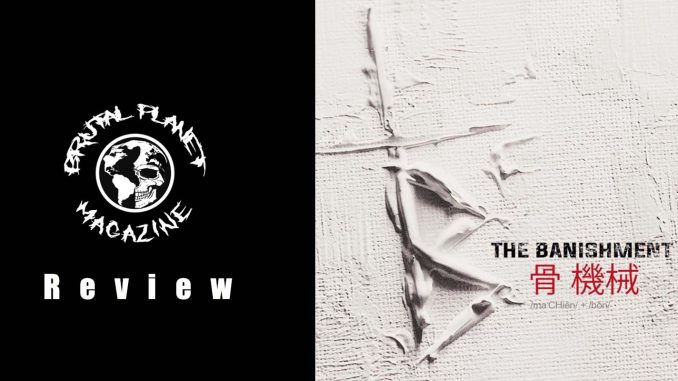 It should come as no surprise that legendary guitarist, George Lynch, has more up his sleeve
than he has forged already. If his work in Dokken, Lynch Mob, and The End Machine were not
enough, he can now add industrial metal to that list. That's right; industrial metal. Lynch has
had a long-standing project called The Banishment that has been around since 2011. Lynch
formed The Banishment with programmer and multi-instrumental mastermind, Joe Haze. Since
2020, also included, is L.A. based artist/vocalist Devix Szell. They are set to release their debut
album called Machine And Bone on March 10, 2023.
When you dive into Machine And Bone you immediately realize that this is not like any other
Lynch project. The opening song "Reaction" starts off with keyboards and electric guitar with
some serious effects. It then transitions into a sound that bears the mark of Ministry combined
with Rob Zombie. The song has a slow beat with an almost science fiction sound to it. It
foreshadows the vibe of the whole album. "Max Pain" is the next track on the album, and
features Richard Patrick of the band, Filter. Patrick's signature vocals litter the song along with a
wicked guitar solo from Lynch. Next, is "Right" featuring the amazing Tommy Victor of Prong.
This song has a more traditional sound to it, and the guitar solo cranks up the heavy riffs to an
eleven. This is probably one of my favorite songs on the album.
"Lost Horizon" begins with a bit of a blues sound, but quickly plunges into madness. Vocally,
Devix Szell is dead on with this song. It can be characterized as a mix of Ministry and Nine
Inch Nails.
"The Dread" features Jason Charles Miller of Godhead, whose voice sounds similar to
Myles Kennedy. "The Dread" continues to incooperate a heavy blues sound to it. The song
gives off the vibes of Black Label Society, and Zakke Wylde's infuses more blues into his
guitar playing.
"Reunion" is a song that strays off the path from the rest of the album, but holds its own.
Honestly, the song gives a Madonna vibe along the lines of "Justify My Love." As much of
an outlier as this song is, you will love its groovy sound.
The beginning of "Terra Nullius" reminded me of a twisted opening to the Jaw's soundtrack.
It continues deep into the depths of the industrial realm with some killer guitar. Overall,
musically, this song is another one of my favorites as it provides a glimpse into Lynch's past
with some traditional guitar licks.

"Got What You Wanted" screams with a traditional industrial sound, but has a bit of a
Beastie Boys sound vocally. Hints of their song "Sabotage" lace this solid track. Tommy
Victor makes another appearance in "Terror." It is a much darker song than "Right." The
signature sound that Tommy lends this song is amazing.
The album wraps up with Machine and Bone. The song bounces all over with its beat and
vocals giving it a very bewildering vibe. Don't let that sway you from this song. It is a great
song with a crazy feeling infused into it.
The best thing about Machine And Bone is it finally saw the light of day in 2023. The bad part
is it took so long for it to be released to the world.
Not mentioned in this review is Joe Haze. He is the brain behind the Programming, Synth, Engineer,
and Mixer. His influence helped make this project what it is.
The best way to describe Machine And Bone is a post-apocalyptic industrial record infused with blues
elements. I can't recommend it enough. If you like the foundations of industrial metal, you will love this
album. Hats off to George Lynch for making an album that is nothing like anything he has ever done. The
Banishment Machine And Bone will be released on March 10, 2023 via Frontiers.