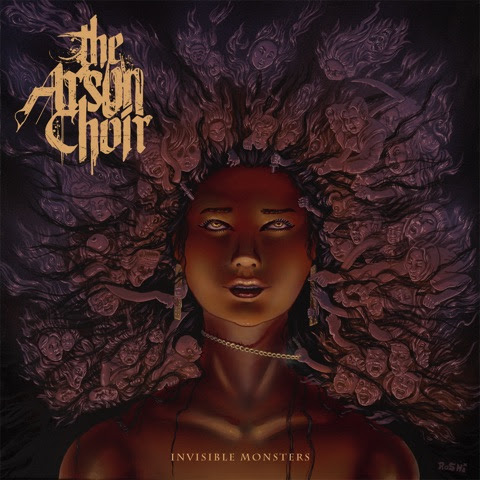 Reveal Details For Invisible Monsters EP Out October 2nd!
Southern Californian mathcore quintet THE ARSON CHOIR are proud to announce their sophomore EP Invisible Monsters will be released on October 2nd via War Against Records.

In celebration of the new EP, the band partnered with Metal Injection to premiere their second single "Vanisher". The wrestling themed video was directed by Gene Ramirez and chronicles a couples last meal together. Watch as their inner feelings manifest into wrestlers who fight for their honor in a no holds barred match here: metalinjection.net/video/the-arson-choir-is-absolutely-pissed-in-new-song-vanisher

Below is the Invisible Monsters track list:
1. The Chemical Curse
2. Revenge, My Love
3. …Gorr Was Right
4. Vanisher

Invisible Monsters was recorded by Casval Wolfe who handled guitars, and vocals while Stewart Hidalgo at 4th Street Studios handled the recording of the drums. The album was mixed by Cairn Tse Lalonde at Ingeneaux and mastered by Kris Crummet at Interlace Audio. The artwork for the album was created by Roshi.

Invisible Monsters will be available to purchase in the following formats:
Digital
Vinyl
Cassette
Artwork T-shirt
Artwork T-shirt + Vinyl Bundle
Artwork T-shirt + Vinyl + Cassette + Pin Bundle
Last month, the band released their first single "Revenge, My Love". The lyrics and video provide powerful commentary on the current conversation of race in the US. Although written last year, vocalist Phillip Penegar paints the portrait of what him and the black community have to face everyday of their lives.

The band realizes that for all our brothers who are named in the video, there are HUNDREDS of men & women who are not.

Watch the emotionally charged music video for "Revenge, My Love" here: www.youtube.com/watch?v=vV1GnXS6WPo


The Gentlemen of THE ARSON CHOIR are:
Phillip Penegar | Vocals
Marc Motley | Rhythm Guitar & Backing Vocals
Eric Carrizales | Lead Guitar
Steven Del Castillo | Bass
Kevin Kincaid Drums
Founded in 2014, THE ARSON CHOIR is a five piece mathcore band hailing from Southern California. THE ARSON CHOIR's music is reminiscent to the music that shaped their youth. The band offers an authentic experience that is raw, coupled with lyrics that delve into the human experience. Fans will enjoy the nostalgic melodies coupled with a raw organic sound. With each song pushing the limits of their sound, THE ARSON CHOIR is a force that cannot be stopped.