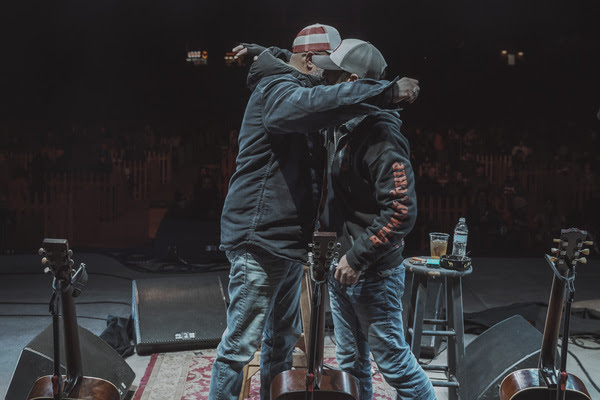 The American Drive-In Tour
Featuring Aaron Lewis (Staind) & Sully Erna (Godsmack)
Adds Two New Dates:
Dallas (Oct. 27) & San Antonio (Oct. 28)
Tickets Are On Sale Now
One Of The First Live Rock Concert Drive-In Series Of 2020
Kicked Off Oct. 2, Offering An Intimate, Unplugged & Side-By-Side Event
From Two Of Music's Most Acclaimed Frontmen
(Photo by Colin Flora)
Due to incredible fan demand,
The
American Drive-In Tour
featuring
Godsmack
's
Sully Erna
and
Staind
frontman
Aaron Lewis
together for the first time in an acoustic setting has added two new dates this month:
Dallas
on
October 27
at
Fair Park
and
San Antonio
on
October 28
at the
AT&T Center
. Tickets for these new show dates, as well as the originally announced events, are now on sale at
www.aaronandsully.com
.
The American Drive-In Tour is one of the first 2020 drive-in live rock concert tours planned across multiple cities, and kicked off October 2 in Cedar Rapids, Iowa. It's currently scheduled to run through November 1 in Del Mar, California with stops in major markets across the country.
Each night, two of the most acclaimed frontmen in rock perform their hits and covers together, side-by-side, in an intimate and unplugged evening, offering a once-in-a-lifetime event for fans.
Erna is the accomplished founder, vocalist, guitarist and songwriter for the multiplatinum rock band Godsmack, selling over 20 million records worldwide, enjoying four Grammy nominations and eleven #1 singles at mainstream rock radio. In May, Godsmack's "Unforgettable" became the fourth #1 rock track from their latest album When Legends Rise (BMG). This accomplishment makes Godsmack one of only four rock acts to reach this milestone. Erna also released his latest solo album Hometown Life in 2016.
Lewis, who fronts and founded the wildly-successful rock group Staind, has sold 17 million albums worldwide and has enjoyed four consecutive top three debuts on Billboard's Top 200. The single "It's Been Awhile," remains the most-played rock song of its decade. His solo material includes the platinum selling hit "Country Boy" and 4 albums of tried-and-true, twang-heavy Outlaw Country tunes, including his most recent album, State I'm In.
At each tour date,
Lewis
will also be hosting Virtual Meet & Greets along with a Signed Merch Experience, to include: an exclusive drive-in tour poster (signed), drive-in tour red solo cup, screen shot selfie, virtual one-on-one meet & greet access, private video chat with Aaron Lewis, Aaron Lewis Guitar Pick Collection and Aaron Lewis Neck Gaiter. Limited quantities are available and can be purchased at
https://www.aaronlewisvip.com/
.
Tour producers Danny Wimmer Presents have worked closely with both artists and all venues to create a live concert environment that will bring rock fans back together in unique setups that promote social distancing for a safe experience. The nationwide trek follows current local health guidelines for fans' safety and enjoyment. Some shows will be drive-in events with patrons in or adjacent to their cars, and other shows will feature viewing from socially distanced fan "pods" or tables designed for up to four people (as noted in the chart below).
The remaining American Drive-In Tour dates are as follows:
Date

City

Venue

Friday, October 9

Obetz, OH (Columbus area)

Fortress Obetz*

Saturday, October 10

McHenry, IL (Chicago area)

McHenry Outdoor Theater*

Sunday, October 11

Independence, MO (Kansas City area)

B&B Theatres Twin Drive-In*

Saturday, October 17

Biloxi, MS

Mississippi Coast Coliseum Lawn****

Sunday, October 18

Lafayette, LA

Cajundome Parking Lot**

Friday, October 23

Daytona Beach, FL

Daytona International Speedway*

Saturday, October 24

Concord, NC (Charlotte area)

Charlotte Motor Speedway*

Tuesday, October 27

Dallas, TX

Fair Park*

Wednesday, October 28

San Antonio, TX

Budlight Courtyard at AT&T Center*****

Friday, October 30

Phoenix, AZ

Arizona State Fairgrounds*

Saturday, October 31

Ventura, CA (Los Angeles area)

Ventura County Fairgrounds*

Sunday, November 1

Del Mar, CA (San Diego area)

Del Mar Fairgrounds*
Details subject to change based on local guidelines. Events are rain or shine.
*Socially distanced drive-in, up to four patrons per vehicle
**Socially distanced pod, up to four patrons per pod
***Socially distanced tickets, purchased in quantities of two, three, four or five
****Socially distanced tables, up to eight patrons per table
***** Socially distanced tables, up to six patrons per table