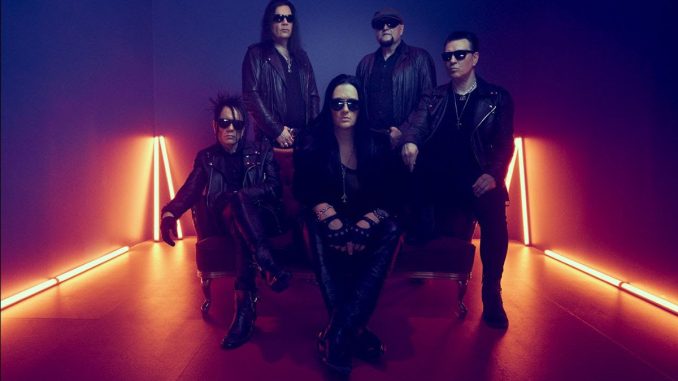 Title Track Unveiled; Band To Kick Off Gotta Rock 2023 European Tour Next Week
Today, Finnish gothic/glam goo-goo mucks THE 69 EYES unveil an official video for the title track of their upcoming studio album, Death Of Darkness, due out on April 21st via Atomic Fire Records worldwide, excluding Finland where it will be released by Vallila Music House. Physical versions will be available in the US on May 5th.
With an eclectic penchant for morbidity, glamour, sex, and the supernatural, THE 69 EYES embody both the foggy essence of Nordic gothic rock and the lusty decadence of the Sunset Strip. Celebrating this unholy union with a love song to the darkness in us all, the band sounds classy, sexy, raunchy, and dramatic more than ever.
Comments frontman Jyrki 69, "'Death Of Darkness' is a song about love. Love leads us to the light. Very simple. It sounds like it was written some twenty-five years ago. It's melancholic goth rock like we knew it in 2001."
With the band's irresistible first single, "Drive," being released in April 2022, THE 69 EYES found a whole new approach to creating albums. "We wanted to spread our gospel further and further," Helsinki vampire Jyrki 69 says. "The main motivation of this band is to keep going, to please our loyal fanbase, and to expand our audience. That's why we released our first new single while we were still in the middle of working on the album. It's a new approach for us, releasing a string of singles before we even announced the album. It kept everything really fresh and exciting and kept us on our toes which was a great motivator behind writing a killer album."
Death Of Darkness was recorded and produced by Erno Laitinen at Inkfish Studios in Helsinki. Miles Walker took care of the mixing at Westside Sound Studios in Atlanta, Georgia alongside with Erno Laitinen while mastering duties were handled by Tom Baker. The artwork was created by the UK artist Adrian Baxter (Paradise Lost, The Halo Effect, Mayhem, Schammasch).
Death Of Darkness will be available in the following the formats:
– Digipak CD
– Blue-Clear vinyl
– Blood Red Marbled vinyl
– Digital
Death Of Darkness Track Listing:
1. Death Of Darkness
2. Drive
3. Gotta Rock
4. This Murder Takes Two feat. Kat Von D
5. California
6. Call Me Snake
7. Dying In The Night
8. Something Real
9. Sundown
10. Outlaws
THE 69 EYES w/ Mister Misery:
w/ The Other:
w/ Pretty Boy Floyd:
5/13/2023 Sick New World Fest – Las Vegas, NV * No Pretty Boy Floyd *Sold Out*
Widely known as the Helsinki Vampires, THE 69 EYES gained several platinum albums with Blessed Be and Paris Kills and not only reached #1 of the single and album charts in their home country of Finland, but also plunged the world into a sinful cosmos of love, death, and melancholy, while outliving any other band emerging from the goth hype of the early 2000s. By developing their sound further into sleaze rock on Devils (2004) and Angels (2007) and not shying away from pitch black Elvis allusions in singer Jyrki 69's dark voice and unique onstage dance moves, the band has established a worldwide following. Over the course of over three decades, the band has toured relentlessly throughout Europe, America, Asia, and Australia and released twelve full-length studio albums.
Sprawling across ten lavishly dark, effortlessly cool songs, THE 69 EYES' thirteenth record, Death Of Darkness, is one of their most flawless, most consistent – bearing a title that's of course both stylish and symbolic. Just like their music. 2023 is a far cry from the early days of the new millennium when gothic rock bands emerged from every graveyard and Finnish vampires stormed the charts around the world. However, the spirit of a world-class record like Death Of Darkness, the sheer passion and the enticing mystery, the suspense, and the smirk, are still very much alive.
THE 69 EYES:
Jyrki 69 – vocals
Bazie – guitars
Timo Timo – guitars
Archzie – bass
Jussi 69 – drums
"Death Of Darkness" Single Artwork