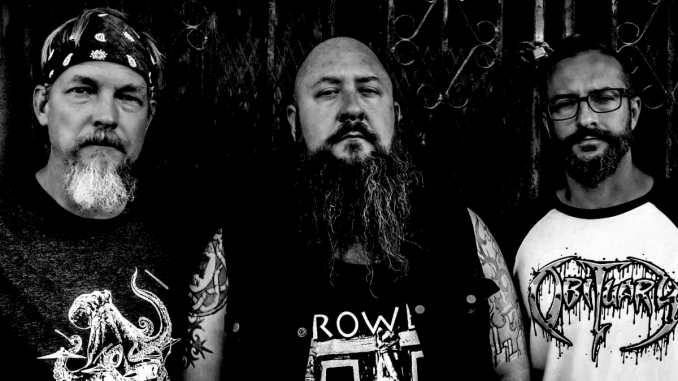 Announces Upcoming Tour Dates for the 2023 Texas Doom Crusade
Texas Doom metal purveyors STONE NOMADS release and premiere the new official music video for the thunderous single "Fiery Sabbath" on January 5, 2023, with the accompanying release of the digital audio extended single "Fiery Sabbath" including new epic B-side "Gallows Walk" and special bonus track "Sign of the Wolf" (featuring guest appearance by Esben Willems of Monolord), available at https://stonenomads.bandcamp.com/album/fiery-sabbath

STONE NOMADS explains "Our new single – 'Fiery Sabbath' is a song that really captures a lot of the different elements of our sound. It kicks off with the stoner-ish groove early in the song, which flows in and out of this slow metallic sludge and on into kind of an epic middle section. We really dig that sludge sound so we try and hit it hard on the 'low and slow' parts. We did an official video for it which is premiering on Brave Words today and an extended single with a B-side of a Pentagram cover that turned out really good, we're super excited for the release."

Watch "Fiery Sabbath" at BraveWords here:

https://bravewords.com/news/exclusive-stone-nomads-premieres-fiery-sabbath-music-video

About STONE NOMADS:

Raised in the Texas fields of doom, STONE NOMADS have forged a sound blending colossal riffs, dynamic groove and all that is heavy… The band, based in Houston, mixes elements of Southern Sludge and Doom Metal on a stoned-out Sabbath trip, featuring Jon Cosky on Guitar & Vocals, Jude Sisk on Bass & Vocals, and Dwayne Crosby on drums. The trio released their debut album Fields of Doom via Gravitoyd Heavy Music in 2022, and the Doom metal scene took notice… The album was ranked #8 on the Doom Charts and saw the band playing festivals and regional tour dates with the likes of scene veterans Elder, Mothership, Spirit Adrift and more. In 2023 the band will embark on a US tour in support of a new album planned to be released mid-year.
Upcoming STONE NOMADS Tour Dates:

01/27 – HOUSTON, TX – "FIERY SABBATH" OFFICIAL RELEASE PARTY @ Black Magic Social Club w/special guests Fostermother and Mr Plow

02/11 – ARLINGTON, TX @ Growl Records w/Realm Drifter & Lotus Sutra

02/17 – HOUSTON, TX @ Black Magic Social Clubw/Damned to Earth

02/18 – SAN ANTONIO, TX @ Faust Tavern w/Damned to Earth

03/10 – HOUSTON, TX @ 1810 Ojeman w/High Desert Queen & Demons my Friends

03/14 – AUSTIN, TX @ Kickbutt Coffee w/3 Wheeler Band (SXSW Gravitoyd Heavyfest)

03/16 – AUSTIN, TX @ The Far & Out Lounge w/Duel and more (SXSW Stoner Jam)
Press says:

"Sludgy doom goodness is what you get with the debut album from Houston, Texas' STONE NOMADS. Serious Sabbath worship in the best possible way coupled with sometimes gruff sometimes not vocals, Fields Of Doom lumbers across the Texas landscape wrecking everything in its path. Songs like Fiery Sabbath don't just rip your head off; there is a catchiness to the six tracks that is many times missing when you have such a heavy, lumbering beast." – Rich Piva (Musipedia of Metal, FuzzDoomRip)

"With grooves that range from low and slow to strident and thrash-like STONE NOMADS are the real deal, these guys are no fresh faced newbies trying to find their way in the scene and learning the ropes along the way, these guys have paid their dues and the sound they make together is a fully formed one that will have listeners believing they are listening to a band who have been together from school rather than just one year." – Frazer Jones (Desert Psychlist)