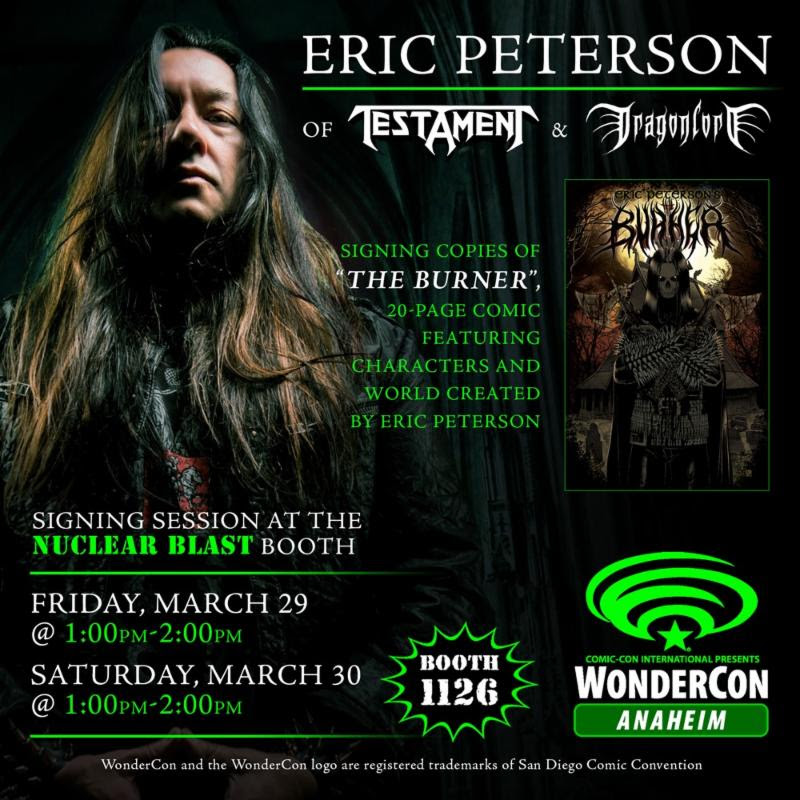 Signing copies of THE BURNER at the Nuclear Blast Booth #1126
Friday, March 29 @ 1:00-2:00 PM
Saturday, March 30 @ 1:00-2:00 PM
New Album, Dominion, Out Now via Spinefarm Records
Renowned Testament guitarist and Dragonlord mastermind Eric Peterson will be meeting Anaheim, California-area fans at WonderCon this weekend! At the convention, fans can grab a copy of his exclusive, fully original, 20-page full color comic, THE BURNER, which he will be signing at the Nuclear Blast booth (#1126) on Friday, March 29 and Saturday, March 30 from 1:00-2:00 PM each day! There are limited copies available, so comic enthusiasts and heavy metal fans alike shouldn't miss their chance to collect this special comic.
Eric will also have special Dragonlord Dominion gatefold LP vinyl for sale at his signing, which include an oversized lyrical comic book with each.
In addition to the Nuclear Blast signing, Eric will also sign copies of THE BURNER on Friday, March 29 from 3:00-3:45 PM at the Acme Ink/Mel Smith booth (#SP42). Mel Smith is the creator of comics like the high seas zombie series Dead Ahead, Becoming Frankenstein, Gumby, Death Race 2020 and more.
THE BURNER is the first ever black metal superhero! Brought to earth for centuries, avenging the souls abused by power, he now comes face to face with something he wasn't ready to fight – himself! THE BURNER is a creature from a "dragon planet" within our galaxy who has an otherworldly and inexplicable mental connection (through dreams and visions) to Eric Peterson's own character in the comic. In the comic, Eric thinks he's just writing DRAGONLORD songs and lyrics on his own, but little does he know, The Burner is behind it all!
THE BURNER
 is the first part in a series, and was illustrated by Chimp 9 (
Chainsaw Bob [Spike and Mike's Sick and Twisted], Marvel Comics, Dead Ahead, Death Race 2010, Vincent Price Presents, TOPPS, DHC, Rock and Roll Biographies, Eclipse
), 
Mats Engesten
 (
Death Race 2010, The Seven Lives of Dr. Phibes, Rock and Roll Biographies
), 
Vic Moya
 (
Star Trek, IDW Comics, Genesis II, Rock and Roll Biographies
), and 
Ross Hughes
 (
SLG, Rock and Roll Biographies, Charlie and Humphrey, Creepy Kofy Movie Time
 comics) with cover artwork illustration by Christian Hall (
Amon Amarth
, 
Dimmu Borgir
, 
Testament
).
Eric Peterson recently released his latest highly-anticipated symphonic black/death metal 
DRAGONLORD
 album, 
Dominion
, out now via Spinefarm Records. 
Dominion 
is available for purchase here
: Physical + Merch
 | 
Digital
.
Dominion serves as the long-awaited follow-up to 2005's Black Wings of Destiny, but takes the fantasy and storytelling to a whole new level. Dominion explores themes of darkness owning and influencing these times we now live in, and things that have come to pass. It also delves into other eras, real and otherworldly.
Dominion is a dark fantasy fan's musical dream – exploring everything from Nordic brutality to Lord of the Rings! Dominion's eight songs create a deep and heady musical journey rife with meaning and menace, from the blackest and loudest recesses of Eric Peterson's mind.
Eric Peterson formed DRAGONLORD in 2000 as its singer and guitarist (with keyboardist Lyle Livingston and now-ex-members Steve Di Giorgio of Testament and Jon Allen of Sadus), and notes that the growth from DRAGONLORD's first two records to the cinematic triumph and brutal blast-beats of Dominion has been immense. Dominion's stellar, complex, brutally symphonic metal is triumphant in its execution, bringing together layers of meaning and musicality into an unholy whole.
DRAGONLORD Online:
Album artwork painted by artist Eliran Kantor (Testament, Iced Earth, Sodom)