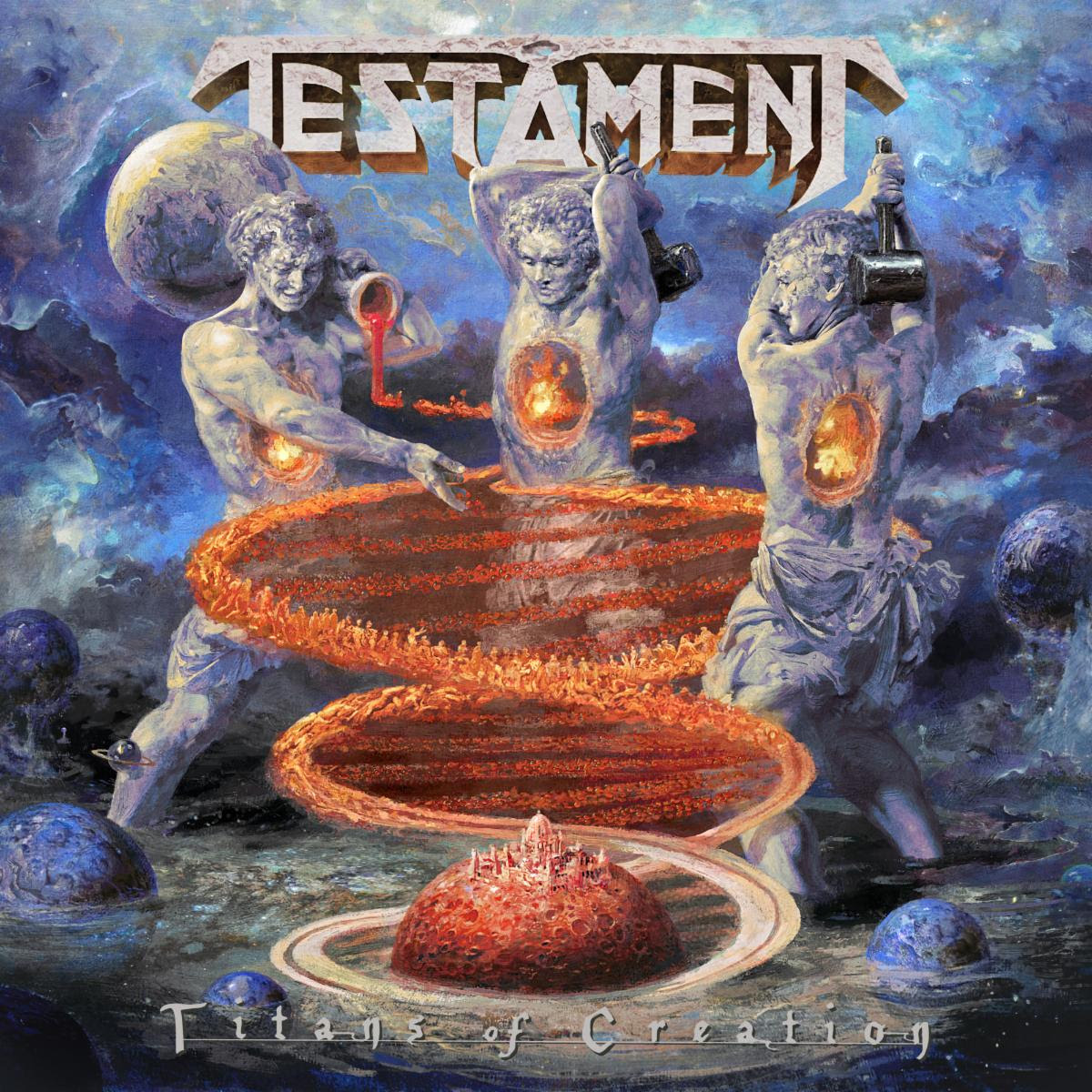 The time has arrived for legendary bay area thrash metal giants TESTAMENT to unleash new thunder to the masses and reveal their thirteenth studio album, Titans Of Creation, which will be released on April 3 via Nuclear Blast.
Chuck Billy comments, "It has been months since the final mixing of 'Titans Of Creation' and we are eager for fans to hear it. We feel that we put a lot into this record and at the end of the day it is a TESTAMENT record that stands on its own. We are very proud of 'Titans Of Creation.'"
"'Night Of The Witch' uses old school lyrics about witches chanting in the moonlight and casting spells. The beauty of this song is that I worked Eric's vocals into the chorus. I wanted to incorporate him as he does Dragonlord and this song was a perfect match. It is a heavy song and a great way to introduce everyone to 'Titans Of Creation.'"
Titans Of Creation was produced by Chuck Billy and Eric Peterson while Juan Urteaga of Trident Studios handled co-producing, recording and engineering. Andy Sneap was responsible for the mixing and mastering of the album. Eliran Kantor stepped up once again to create a new masterpiece of artwork for the cover of this release.
Titans Of Creation will be available in the following formats:
CD Digipak
Light Blue Cassette (Limited to 250)
DLP + CD Mail-order Box Set (Limited to 1500)
Includes Earth Element Vinyl
Vinyl
Fire Element Edition Vinyl (Limited to 2150)
Air Element Edition Vinyl
Water Element Edition Vinyl
Blue Vinyl (Limited to 500; Retail)
T-shirt
TS+ DLP bundle
Below is the track listing:
Children Of The Next Level
WWIII
Dream Deceiver
Night Of The Witch
City Of Angels
Ishtar's Gate
Symptoms
False Prophet
The Healers
Code Of Hammurabi
Curse Of Osiris
Catacombs
Just as the elements of this planet thrive within all living creatures, each musician in TESTAMENT represents a necessary component of this latest musical creation. Still filled with a massive and unstoppable energy since their last release, TESTAMENT has taken their style to the next level and present an album that is loyal to the roots of traditional thrash metal while still including the alluring, brilliant and progressive ingredients they are known for.
TESTAMENT is:
Chuck Billy | Lead Vocals
Eric Peterson | Rhythm/Lead guitar & Vocals
Alex Skolnick | Lead Guitar
Steve Di Giorgio | Bass guitar
Gene Hoglan | Drums
TESTAMENT online:
*If you are viewing this email with a Firefox web browser and cannot see any press release content, please try viewing in a different browser.
For press inquiries and additional information, please contact Adrenaline PR:
ABOUT US:
Adrenaline PR is a boutique independent public relations firm founded in 2003 by acclaimed PR and music industry professional Maria Ferrero. Adrenaline PR utilizes decades' worth of effective PR techniques to execute a project's targeted focus, all the while enhancing the potency of a campaign by extending outside the realms of traditional promotions and applying beneficial marketing and branding methods to reach various new media territories. Although Adrenaline PR's longstanding credibility is rooted in their successful representation of notable brands, festivals, artists, and beyond, the firm also specializes in securing noteworthy placements and creating a high-profile buzz for up-and-coming talent and brands.
The team at Adrenaline PR has represented wide range of projects – ranging from bands, fine artists, films and books, to labels, tours, festivals, award shows, conventions, photographers, and tattoo artists. Adrenaline PR has represented notable artists such as, but not limited to: American Idol winner Lee DeWyze, All That Remains, Anthrax, As I Lay Dying, Atreyu, Dethklok/Brendon Small's Galaktikon, DevilDriver, Drowning Pool, Down, Europe, Every Time I Die, Five Finger Death Punch, GWAR, Hank3, Harley Flanagan, Hatebreed, John 5, KMFDM, Lamb of God, Mac Sabbath, Machine Head, Motorhead, Mudvayne, Norma Jean, Otep, Pentakill, Peter Murphy, Sevendust, Suicidal Tendencies, Superjoint Ritual, Tech N9ne, Testament, The Aristocrats, Twiztid, Uli Jon Roth and more. Adrenaline PR has had the pleasure of supporting press campaigns for Good Fight Music, InsideOut Music, Metal Blade Records, Minus Head Records, Napalm Records, Nuclear Blast Records, Prosthetic Records, Razor & Tie, and others. Adrenaline PR has promoted films, soundtracks and compilations including As The Palaces Burn (Lamb of God documentary), Hesher, REPO! The Genetic Opera, Super Duper Alice Cooper, the Ronnie James Dio: This Is Your Life tribute compilation (2014 Best Metal Performance Grammy winner for Tenacious D's "The Last In Line"), Dimebag Darrell's Dimevision, and The Punisher (soundtrack), and books such as Louder Than Hell; The Oral History Of Heavy Metal and The Merciless Book of Metal Lists. Artists represented include Paul Booth – The King of Rock and Roll Tattoo, Vincent Castiglia (tattoo artist and surrealist) and Derek Hess. Adrenaline PR is recognized for publicizing various events such as the "Astronomicon" Pop Culture Convention, the Journeys Alternative Press Music Awards and the Alternative Press Magazine 20th Anniversary (My Chemical Romance, The Used and Say Anything), MTV2 Headbanger's Ball Tours I and II, REPO! The Genetic Opera Film and Road Tour, Rockstar Energy Drink Mayhem Festival, Ronnie James Dio: Stand Up and Shout Cancer Fund charity events, Scott Ian's "Speaking Words" tour, Sounds of the Underground, various Live Nation NYC club events, and many more. Adrenaline PR has also booked guest judges for BRAVO's Top Chef and assisted with Grammy Award/The Recording Academy events.