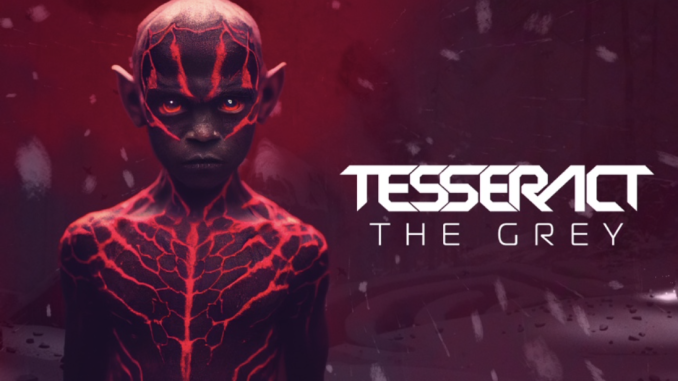 NEW ALBUM WAR OF BEING OUT SEPTEMBER 15 VIA KSCOPE
Following their earth-shattering return with an announcement of a world tour, new single, and epic, 11-minute cinematic video for title track "
War Of Being
,"
TesseracT
continue their journey into The Strangeland in the form of new single "
The Grey
."
Watch the visualizer for the track here.
"The Grey" builds on signature grooves that undulate in TesseracT's sound, flanked by polyrhythmic rhythms tied together by the band's iconic melodies. It's yet another example of the multi-faceted appeal of their sound and proves that they can craft immediate and affecting tracks just as masterfully as their epic 11-minute opuses.
Regarding the track, Amos Williams says, "'The Grey' explores the story and character within The Strangeland of the same name — a character who has suppressed their own voice to the point that they have blended into the shadows, their story lost amongst the white noise of the world. Through the song, we experience their journey as they wrestle with their frustration and sorrow at how they have ended up this way.
"It's a powerful, energetic piece that pushes each member of TesseracT to a next level of musicianship and expression. And continues to shine a light upon the diversity that can be expected from War Of Being."
Alongside the release of the single is a fully functional, immersive video game titled "War Of Being." Launched on August 11, the user can enter the world of the album bridging the gap between listening and experience to create a living, breathing concept that brings you closer to the world of TesseracT than ever before.
In celebration of the early access game, the band have made a visualiser for the single which incorporates areas seen in the game alongside the track itself. The visualiser was made by Amos Williams.
In the game's 'Early Access','fans can expect to explore several surreal landscapes, meet characters from the concept of "War Of Being" and solve puzzles in order to unlock parts of TesseracT's second single "The Grey." The end of the game will unlock the full song where the play can listen from within the same breathtaking landscapes used in the "War Of Being" music video.

Download + play here.

After finishing the album recording in August 2022, singer and frontman Daniel Tompkins immediately began his focus on developing "War Of Being" VR and desktop computer game based entirely on the album's original concept, created by Williams and himself. Tompkins is the lead designer and developer of the game alongside Adam Boyt (Programmer/Developer) and Kirsty Harvey (3D Designer).

Regarding the game, Tompkins says, "As a keen gamer and livestreamer, I have always understood the potential waiting for a musical project to bridge the gap between the gaming and music worlds and with such a visually stunning concept, I could see that this was the perfect opportunity to bring it to life in virtual reality and as a desktop game. This has been without a doubt the biggest project I have personally ever undertaken and is a huge achievement for our developers. It has pushed us to our absolute limits and I'm so proud to have accomplished the beginnings of a fully developed game on Steam."

The game will be available exclusively on Steam and playable in VR on Viva/Rift S and Oculus accompanied by a SteamDeck playable version.

War Of Being was recorded at Middle Farm Studios in the United Kingdom with Peter Miles (Architects/Sylosis/Dodie) co-producing with the band alongside Katherine Marsh of Choir Noir (Bring Me The Horizon/Architects/Marillion). Assisting with additional programming and production, the band was joined by Randy Slaugh (Periphery, Architects, Devin Townsend), with additional engineering by Forrester Savell (Karnivool). The artwork, which features characters "ex" and "el," was created in collaboration between AI and human as a means to extend the concept into its presentation.

WAR OF BEING TRACKLISTING:
"Natural Disaster"
"Echoes"
"The Grey"
"Legion"
"Tender"
"War Of Being"
"Sirens"
"Burden"
"Sacrifice"

The album will be available in a variety of formats that include the following:

— Deluxe version — "The Strangeland" – a limited edition collector's 3 Disc, 68 page Hardback Book Edition containing the War Of Being audio CD/a DVD/a Blu-Ray that features "The Journey of Being" 40-minute documentary on the making of War Of Being, "The Strangeland," an in-depth view of the characters of War Of Being, the 1- minute feature length video and album in 5.1 Surround — strictly limited to 1,500 copies worldwide.

— CD Digipack with 24-page booklet
— Digital (+ in Dolby Atmos)
— Gatefold 2LP 'The Scribe" – Black and Gold Corona (TesseracT EU Store exclusive limited to 1000)

— Gatefold 2LP "Fear" – Red and Black Marble (TesseracT US/AUS Store exclusive limited to 1000)

— Gatefold 2LP – Red Vinyl (Revolver.com exclusive limited to 500)

— Gatefold 2LP – Clear Vinyl (

Amazon.co.uk

+ Euro indie stores exclusive limited to 1000)

— Gatefold 2LP – Yellow Vinyl (Kscope Store + EMP Germany Exclusive limited to 500)

— Gatefold 2LP – Black Vinyl

— Blu-Ray (5.1 Surround/"War Of Being" 11-minute feature length video / "The Strangeland" and "The Journey of Being")

Pre-save + pre-order here.
Alongside the brand new album, the band will be embarking on a worldwide tour that will begin in 2023 running through to 2024 performing shows in throughout the U.S., Europe, the UK, Asia and Australia, with support from Intervals, Unprocessed, Alluvial, and The Callous Daoboys.

Tickets are on sale HERE.

TESSERACT US TOUR DATES:
10/5 — Charlotte, NC — The Underground
10/6 — Charleston, SC — Music Farm
10/7 — Norfolk, VA — Norva
10/8 — Baltimore, MD — Rams Head Live!
10/10 — Chicago, IL — House of Blues
10/11 — Pittsburgh, PA — Roxian Theatre
10/13 — New York, NY — Irving Plaza
10/14 — Boston, MA — Paradise
10/15 — Philadelphia, PA — TLA
10/17 — Montreal, QC — Corona Theatre
10/19 — Toronto, ON — Danforth Music Hall
10/20 — Grand Rapids, MI — Elevation
10/21 — St. Louis, MO — Red Flag
10/23 — Denver, CO — Summit Music Hall
10/24 — Salt Lake City, UT — The Depot
10/26 — Seattle, WA — The Showbox
10/27 — Vancouver, BC — Commodore
10/28 — Spokane, WA — Knitting Factory
10/29 — Portland, OR — Hawthorne Theatre
10/31 — San Francisco, CA — Regency Ballroom
11/1 — Los Angeles, CA — The Regent Theatre
11/3 — San Diego, CA — Observatory North Park
11/4 — Phoenix, AZ — Nile Theater
11/5 — Albuquerque, NM — Revel
11/7 — Dallas, TX — The Granada Theater
11/8 — Austin, TX — Emo's
11/9 — Houston, TX — Warehouse Live
11/11 — Tampa, FL — The Orpheum
11/12 — Atlanta, GA — Buckhead Theatre
11/13 — Nashville, TN — Brooklyn Bowl

For all press materials can be found here.
Photo credit: Andy Ford