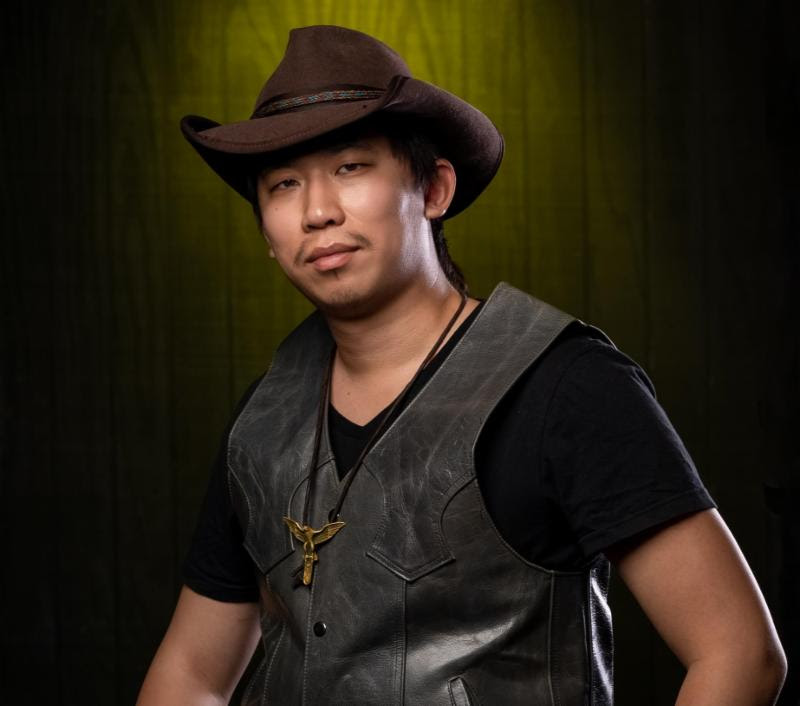 Watch New Music Video for "My Sky" and Read an Exclusive Interview via
Kerrang!
Nature G portrait by Jim Wilkinson
Global Music Award-winning nomadic folk metal group TENGGER CAVALRY – created and led by frontman and creator Nature G – are one of the most unique and innovative acts in modern music. To date, the band has earned international praise and attention from the likes of Billboard, CNN, The Huffington Post, The Wall Street Journal and countless others.
As an artist who came to America with the sole purpose of cultivating his art and who ultimately found rapid success in the metal underground, Nature was blindsided by a contractual dispute in 2017, that in his eyes, put all of his hard work to survive as an artist trying to "make it" in a new country in jeopardy. Nature G recently admitted publicly via his social media that in December of that year, he almost took his own life in a suicide attempt – the pressure became too much. After surviving this attempt, Nature immediately realized that he couldn't give up on his life, or his art, no matter what stood in his way.
Today, Kerrang! shared a very personal, exclusive interview with Nature G regarding his struggles with mental health and retaining his artistic freedoms. In conjunction with this interview, Nature explains that his consistent artistic approach of melding traditional folk elements of his nomadic culture with modern heavy metal has led him to return to his homeland of China multiple times since 2017 – each time aiding the healing process.
Nature G says, "It has been almost two years since the incident. I witness many people struggling with very similar situations all the time. Hopefully by talking about it, we can bring more light to the issue and people will no longer feel alone when it comes to dealing with it."
TENGGER CAVALRY
will release their new album,
Northern Memory
, on May 10, 2019. The album can be pre-ordered
here
.
June 7 – Aalborg, Denmark @ Studenterhuset – AR&M Festival
June 18 – New Haven, CT @ International Festival of Arts & Ideas
June 28/June 29 – Brande-Hörnerkirchen, Germany @ Hornerfest 2019
August 17 – Baltimore, MD @ Metro Gallery – Maryland Folk Metal Fest V
About TENGGER CAVALRY:
TENGGER CAVALRY ("the army of the sky god" in Mongolian) blends the nomadic musical traditions, instrumentation and warrior spirit of Central Asia with the aggression and power of heavy metal. The group was founded by Nature "G" Ganganbaigal, who sings using the ancient Mongolian tradition of Khoomei (more commonly known as throat-singing) and plays multiple native instruments, including the Morin Khuur (an ancient fiddle), the Tovshuur (a Mongolian guitar) and the Mongolian flute.
Following Nature G's relocation to America five years ago, TENGGER CAVALRY has successfully completed several tours and two sold out performances at New York City's prestigious Carnegie Hall.
In the studio, meanwhile, the group's output has been prodigious – since forming in 2010, they've released six full-length albums, two EPs and numerous singles, including unique cover interpretations of metal classics. In January, Megadeth's Dave Mustaine retweeted the group's cover of "Symphony of Destruction," while the previous month, the official MotörheadFacebook page reposted their rendition of "Fight."
Learn more about TENGGER CAVALRY:
TENGGER CAVALRY full line-up is:
Nature – Guitar, Morin Khuur, Vocal
Tamir – Morin Khuur
Pat Reilly – Guitar
Greg Baker – Double Bass
Randy Tesser – Drum