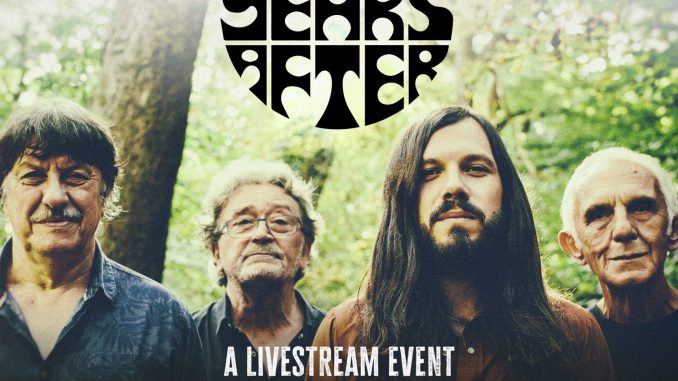 Classic rockers/blues rock trailblazers Ten Years After will soon be performing for fans throughout the world once more, via a livestream event. Entitled "Blue Crossroads," the event includes three performances by different artists, Ten Years After on June 17th, Marcus Bonfanti Electric Band on July 1st, and Jawbone on July 15th.
The Ten Years After portion of the performance will be taking place on June 17
th
at 9pm EDT (with replay access available for 72 hours afterwards), tickets are available for purchase via
boxoffice.mandolin.com
.
Celebrating more than 50 years since forming, Ten Years After are still making classic blues rock with a contemporary groove – original members Ric Lee and Chick Churchill have continued this legacy and are now rounded out by guitarist/vocalist Marcus Bonfanti and bass icon Colin Hodgkinson.
Ric Lee: "Fans can expect an hour long concert mixing new and old Ten Years After songs such as 'Land of the Vandals,' 'Hear Me Calling,' 'I'd Love To Change the World,' 'Silverspoon Lady,' 'Good Morning Little Schoolgirl' and, of course, 'I'm Going Home' plus other tracks. From the finished cut I've seen we did capture the excitement of a live gig in spite of the fact that, due to Covid restrictions, we weren't allowed an audience."
Ten Years After remain one of the most prolific English bands of all time, continuing to tour worldwide. They have come together for the first time since early 2020 for this one off performance from London's Subterania – expect a special evening and raise a glass to one of the legends of rock who are still rolling!
A three time British Blues Award winner as well as countless nominations Marcus Bonfanti of the Marcus Bonfanti Electric Band has toured the world with many artists as well as his own band and released three critically acclaimed albums. His growing reputation as a guitar player and vocalist lead to him being asked to join legendary British Rock n Roll band Ten Years After in 2014. He co-wrote and produced their latest studio album as well as appearing on their last two live albums and touring the world extensively including a special 50th anniversary tour to commemorate The Woodstock Festival in 2019.He is also into his tenth year of fronting the Ronnie Scott's Blues Explosion who hold a monthly residency at the prestigious London venue and have had special guests Jack Bruce Eric Burdon Joe Louis Walker Sarah Jane Morris and John Nemeth to join them. Known for his deep powerful vocal style and ability to combine many differing guitar styles to create his own unique sound Bonfanti's live shows are full of a raw energy that many people thought had left live music a long time ago. This film manages to capture him and the band in full flow at their very best. "He will knock you out" – Huey Morgan.
Jawbone began as a collaboration between established solo artists Paddy Milner and Marcus Bonfanti and the lineup was completed by the renowned rhythm section of Rex Horan and Evan Jenkins. Since the release of their eponymous debut album in 2017 Jawbone have gone from strength to strength honing their live exciting show on the road during extensive touring of Europe. In January 2018 they were chosen to back Eric Clapton Van Morrison & Tom Jones at Paul Jones' legendary charity show at G-Live in Guildford gaining rave reviews from the artists involved and the sell-out audience alike. The distinctive voices of Paddy Milner and Marcus Bonfanti compliment and contrast throughout the songs as they share lead vocal duties on the album. Rex Horan's searing falsetto vocals create the three-part harmony that has become a hallmark of the Jawbone sound. Taking influences from Little Feat The Band The Rolling Stones and Crosby Stills Nash & Young but also mixing it with the eclectic musical backgrounds that each member brings allows Jawbone to create a very fresh take on rock'n'roll. The live show captures the band in its most natural form and premiers new material from their forthcoming album as well as live arrangements of the songs from their first.
The livestream is only the first TYA offering for 2021, according to Lee. "The band has a new (to the USA) live album, 'Naturally Live,' coming out on Deko Entertainment in the near future with 2 bonus live tracks. Following that, Chrysalis Records is releasing a 'clam shell' box set released either this month or July covering the years from 1967 to 1975, and October this year is the 50th anniversary of 'A Space in Time,' which was our most successful USA release in 1970. A gold album then, it is now certified platinum. The studio version of 'I'd Love To Change the World' (an AM Top Forty hit), was first heard on this album. We're currently planning to play all or almost all of the album on our next live gigs. With luck we'll start touring again in Europe later this year and hopefully hit the USA in 2022."
And Ten Years After will be getting the ball rolling on June 17th, as the first part of the Blue Crossroads livestream event.
FOR MORE INFORMATION, VISIT: