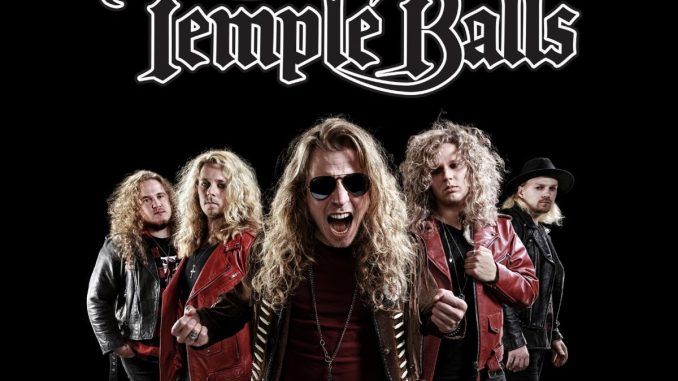 Pre-Order HERE
Second Single, "Trap", + Music Video Out Today!
Watch HERE
Today, TEMPLE BALLS share the second single from their upcoming fourth album, 'Avalanche' due out November 10th on Frontiers Srl. The track is called "Trap" and is accompanied by a brand-new music video!

On the new single, "Trap", the band says, "These days they talk a lot about reforming rock n' roll. We're not here to reform anything. We would rather rev the old engine so to speak. Comparing this to cars; it's that some people like to drive these modern day electric cars while we preferably cruise the old V8 machines with style. There's nothing wrong with either of these styles. This is just what works for us and we hope other people like it too."

Watch the Official Music Video for "Trap" HERE
Dynamic hard rock band TEMPLE BALLS are always keeping busy both in the studio, and on the stage. Opening for bands such as Sonata Arctica, Queen, Deep Purple, and Uriah Heep, the band has proven themselves more than capable of handling stages of any size, whether it be a big festival or local club stage. Live, this band will set your friggin' pants on fire and turn you into a believer!

TEMPLE BALLS' first official single, "Hell and Feelin' Fine", was released in September 2016 and got loads of airtime on Finnish rock radio. The band's debut album was recorded at Karma Sound Studios (Thailand) in May, 2016, and saw daylight on February 24, 2017. It was produced by Tobias Lindell, who is known for his collaborations with Europe, Mustasch, and H.E.A.T..

Fall of 2017 started with a sold-out tour across Finland with Battle Beast. TEMPLE BALLS also played in Japan that year for the first time as well as making a five-day tour of Ukraine. After their swing through Japan, the readers of the biggest Japanese rock magazine Burrn! voted TEMPLE BALLS as "the second brightest hope," and they were chosen as "The Newcomer of the Year" on Masa Ito's Rock TV.

The second album, 'Untamed', dropped on March 8, 2019 and immediately got fantastic reviews from music media such as Soundi and Burrn! magazines. The band also toured Europe as support for Sonata Arctica, cementing their reputation as a stellar live act.

'Pyromide', their Frontiers debut and third album overall, was a tour de force of melodic hard rock that saw the band push themselves onto the world stage. Produced by none other than Jona Tee, the album is full of hooks, powerful rhythms, and anthemic rock 'n' roll like it was meant to be played.

In May of 2022, TEMPLE BALLS did a 3-week tour of Europe with the Swedish melodic metal masters H.E.A.T. and continued gigging in Finland during the festival season. The first single of their fourth album, 'Strike Like A Cobra', was released in March of 2022 and was received brilliantly by fans and media alike.

As of now, the band have finished working on their upcoming fourth album titled 'Avalanche' and the first single, "No Reason", dropped worldwide on June 22nd. See the video for it below.
Watch the Music Video for "No Reason" HERE
TEMPLE BALLS are:

Arde Teronen – Vocals

Jimi Välikangas – Bass

Jiri Paavonaho – Guitar

Niko Vuorela – Guitar

Antti Hissa – Drums