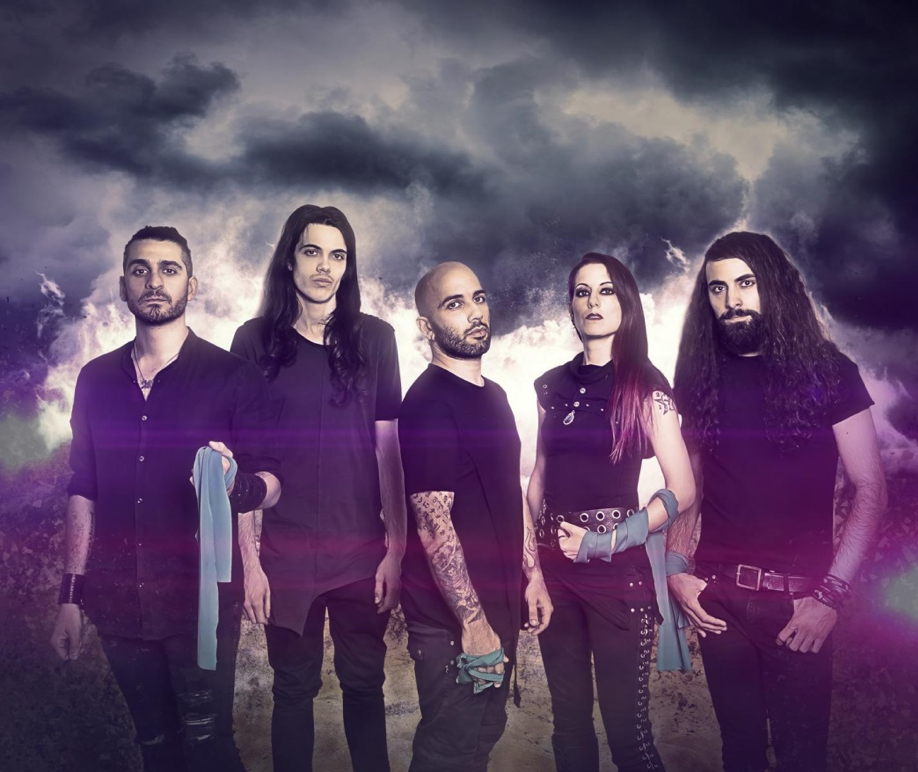 Another journey, another challenge to win.
TEMPERANCE has just released their first single, "Mission Impossible", off their new album, Viridian! "Mission Impossible" is the essence of TEMPERANCE – beautiful harmonies, heavy riffs and high-quality storytelling. The song is about the widely known movie of the same name. Its main character and agent Ethan Hunt is struggling to retrieve the deadly poison Chimera and its antidote Bellerephon, including motorcycle chases along the beach. The song conveys an overall feeling of urgency to rescue all of humanity. The accompanying intense lyric video is bound to get you hooked!
Watch The Lyric Video For "Mission Impossible"
HERE
!
Singer Michele Guaitoli on "Mission Impossible":
"After months of wait, we're finally ready to begin a new cycle. This is "Mission Impossible", the first single off our brand new album Viridian. As you may have understood from its title, this song is inspired by the amazing film series. With such an 'explosive' subject, we could only choose this one, among the most powerful and bombastic songs from Viridian as the album opener and first single!"
Pre-Order Viridian
TODAY
!
[cover artwork: Yann Souetre]
Tracklist:
1. Mission Impossible
2. I Am The Fire
3. Start Another Round
4. My Demons Can't Sleep
5. Viridian
6. Let It Beat
7. Scent Of Dye
8. The Cult Of Mystery
9. Nanook
10. Gaia
11. Catch The Dream
The pre-order for Viridian starts now! The album will be available in the following formats:
·CD Digipack
·Digital Album – including exclusive bonus track
·Vinyl Gatefold in Black
·Vinyl Gatefold in Gold (strictly limited to 100 copies – only available via Napalm Records Store)
TEMPERANCE will join symphonic metal legend Tarja on tour as a special guest on her European Tour in Spring 2020!
Singer Alessia Scoletti states: "We're so thrilled about this upcoming European tour with Tarja! Her musical background and evolution are very inspiring to us, so it's a real honor.
This will be a great chance to introduce the new songs of Viridian to the fans, an album that we expect the listeners to be transported into another musical dimension and discover new shades of the TEMPERANCE sound!"
Find the dates below:
w/ Tarja
07.03.20 PT – Lisbon / Altice Arena – Sala Tejo
08.03.20 ES – Murcia / Gamma
09.03.20 ES – Madrid / BUT
11.03.20 ES – Bilbao / Santana 27
12.03.20 ES – Barcelona / Apolo
13.03.20 FR – Marseille / Le Silo
15.03.20 FR – Strasbourg / La Laiterie Artefact
16.03.20 FR – Paris / La Cigale
17.03.20 UK – London / Electric Ballroom
19.03.20 UK – Manchester / Academy 2
20.03.20 UK – Glasgow / Garage
09.04.20 NL – Haarlem / Patronaat
10.04.20 NL – Nijmegen / Doornroosje
11.04.20 DE – Herford / X
13.04.20 DE – Mannheim / MS Connexion Complex
14.04.20 DE – Bochum / Matrix
15.04.20 DE – Hamburg / Markthalle
17.04.20 DE – Berlin / Columbia Theater
18.04.20 DE – Leipzig / Hellraiser
19.04.20 DE – Nuremberg / Hirsch
21.04.20 DE – Munich / Backstage
22.04.20 AT – Vienna / Szene
23.04.20 CH – Lyss / Kufa
TEMPERANCE is:
Alessia Scolletti – Vocals
Michele Guaitoli – Vocals & Piano
Marco Pastorino – Guitar & Vocals
Luca Negro – Bass
Alfonso Mocerino – Drums
For more info visit: