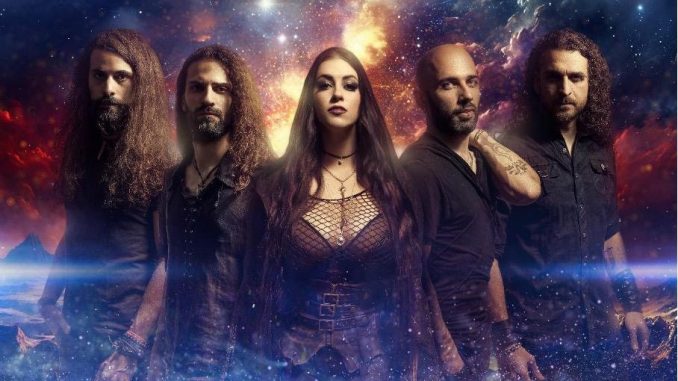 Out October 20, 2023 via Napalm Records
Pre-Order NOW!
First Single "Daruma" + Official Music Video Out Now
Watch HERE!
Welcome to 'Hermitage – Daruma's Eyes Pt 2', a spectacular fantasy story by melodic symphony maestros TEMPERANCE
Italian maestros of modern melodic/symphonic metal TEMPERANCE will unleash their new concept album, 'Hermitage – Daruma's Eyes Pt. 2', on October 20, 2023 via Napalm Records! During their successful European tour with Tarja (ex-Nightwish) this spring, the band introduced its new lineup and proved once and for all that this new arrangement is more than just convincing.
Expanding the characteristic sound of the band with a new member – American professional opera/metal singer and vocal coach Kristin Starkey – the essence of charismatic singer Michele Guaitoli (Visions of Atlantis) and mastermind singer/guitarist Marco Pastorino (Serenity) reaches a higher level. Guest musicians like Arjen Lucassen (Ayreon), Fabienne Erni (Eluveitie, Illumishade), Laura Fella (Faun) and Alessandro Conti (Twilight Force) complement the exciting journey of the new album.
Today, the five-piece have finally released their new single, "Daruma", together with a colorful official music video that perfectly introduces the mood and exciting story of the multifaceted album
Galloping guitar passages open the single while the album narrator and multitalented Arjen Lucassen guides through the catchy melodies. The dark timbre of singer Kristin Starkey introduces the villain Anningan, who will turn the life of the album's protagonist Viktor upside down.
Singer Kristin Starkey on "Daruma":
"I'm so excited for you to hear our new single called 'Daruma'. It not only sets the stage for the dramatic storytelling of our new album, 'Hermitage: Daruma's Eyes Pt. II', but also marks the beginning of my chapter with TEMPERANCE. I really believe our new sound will be loved by fans new and old, and I am looking forward to your feedback! See you on the road."
Watch the official music video for "Daruma" HERE
Catapulted into another era by finding the Japanese doll, Daruma, protagonist Viktor wakes up in a magical village called Hermitage, exploring its secrets track by track. Getting into a fight between the siblings Anningan and Irin, only Viktor's destiny is the key to their conflict. "Welcome To Hermitage" presents the magical world of Hermitage with fairytale-like flutes, twinkling chime elements, and the vocal arrangements of singers Fabienne Erni (Eluveitie, Illumishade) and Laura Fella (Faun). "No Return" glances with the band's characteristic sing-along refrain and operatic fragments while the track "Join Me" ranges from marvelous vocal harmonies to grand compositions. The spellbinding "Darkness is just a Drawing" and uplifting "Full Of Memories" gather the atmosphere of 'Hermitage – Daruma's Eyes Pt. 2' once again, before "Cliff" closes the album with rising melodies, epic orchestration arrangements, and inimitable vocal spotlights. The concept album was produced by TEMPERANCE guitarist and singer Marco Pastorino and mixed and mastered by Simone Mularoni (Luca Turilli, Michael Romeo, Twilight Force) at Domination Studio in San Marino. Come explore Viktor's legacy!

Guitarist and singer Marco Pastorino on the upcoming album, 'Hermitage – Daruma's Eyes Pt. 2':

"We are so excited about this new chapter called Hermitage. Personally, I've dreamed of writing a real concept album like this since the release of the suite called Daruma's Eyes Pt 1 on the album 'Of Jupiter and Moons', and finally, we made it – a complete story with six characters (represented by six singers) plus such a great narrator. We decided to change the production team, 100% from Italy; we worked together with Simone Mularoni on the mixing, as we did in the first three albums of the band, plus for the very first time, I worked together with someone else for the orchestrations: Daniele Mazza, the mastermind of Ancient Bards. The artwork also was made by the talented artist Giada Belviso. Get ready for a journey through magic and dreams, and welcome to Hermitage."
'Hermitage – Daruma's Eyes Pt. 2' Track List:
1. Daruma
2. Glorious
3. A Hero Reborn
4. Welcome to Hermitage
5. No Return
6. In Search of Gold
7. Join Me
8. Trust no one but You
9. Darkness is just a Drawing
10. Into the Void
11. Brand new Start
12. Where we Belong
13. Full of Memories
14.Cliff
'Hermitage – Daruma's Eyes Pt. 2' will be available in the following formats:
=> 2LP Gatefold SOLID RED- ltd. to 300 copies worldwide
=> 1CD Digipak
[1LP Slipcase Gatefold SOLID RED]
Experience TEMPERANCE Live in 2023:
29.09.23 DE – Oberhausen / Killerz Fest
04.11.23 NL – Apeldoorn / Brainstorm Festival
TEMPERANCE are:

Kristin Starkey – Vocals

Michele Guaitoli – Vocals

Marco Pastorino – Guitars & Vocals

Luca Negro – Bass Guitar

Marco Sacchetto – Drums

FOLLOW TEMPERANCE: