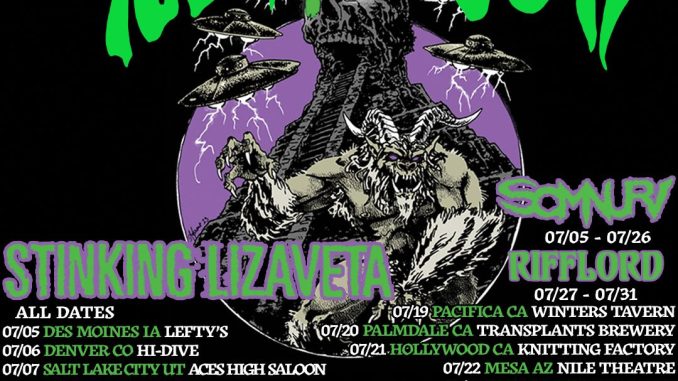 Psychedelic doom duo Telekinetic Yeti will be embarking on a U.S. headlining tour this July with support from Stinking Lizaveta (all dates), Somnuri (July 5-26), and Rifflord (July 27-30). The extensive trek kicks off today, July 5, in Des Moines, IA and will conclude on July 31 in the band's hometown of Dubuque, IA. The full itinerary and ticket links can be found below!

In addition, the band has added three new dates to the routing – July 17 in Sacramento, CA, July 23 in El Paso, TX, and July 31 in Dubuque, IA!

The band will be supporting its 2022 sophomore full-length, 'Primordial,' which was released on July 8, 2022 via Tee Pee Records. 'Primordial' was named the #1 American Release and #5 Album Worldwide by Doom Charts for July 2022 and the #5 Hard Rock Album of 2022 of Magnet Magazine. Stream/order/download HERE.
Telekinetic Yeti U.S. Tour Dates
(w/ Stinking Lizaveta (all dates), Somnuri (July 5-26), and Rifflord (5/27-31):
07/05: Des Moines, IA @ Leftys [TICKETS]
07/06: Denver, CO @ Hi Dive [TICKETS]
07/07: Salt Lake City, UT@ Aces High Saloon [TICKETS]
07/08: Boise, ID @ Shredder [TICKETS]
07/11: Vancouver, BC @ The Wise [TICKETS]
07/12: Bellingham, WA @ Shakedown [TICKETS]
07/13: Seattle, WA @ Funhouse @ El Corazon [TICKETS]
07/14: Portland, OR @ Dantes [TICKETS]
07/15: Eugene, OR @ John Henrys [TICKETS]
07/16: Sacramento, CA @ Cafe Colonial [TICKETS] **JUST ADDED**
07/18: San Francisco, CA @ Bottom Of The Hill [TICKETS]
07/19: Pacifica, CA @ Winters Tavern [TICKETS]
07/20: Palmdale, CA @ Transplants Brewery [TICKETS]
07/21: Hollywood, CA @ Knitting Factory [TICKETS]
07/22: Mesa, AZ @ Nile Theatre [TICKETS]
07/23: El Paso, TX @ Rockhouse **JUST ADDED**
07/25: Oklahoma City, OK @ 89th St [TICKETS]
07/26: Tulsa, OK @ Mercury Lounge [TICKETS]
07/27: Lawrence, KS @ Bottleneck [TICKETS]
07/28: Minneapolis, MN @ 7th St Entry [TICKETS]
07/29: Lincoln, NE @ Cosmic Eye [TICKETS]
07/30: Chicago, IL @ Reggie's Rock Club [TICKETS]
07/31: Dubuque, IA @ The Lift [TICKETS] **HOMETOWN SHOW // JUST ADDED**
Based out of Iowa, Telekinetic Yeti is a two-man band that delivers sonic brutality melded with psychedelic doom wizardry, forged by the worship of the almighty riff and honed by relentless touring and dedication to their craft.

Creating music as cryptically enchanting as it is heavy, you wouldn't guess that the impressive cacophony pouring out of the speakers like molten, metal syrup is being produced by only two people. Founder and guitarist Alex Baumann explains, "Originally I decided not to have a bass player purely for logistical reasons, it was just another schedule to work around, another person who's boss could tell us we can't tour, but then I started seeing it as a challenge, like let's see how heavy we can make it with just two people." That started grabbing peoples attention.

Relentless touring and playing pretty much any club that would have them, the band set sail on their epic voyage, selling their debut album Abominable out of their van and cutting their teeth in the underground playing hundreds of shows. All the while receiving rave reviews of their live performance as well as their first release, which landed at #2 on the doom charts and stayed right there for months. The Sludgelord called the eight-song album "a f***ing monster from start to finish," and The Obelisk, including the album in their year-end, best of list, dubbed it the "debut of the year," and said "it could have been another band's second or third record for the level of cohesion on display."

The video for "Stoned and Feathered" racked up nearly a few hundred thousand views and counting. It was at this time that Telekinetic Yeti caught the attention of Ozzy Osbourne bass player, Blasko, who named Abominable on his "5 favorites" list.

People were starting to catch on, and soon thereafter Telekinetic Yeti would be invited to tour extensively with some of the best heavy rock bands in the business, including Clutch, Black Label Society, Red Fang and Weedeater.

Now the band finds itself in a much different, auspicious position, and with the help of famed producer Phillip Cope (Baroness, Kylesa, Damad, Black Tusk et al), Telekinetic

Yeti returns with their eagerly-anticipated, second full-length album, Primordial. With this release, the band takes their game to a whole new level. Primordial explores themes as diverse as evolution, sorcery, black magic and the contradictions of the gloriously uplifting yet simultaneously melancholic human condition. " I wanted to write something that was an appropriate intro to the album, that brought to mind an early earth setting and featured atmospheric elements as well as some droning, sparse simplicity and lyrically, simple imagery regarding the dawn of humankind and creation of the first tools." Explains Baumann of the title track.

As it unfolds, the album evolves into a cathartic exploration turning themes into tangible sounds and haunting fugues. Says Baumann regarding the inspiration behind "Beast": "This song is about wanting to escape the societal constraints that keep us on the wheel, toiling away, indefinitely. Its also about questioning authority figures, or really anyone that claims to have all the answers."

Matured songwriting, creatively brutal riffs and an exercise in monstrous tones make this listen an immersive experience taking you back to explore and appreciate the primordial ooze that we all came from. Telekinetic Yeti has partnered with stalwart Indie label, Tee Pee Records.

Telekinetic Yeti is:

Alex Baumann – Guitar/Vocals

Rockwel Heim – Drums

Follow Telekinetic Yeti here: