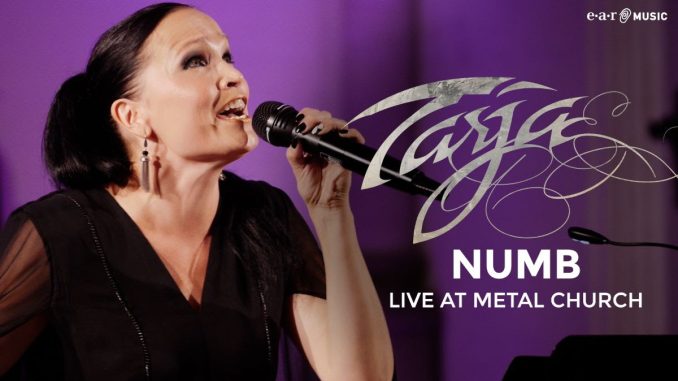 FIRST SINGLE, A COVER OF LINKIN PARK'S "NUMB," IS OUT TODAY — LISTEN
Rocking Heels: Live at Metal Church is the document of a very special concert in the idyllic setting of Wacken Church. It will be released on August 11, 2023 on earMUSIC and is the first release of the live series Rocking Heels.
In front of just 300 handpicked fans, this onetime-only event opened the Wacken Open Air Festival in 2016. Tarja presents unique arrangements of rock and heavy metal classics by her favorite artists including "Numb" by Linkin Park, In Flames' "Alias," Metallica's "The Unforgiven," songs by Joe Satriani and Slipknot, as well as a Nightwish song and Tarja originals.
WATCH THE VIDEO FOR "NUMB" HERE.
The first single, a cover of Linkin Park's "Numb," perfectly reflects the intimate setting of this concert. Tarja's operatic prowess and hauntingly beautiful vocals add an extra layer of ethereal magic to an already powerful masterpiece. The song explores themes of emotional isolation, frustration, and the struggle to find one's identity in a world that often feels overwhelming. The lyrics convey a sense of detachment and numbness, reflecting the emotional struggles and inner turmoil of the protagonist.
PRE-ORDER ROCKING HEELS: LIVE AT METAL CHURCH HERE.
With its captivating performances of well-known songs paired with Tarja's iconic voice, this live album is a treasure for fans, as well as a discovery for Tarja-newcomers and all those who missed the chance to attend this exclusive concert. Rocking Heels: Live at Metal Church will be released as a Ltd. 2LP Vinyl Edition, CD Digipak in LP-replica design and on Digital.
Tarja is on tour now! Buy tickets here.
2023 LIVING THE DREAM TOUR DATES:
6/14 — Philadelphia, PA — Theatre of The Living Arts
6/16 — Baltimore, MD — Baltimore Soundstage
6/17 — New York, NY Irving Plaza
6/18 — Boston, MA — Big Night Live
6/20 — Detroit, MI — Saint Andrew's Hall
6/21 — Chicago, IL — House of Blues Chicago
6/22 — Minneapolis, MN — Varsity Theater
6/24 — Denver, CO — Marquis Theater
6/26 — Phoenix, AZ — The Van Buren
6/27 — Los Angeles, CA — The Belasco
6/28 — Las Vegas, NV — House of Blues Las Vegas
6/30 — Berkeley, CA — The UC Theater
ABOUT TARJA:
The brightest star of the symphonic rock scene, Tarja Turunen is certainly the most internationally well-known Finnish voice in the world of music. Soprano, composer, and songwriter, she reached international fame co-founding and being for nine years the voice and image of the Finnish symphonic metal band Nightwish, collecting with them Gold and Platinum Record Awards in several countries.
The unique combination of metal music with Tarja's soprano lead vocals gave birth to a new genre, quickly achieving critical and commercial popularity and inspiring many other metal bands and performers. But singing only somebody else's creations was not her destiny, and her talent could fully bloom only outside that crate. Tarja had to walk alone.
Finally free to follow her own inspirations, heart, and dreams, Tarja started her own solo career successfully devoted to both classical and rock music.
Tarja was nominated for the Emma Award in Finland in 2006 and 2007 and for the Echo Award in Germany in 2007, and she is the first Finnish solo artist to achieve a Gold Record in Germany and even more, the only one to do it both in a band and as solo artist. In 2015 and 2016, she was also busy starring as coach in two seasons of The Voice of Finland, which is the most watched TV-program from Channel 4 in Finland and leading her team to victory for two years in a row, something that never happened before in the history of the Finnish show.
After over 15 years of a solo career, it was finally time to celebrate. The Best Of: Living the Dream combines the best and most beloved songs from Tarja's prolific solo career in one outstanding package.