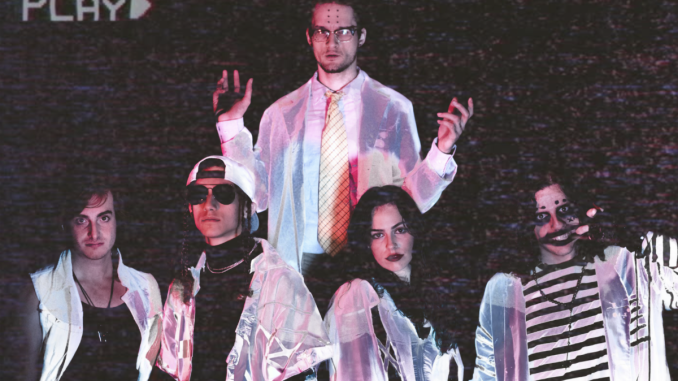 Drop Official Music Video For Brand New Track
"SHAKEN (NOT STIRRED)"
Taken From New Album
"THE GENERATION OF DANGER"
Out November 18th Via Earache Records
Pre-Order HERE
Photo Credit: Clip Hall | Download Here.
Thursday, September 1st, 2022 – Nu-Core quintet Tallah, one of modern metal's most explosive and unbridled forces have unleashed the latest installment in the world-building saga that will become their sophomore album, The Generation Of Danger (out November 18th via Earache Records). The brand new single is titled "Shaken (Not Stirred)" and lands with an accompanying music video. Find the new track on streaming platforms HERE and watch the official music video HERE or by clicking the image below. Pre-order The Generation Of Danger HERE.
Speaking on the release of their latest track, Tallah drummer, Max Portnoy shares
"Shaken is a song built on hooks. We spent a ton of time perfecting the chorus, bringing it to a place we felt was super memorable while still retaining the darkness and heaviness that the rest of the record has. It made for what I believe is the best hook we've written so far. And the hook from the main guitar riff is just as strong. It's a top tier track in my opinion."
Tallah frontman, Justin Bonitz, adds
"Not all Dicker's experiments were successes. Sometimes, impatience can be your downfall. What can you learn from your past mistakes?"
Tallah's sophomore album, The Generation Of Danger, will be released on November 18th via Earache Records and much like their debut album, Matriphagy, will revolve around around an elaborate and horrific story dreamt up by the band, that continues to unfold in the build up to release. Pre-orders are available now, HERE. "Shaken (Not Stirred)" follows previous singles 'The Impressionist' and 'Telescope', which have clocked up over 743,000 Spotify streams and 205k views on Youtube.
| | |
| --- | --- |
| | The Generation Of Danger offers fans more than just an album of pioneering nu-core metal. Whilst it will most certainly be lauded for Justin Bonitz's acclaimed aptitude for embodying numerous characters and emotions in his outstanding vocal shape-shifting and ability to meld the ever-blossoming ingenuity of Tallah's intrepid musicians, The Generation Of Danger will reward those who delve deeper into the album and its supplementary content. The album was recorded once more with producer Josh Schroeder at Random Awesome Studio and continues to build the fascinatingly dark nu-core metal beast Tallah have created and set loose. Pre-orders for the album are available now from earache.com/tallah |
Tallah

The Generation Of Danger

Track Listing

01 mud_castle

02 The Hard Reset

03 Stomping Grounds

06 For The Recognition

07 Of Nothing

08 Dicker's Done

09 Telescope

10 Wendrid

11 Headfirst

12 Thistle

13 How Long?
In celebration of The Generation Of Danger, Tallah are hitting the road this fall to play a handful of headline dates at the end of September, followed by a US run with Attila. Tickets and further info available at linktr.ee/Tallah
# = Headline Show
* = with Attila
Sun Sep 25 – Reverb – Reading PA #
Tue Sep 27 – New Brookland Tavern – Columbia, SC #
Wed Sep 28 – Shagnastys – Huntsville, AL #
Fri Sep 30 – Scout Bar – Houston, TX *
Sat Oct 1 – Ridglea – Dallas, TX *
Sun Oct 2 – Come and Take It – Austin, TX *
Tue Oct 4 – Pop's – St Louis, MO *
Wed Oct 5 – Cabooze – Minneapolis, MN *
Thu Oct 6 – Miramar Theatre – Milwaukee, WI *
Fri Oct 7 – WC Social Club – Chicago, IL *
Sat Oct 8 – Thompson House – Newport, KY *
Sun Oct 9 – Rec Room – Buffalo, NY *
Tue Oct 11 – Middle East – Boston, MA *
Wed Oct 12 – Brooklyn Momarch – Brooklyn, NY *
Thu Oct 13 – Otto Bar – Baltimore, MD *
Fri Oct 14 – Ground Zero – Columbia, SC *
Sat Oct 15 – Henao – Orlando, FL *
Sun Oct 16 – Respectable Street – Miami, FL *
Tue Oct 18 – Hooligans – Jacksonville, NC #
Wed Oct 19 – Scandals Live! – Virginia Beach, VA #
ABOUT TALLAH
Emerging from Pennsylvania in 2018 and combining the percussive force of second-generation drummer Max Portnoy with the pure, war-torn fury of vocalist and YouTube sensation Justin Bonitz, nu-core gang Tallah are on a mission to revamp and modernize the much-loved sound of popular nu-metal sensations of the early 2000s.
Drawing inspiration from the musical influences of their youth (the likes of Slipknot, Korn and Linkin Park), Tallah fuse the razor-sharp precision of these acts with the raw edges of modern hardcore music displayed by current sensations Code Orange, Vein, Candy and Fire From The Gods.
The band's debut album Matriphagy, a harrowing concept album of brutally disturbing metal, was met with critical acclaim, with Slipknot's Knotfest crowning it "one of the best metal releases of the year" and Metal Hammer declaring Tallah are 'leading the charge on the new wave of Nu-Metal". Matriphagy was also devoured by the fans, with the album racking up 13 million Spotify streams in the months since its release.
2021 saw Tallah indulged fans with a colossal collaboration "Vanilla Paste" (where they were joined by members of the formidable Chelsea Grin, Fire From The Gods and Guerrilla Warfare), team up with Avatar for their North American tour in Sept/Oct 2021, hit up spots at major USA festivals such as Blue Ridge Rock Fest and Welcome To Rockville, and receive nominations for Best International Breakthrough Band at the UK's Heavy Music Awards and Best Live [Streamed] Act at the AIM Independent Music Awards.
Tallah's cruelly ferocious new album The Generation Of Danger, due for release on November 18th, 2022 via Earache Records will only serve to extend their fascinatingly dark nu-core metal further into the metal community.
To date, Tallah have clocked up 16 million streams and 6 million YouTube views. They have over 114k monthly Spotify listeners and have had tracks added to 25 Spotify editorial playlists.
TALLAH ARE
Vocals – Justin Bonitz
Guitar – Derrick Schneider
Guitar – Alex Snowden
Drums – Max Portnoy
DJ – Mewzen