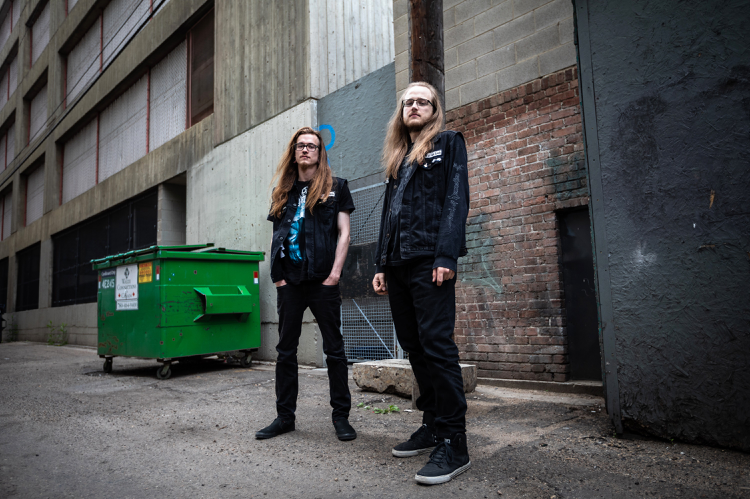 New EP "Volume Two: Mendacium" Out Now!
Unleashing their latest EP "Volume Two: Mendicium" this past September, Edmonton death metal duo Tales of Tomb are sharing with fans and technical guitar shredders their new playthrough video for the track 'Nine Eleven' via its premiere on TechnicalMusicReview
HERE
.
The band explains the story behind the track:
"Very few people (if any) are unaware of the tragic events that unfolded on Sept 11. 2001. We originally wrote this song for the last show of another Edmonton local band called Villainizer. When starting to plan out the second EP we wanted to have a concept like our first one. With songs like Nine Eleven and Faul wrote this point. We look common factors were in the songs and came to the conspiracy/lies concept. This EP is an important installment that embodies the fundamentals of the band — the reality is more horrifying than fiction. This is a concept EP based on the Latin word Mendacium — meaning untruth and or to be lied to. The first single Nine Eleven is just that — presenting a version of tragic historical events from various angles and the alleged truths that were presented. The intention of each song is to unmask the deception forced upon the masses pushing them to challenge their own perception of reality."
Painting their canvas of extreme music with inspirations of real-life stories of murder, conspiracy, supernatural horror, and terror, Tales of The Tomb's new EP "Volume Two: Mendicium" is a vicious bite of grinding blast beats, technical shredding accompanied by venomous guttural lows. Inspired by true events, the duo offer up gore-filled lyrics with a quivering soundscape. The EP was mixed and mastered by Cryptopsy guitarist and head engineer/owner at The Grid Studios Christian Donaldson along with featuring artwork by Tony Midi of Tonymidi Artworks.
Track Listing:
1. The Nightmare Hall (4:05)
2. Faul (3:02)
3. The Sinful Messiah (4:14)
4. Dyatlov Pass Incident (3:52)
5. Nine Eleven (4:46)
6. Mermaid In A Manhole (3:33)
EP Length: 23:44
More info: