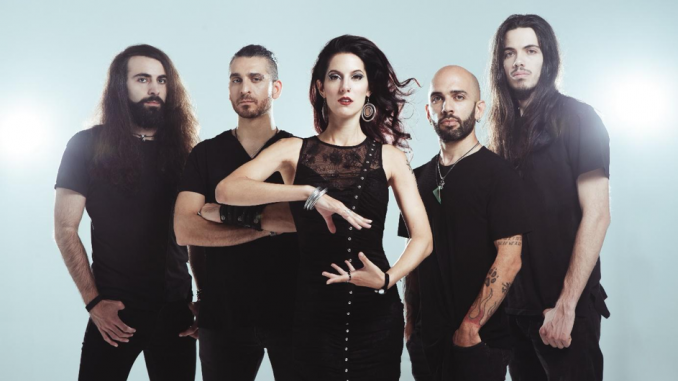 New Album, Diamanti, Out THIS Friday via Napalm Records

Watch the Music Video for "Diamanti"

HERE
After releasing "Pure Life Unfolds" & "Breaking The Rules Of Metal" the symphonic metal powerhouse TEMPERANCE reveals their upcoming album's title track "Diamanti". With the third single, the band enters the final round before the eponymous album arrives.
On "Diamanti", TEMPERANCE shows off their versatile skill set with a mix of heavy guitar riffs, orchestral strings, and the vocal harmonies of its authentic Italian chorus. As a special highlight and to celebrate their new album, the band will also release "Diamanti" in four (!) alternative versions. The track will come with a chorus in different languages (German, English, Spanish and French) and will be available on all streaming and download platforms. TEMPERANCE delights the fans with their perfect mixture melodic and symphonic soundscapes. "Diamanti" is yet just another example of the band's ability to create an epic tale for their listeners, accompanied by powerful and energetic vocals.
Michele Guaitoli (vocals, piano) on the new single:
"We've been taught that diamonds are the purest gems in this world. They're so pure that they can't be bent or broken. They're almost indestructible. They're valuable and also intangible: they inspire hope.
The diamonds that rain throughout this beautiful song signify hopes for a better world, hopes for our dreams to come true, hopes for peace and joy. Since hopes are timeless and have no borders, we wanted to make this song flow through many languages. We wanted to use the language of music, which I represent in the video. The language of nature, which Marco represents in the video. The language of arts and beauty, which Alessia represents in the video. And we wanted everyone to understand the meaning of this song, even those who cannot listen to it but can use their eyes to read the message. Hopes are forever, hopes are for everyone."
Check out the music video for "Diamanti"
HERE
:
Diamanti was mixed and mastered by Jacob Hansen (Volbeat, Epica, Amaranthe), with the cover artwork once again created by Yann Souetre (Ayreon).
Marco Pastorino (vocals, guitar) on the new album:
"With Diamanti, we've managed to combine our best qualities and select the best TEMPERANCE songs so far. It's not our heaviest album, it's not our fastest work, but surely it's our favourite one so far!
We weren't necessarily supposed to record a new album only one year after Viridian, but luckily we made it! In this album you will find our trademarks: the vocal harmonies, the catchy melodies, but also epic stuff, strong arrangements, and long tracks – I am very proud of Diamanti and I am convinced we have written a bombastic album!"
Tracklist:
1. Pure Life Unfolds
2. Breaking The Rules of Heavy Metal
3. Diamanti
4. Black Is My Heart
5. Litany Of The Northern Lights
6. You Only Live Once
7. I The Loneliness
8. Codebreaker
9. The Night Before The End
10. Fairy Tales For The Stars
11. Let's Get Started
12. Follow Me
Diamanti will be available in the following formats
● 1 – CD Digipak
● 2 – LP Gatefold BLACK
● 2 – LP Gatefold CURAÇAO SEA
● 2 – LP Gatefold DIAMOND CLEAR
● Digital Album
TEMPERANCE Live:
20/11/2021 Mantova, IT @ Milady Metal Festival*
As Tarja's special guest
02/02/2022 Glasgow, UK @ Garage
03/02/2022 Wolverhampton, UK @ KK's Steel Mill
04/02/2022 Milton Keynes, UK @ Craufurd Arms**
05/02/2022 Manchester, UK @ Academy
06/02/2022 London, UK @ Electric Ballroom
07/02/2022 Paris, FR @ La Cigale
09/02/2022 Strasbourg, FR @ La Laiterie Artefact
10/02/2022 Lyon, FR @ Transbordeur
11/02/2022 Milan, IT @ Live Club
13/02/2022 Marseille, FR @ Espace Julien
14/02/2022 Barcelona, ES @ Sala Apolo
15/02/2022 Madrid, ES @ Teatro Kapital
02/03/2022 Lyss, CH @ KuFa
04/03/2022 Ljubljana, SL @ Kino Siska
05/03/2022 Vienna, AT @ Szene
06/03/2022 Munich, DE @ Backstage
08/03/2022 Nürnberg, DE @ Hirsch
09/03/2022 Leipzig, DE @ Hellraiser
10/03/2022 Berlin, DE @ Columbia Theater
11/03/2022 Eisenhüttenstadt, DE @ RockHütte**
12/03/2022 Mannheim, DE @ MS Connexion Complex
13/03/2022 Herford, DE @ X
14/03/2022 Bochum, DE @ Matrix
16/03/2022 Hamburg, DE @ Markthalle
17/03/2022 Nijmegen, NL @ Doornroosje
18/03/2022 Haarlem, NL @ Patronaat
19/03/2022 Roeselare, BE @ De Verlichte Geest**
20/03/2022 Trier, DE @ Mergener Hof**
* Festival
** Headline show
Headlining the 'International Women of Rock Unity Tour 2022':
UK March 24-April 3
Europe April 4-April 24
TEMPERANCE are:
Alessia Scolletti – vocals
Michele Guaitoli – vocals, piano
Marco Pastorino – vocals, guitar
Luca Negro – bass guitar
Alfonso Mocerino – drums
TEMPERANCE SOCIAL MEDIA: