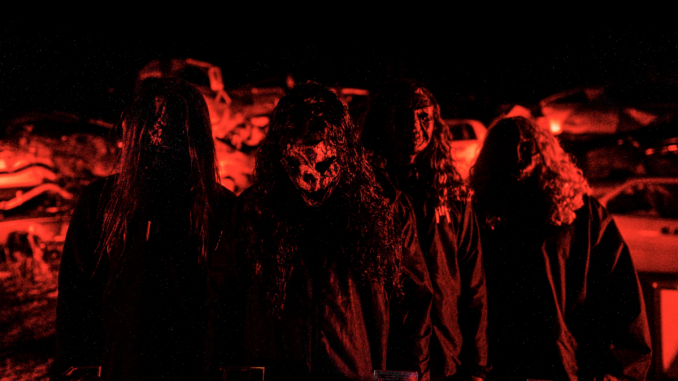 Swollen Teeth
Drop Brand New Single & Music Video
"CAR CRASH"
Watch HERE | Listen HERE
Taken From Self-Titled EP Produced By Slipknot's Sid Wilson
Out On April 26th Via Blowed Out Records, A Brand New Label Venture Between Ross Robinson, Bill Armstrong and Ghostemane
Swollen Teeth Credit: Hallway | Download HERE
Wednesday, March 7th, 2023 – Rapidly ascending lords of metal's underworld, Swollen Teeth, have released the second single taken from their upcoming, Sid Wilson produced, self-titled EP today. The track, titled "CAR CRASH", is partnered with a brand new music video. Find the track on streaming HERE and watch the video HERE or by clicking the link below. Speaking on the unleashing of their second single, Swollen Teeth share
"All cylinders are firing. Safe travels and ask yourself: which one of us is next?"
WATCH: Official Music Video for "CAR CRASH"
"CAR CRASH" exhibits the same thoroughly unpredictable, wildly frenetic and deeply unsettling energy as the band's debut single, "SWOLLENTEETH" which was released back in January to much acclaim and fan fervor. Revolver Magazine called the track 'brutal as hell', with Metal Hammer enthusing that "there's an air of grotesque nu metal nastiness that feels like a re-vamped take on the misanthropic nihilism of Iowa's finest." and Kerrang! musing "What's really heavy, masked, mysterious, sounds like it was made by complete lunatics, and involves Slipknot DJ Sid Wilson and producer Ross Robinson?". Since it's release, the track has clocked up nearly 100,000 Spotify streams and 73,000 YouTube views with inclusions on Spotify's All New Metal and New Blood Playlists, Apple's Breaking Hard Rock, Fresh Blood and Breaking Metal Playlists and Deezer's Metal Radar playlist.
The collective will release their debut, self-titled EP, a brutal, visceral, roundhouse kick to the gut of the modern heavy music landscape, produced by Slipknot's Sid Wilson, on Wednesday, April 26th. It will be the first release to come out on Blowed Out Records, the new label venture between legendary producer, Ross Robinson (Korn, The Cure, Slipknot, Glassjaw, At The Drive In and countless others), artist Ghostemane and Bill Armstrong (SideOneDummy).
Commenting on his excitement about the project, Sid Wilson shares
"After all these years, when I thought I'd never find another group of humans outside of Slipknot that knew the formula to transparency thru frequencies, and not thru appearance, I discovered Swollen Teeth. This is trü-Metal!"
Ross Robinson adds
"Sid and I listening to roughs in Iowa, emotions ran high – I found myself getting chills throughout my body to that familiar molten metal pulse I love so much – this time that force is known as "Swollen Teeth" – hunger + talent have that vibration I can't ignore – Bill, Eric, and I ("Blowed Out Records") are totally committed to rip it out there for the long haul.. "
Swollen Teeth EP Artwork | Download HERE

SWOLLEN TEETH EP

Track Listing

EMPTY
CAR CRASH
BIKE RIDE
SWOLLENTEETH
LETHAL
ABOUT SWOLLEN TEETH

The sound, the look, the atmosphere, the lore. Swollen Teeth are as much a ritual as a performance, summoning primal ferocity in clouds of intrigue with a thundering rumble. Each musical outburst arrives shrouded in mystery, enveloped by a sense of dread, with passion and purpose. Heavy percussion, riffs, punk gang chants, dive bombs, turntables, breakdowns, shrieks, guttural screams, and powerfully unashamed anthemic melodies coalesce in Swollen Teeth. The collective absorbs the raw intensity of the most potent subculture and spits it back with a determined uniqueness. They've spent countless hours in the lab, lobbing out occasional missives online like Molotov cocktails. Each of the scattered, chopped up, and explosive clips unleashed to the world, culled from a handful of shadowy live appearances, built anticipation for the group's inevitable ascension. They travel in our dimension but are not of it. This is otherworldly chaos without apology. /W\

ABOUT BLOWED OUT RECORDS

Ross Robinson (Korn, The Cure, Slipknot, Glassjaw, At The Drive In and countless others..) artist Ghostemane and Bill Armstrong (SideOneDummy) have joined forces to create a new record label called Blowed Out Records. As veterans of the music industry, they bring a wealth of experience and knowledge to the table and have set out to discover and promote new talent together. The label's first release, "Swollen Teeth," is a hardcore album produced by Sid Wilson of Slipknot and mixed by Mike Balboa with Ross Robinson. It's a collaboration between established and new artists that promises to be a heavy hitting release. Blowed Out Records is dedicated to providing a platform for underground and lesser known bands to showcase their music and gain a wider audience.

Swollen Teeth is managed by Evan Kandilakis and Scott Enright for Seek Management.
Swollen Teeth Are
Megaa – Vocals / Sampler / Turntable
Sun – Vocals / Bass
Skutch – Drums
HOG – Guitar
Find Swollen Teeth Online