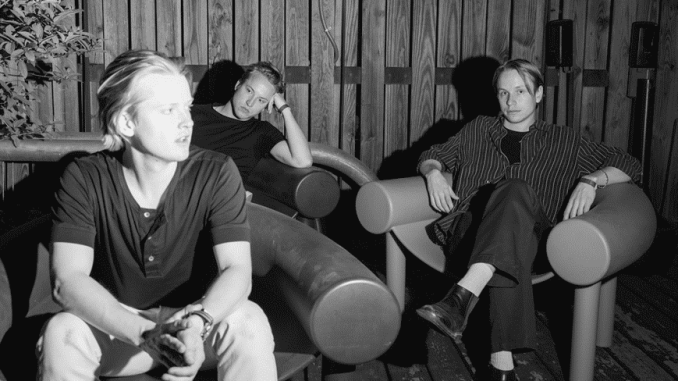 SWMRSANNOUNCE NEW ALBUM'SONIC TONIC'DUEOCTOBER 27WITH UPDATED LINEUP CONSISTING OFBROTHERS COLE, MAX & CADE BECKERPRE-ORDER HERE BAY AREA PUNK GROUPRELEASE DEBUT TRACK"LITTLE MISS SUNSHINE"WITH PLAYFUL NEW MUSIC VIDEOLISTEN HERE | WATCH HERE BAND TO PERFORM HOMETOWN SHOW IN BERKELEY, CANOVEMBER 19 AT CORNERSTONETICKETS ON-SALE FRIDAY, AUGUST 25 AT 10M PT
SWMRS (Max Becker [Left], Cade Becker [Center], and Cole Becker [Right])Photo Credit: Bryan Anton
SWMRS is the sound of brothers learning to move with the currents. Like the ocean, life moves in unpredictable waves–you can't control the way the ocean moves, but you can choose whether you sink or swim. The band is centered around the songwriting of brothers MAX (vocals, guitar) and COLE BECKER (vocals, guitar), who've fronted the band through many evolutions, and now sees the addition of their brother CADE BECKER on bass. The brothers have announced a new (and third) album, SONIC TONIC, due October 27, and today (August 23) have shared its debut single "Little Miss Sunshine."  Stream/download "Little Miss Sunshine" digitally HERE. Pre-order's are available now for SONIC TONIC HERE. Discussing his entrance into the band, CADE says: "My whole life people would ask me when I was joining the band, but I never played an instrument before. I was always a huge fan of the band, though, so when they needed a new bass player I volunteered. Max taught me how to play the songs on bass, and I practiced them nonstop to get ready to play shows." Keeping it in the family, SWMRS enlisted their grandmother to star in the music video for "Little Miss Sunshine," directed by COLE and filmed at her apartment in San Francisco, CA. Watch the video streaming below or on YouTube HERE. "This song is about looking back with fondness at a period in my life," shares COLE. "The good times and the bad. When I hear it, I think of those small moments of invincibility— driving in a car with your friends, seeing a really good show— where the entire world feels within your reach." "When I was younger, the world seemed simple to me," divulges MAX. "As I've gotten older— I just turned 30!— I've seen how complicated life can be. The music I write reflects where I am at now, and the little bits of wisdom I've gained along the way." On choosing their grandmother for the "Little Miss Sunshine" video's lead, COLE says: "We wanted to document the fun and flair of our Grammie, and this song felt like a good match for that project. The video basically shot itself–we just pressed record and let her style do all the talking." SWMRS will appear with the new lineup on November 19 in Berkeley, CA at Cornerstone. Tickets for the show go on sale this Friday, August 25 at 10 A.M. PT  HERE. 
SONIC TONIC Cover Art SONIC TONIC Track Listing:1. Dye Your Hair2. Heavy Rotation3. In The Same Boat4. Little Miss Sunshine5. DIY6. Don't Disappear7. Listerine8. Le Surf
"Little Miss Sunshine" Single Artwork
### ABOUT SWMRSSWMRS released their debut album Drive North in 2016. They have opened for Muse, Blink-182, Cage the Elephant, and have cultivated a loyal following of their own. They have appeared on The Late Late Show with James Corden and played internationally at festivals like Reading and Leeds (UK), Summer Sonic (Japan), Riot Fest (US), and Parklive (Ukraine). In 2019, the group released their sophomore album, Berkeley's on Fire, to praise from fans and critics alike. They debuted the first single with a live performance on BBC 1 with Annie Mac and won "Best International Newcomer" at the 2019 Kerrang! Awards.
Find SWMRS online at:WEBSITE | FACEBOOK | INSTAGRAM | YOUTUBE
###