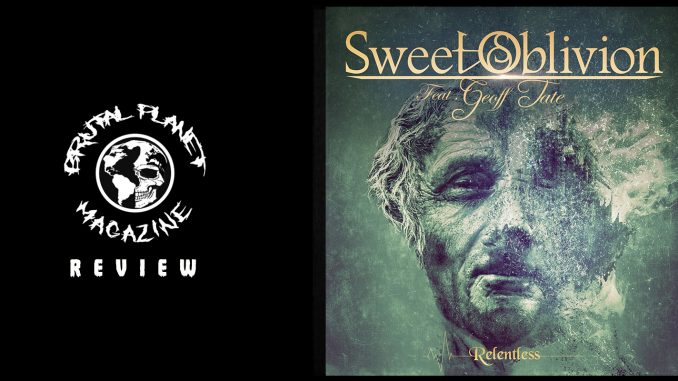 Sweet Oblivion is set to release its sophomore album, Relentless, on April 9, 2021. It follows up their self-titled debut album, and of course, both albums feature Geoff Tate on vocals. Both albums are an amazing tribute to the music that Tate created in the '80s with Queensryche. The production was done by Aldo Lonobile (Secret Sphere, Timo Tolkki's Avalon, Archon Angel), who also plays guitar on the album. The other musicians on the album include Luigi Andreone (Odd Dimension) on bass, Antonio Agate (Archon Angel) on keys, and Michele Sanna (One Machine) on drums.
Relentless starts with "Once Again, One Sin," a song with a bit of an introduction that then picks to a perfect opening track for the album. "Strong Pressure" follows things up with a song that could be right off a Queensryche album, becoming a reoccurring theme on Relentless. "Let it Be" is one of my favorite tracks on Relentless. It has a strong piano presence infused throughout it paired with some melodic guitar layers giving it a bit of an "Eyes of a Stranger" vibe.
"Another Chance" is next, and one of the singles the band chose to release. The song has an incredible melodic sound and some of the best guitar work on the album. This is a song that is not to be missed. Another of the must-hear tracks on Relentless is "Wake up Call." The bass-driven verses flow effortlessly and met the chorus like a stream into a river to be met by Aldo's guitar's uneasy flow. "Anybody Out There" is gentler in its commencement but quickly transitions into a guitar-laced masterpiece with vocals that will leave you amazed. "Aria" is a song written by Tate and sung in Italian.
The song features Walter Cianciusi and Dario Parente on guitar, who are also in the Operation Mindcrime live band.
Things slow way down with "I'll Be The One." An acoustic ballade proves that Tate can still lead a song via his voice. "Fly Angel Fly" wraps up things in a galloping fashion. The song may be the last on the album but rises above musically and vocally. Guitar riffs that sound right out of the Operation Mindcrime era this song leave you thinking there must be another track.
For those who have not heard Sweet Oblivion yet, pick up Relentless and hear how remarkable Geoff Tate sounds at this point in his career. If there was any question as to how Tate's voice has aged over the years, Relentless proves that like a fine wine, it only gets better as the years pass. Relentless is also a significant mile marker for Tate as he can relish in past accomplishments while still demonstrating his relevance in the modern metal world not only as an icon but as a contributor. Tate has also surrounded himself with incredible talent. They, too, should most defiantly be congratulated for their success in creating the masterpiece that is Relentless. April 9, 2021, will mark the day when the world will hear Sweet Oblivion's Relentless via Frontiers Music.