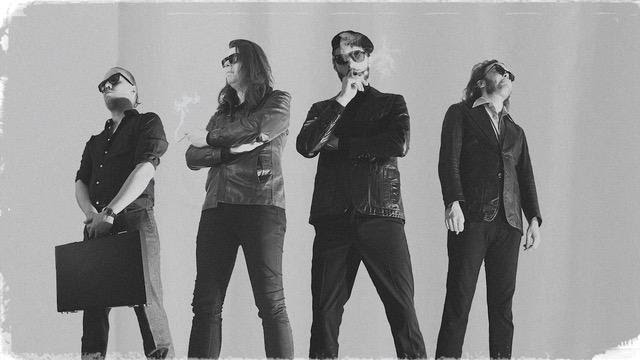 Swedish rock outfit DICTATOR SHIP have released their new single, "Losing Ground". The single is the first new music from the band since their 2020 debut album 'Your Favorites', and offers a direct, raw, and punchy take on classic-sounding Rock N' Roll. Despite its uplifting and energetic vibes, "Losing Ground" tackles the feeling of giving up. The band comments:
"Losing Ground is about saying no and giving up. That special feeling you get just before your mind and body collapse and surrender. And of course, it is written and performed from a working-class perspective."
"Losing Ground" is out now on all streaming platforms via The Sign Records. More music from Dictator Ship will be released soon.
Dictator Ship – "Losing Ground" (Audio)
About DICTATOR SHIP:
Dictator Ship is a direct and immediate outburst in raw and primitive Rock'N'Roll, accompanied by the supreme vocal set up from the soul bands of the '60s. The sound has a short and direct approach that seems almost impossible to contain, like a wild animal in a cage – as if The Saints met up with The Four Tops. It is a constant fistfight between the greatness of the '70s and the '60s. Dictator Ship is the prime and natural energy source that the world has been searching for. Hook up the power net and let the world enjoy! So begins the story of the band now known as Dictator Ship…
The foundation of the band is the harmonies in the vocals and the feedback from the amps, backed by the most intense drumming – almost impossible to comprehend – and the aggressive hammering on the bass. Dictator Ship released their debut album "Your Favorites" in April 2020 on The Sign Records. The album was praised by both fans and the media. UK's Classic Rock Magazine described it as "An astounding live-in-studio debut from a raw twin-guitar-fronted quartet of Swedes, all of whom double on vocals, channeling the MC5's explosive, action-rock remodel of 60s soul".
Line-up:
Petter Heinemann – Vocals and Guitar
John Sijbren Leonard – Vocals and Guitar
Viktor Henriksson – Vocals and Drums
David Ericsson – Vocals and Bass