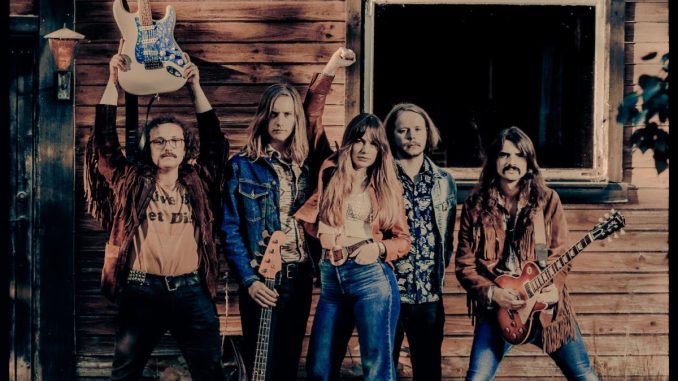 Final Single from Sophomore Studio Album
Swedish retro-influenced heavy metal group, The Riven, launch "Peace and Conflict" the fifth and final single, as well as the title track, of their second studio album. The track is mixed and mastered by Ola Ersfjord, who is known for his work with Tribulation, Lucifer, and Imperial State Electric, to name a few.

"Peace and Conflict" moves around psychedelic soundscapes, with front woman Charlotta's vocals in the spotlight, culminating into a powerful, energetic finale centered around electrifying guitar arrangements.

The Riven's second studio album 'Peace and Conflict' will be released on vinyl, CD, and digital formats on the 25th of November.

The album will be released on The Sign Records and can be pre-ordered now on The Riven's Bandcamp.
Hard hitting, sharp shooting power rock influenced by the great sounds of the 1970s and 80s, The Riven plays honest Rock & Roll that makes you wanna shake your fist and bang your head! Their music and lyrics will take you on a sonic journey.

"The Riven is an electrifying powerhouse, Classic Rock for the 21st Century".

The Riven are currently releasing their second full length studio album 'Peace and Conflict'. The album consists of eight hard hitting tracks that will be available on Vinyl, CD and digital platforms.

New on this album, is the guitarist Joakim Sandegård who, together with Arnau Diaz, creates a twin guitar sound, new to The Riven. Also on this album is Jussi Kalla behind the drums who made his debut with the band with the 12inch "Windbreaker/Movin On" released in May of 2020.

"Make no mistake this band is going to blow up in stratospheric proportions"- The Sludgelord

The Riven recorded their nine track, self-titled debut album in Madrid, Spain with Producer Ola Ersfjord (Lucifer, Tribulation, Dead Lord) at Holy Cuervo Studios. It was later released on the first of March 2019 on The Sign Records with a worldwide distribution.

"Glowingly performed and with a clear direction towards future great deeds. You can't ask for more from this fully-fledged debut album" – Sweden Rock Magazine.
The Riven was formed in 2016 when they were living in West London, where they also recorded their EP 'Blackbird' at Buffalo Studios.

"The five tracks on 'Blackbird' are short, snappy, and more catchy than airborne Ebola". – AMG

The self-titled album "The Riven" received great reviews and in the autumn of 2019 the album got a South American release through the Brazilian label Hellion Records. The first album developed the band's sound from their EP "Blackbird" and gave space to a more progressive and psychedelic side.

In 2019, The Riven embarked on extensive tours, taking them all over Europe in three separate head-line tours around France, Germany, Spain, Switzerland and Sweden, playing festivals like Muskelrock, Hellgart, Live at Heart and Skövde in Rock.

In the summer of 2021, The Riven went to a cottage in the south of Sweden, recording their second full-length album. The anticipated sophomore album balances perfectly straight, sharpshooting heavy rock with big choruses with psychedelic moments.

"Peace and Conflict" offers twin guitars, roaring vocals and a locked-in rhythm section waiting to take you away.

"Now this is Classic Rock for our time" – Doomed & Stoned

Today, the band consists of singer Totta Ekebergh, guitarists Arnau Diaz and Joakim Sandegård, bass player Max Ternebring and drummer Jussi Kalla.