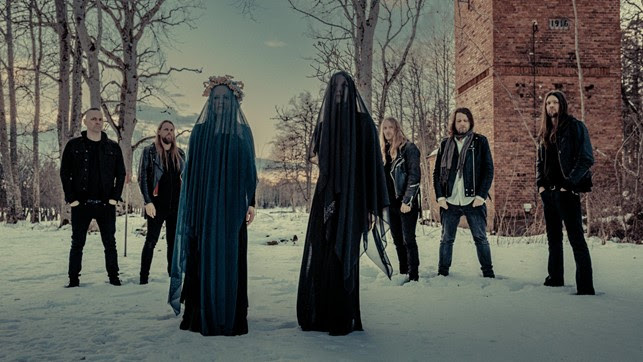 Vocalist Lisa Johansson Returns as Permanent Member

Latest Album, Under A Godless Veil, Out Now via Napalm Records |Order HERE!

Special Performance at Hellfest 2022 Announced!
After introducing their new guitarist, Niklas Nord (Myteri, DeathTrap, The Random Victims) a few days ago, Swedish gothic doom entity DRACONIAN is thrilled to have more exciting news to share that will warm the hearts of every fan!

The inimitable Lisa Johansson, vocalist on the band's first five albums, will now re-join as a permanent member, sharing singing duties with incredible Anders Jacobsson for more enigmatic music to come. After the release of their fifth studio album, A Rose for the Apocalypse, in November 2011, Lisa Johansson had to leave DRACONIAN due to personal reasons. In September 2012, the group officially announced Heike Langhans as their new vocalist, who will now leave the band with a focus on family and her own musical projects.

To honor this special occasion and heat the fire of a bright future to come, DRACONIAN is delighted to announce that they'll play at Hellfest (FR) on June 25th as a seven-piece special arrangement, with both Lisa and Heike on stage. This will be Heike's final show and the perfect opportunity to pass back the torch to Lisa. The full show will be streamed live and will also be available for viewing at a later date.

Heike Langhans comments:

"10 years with any band is no small thing and I thank DRACONIAN for the wonderful opportunities and challenges that made me confident in my path forward. The time has come for me to start a new chapter in music and life that requires my undivided focus.

I'm so grateful to Lisa for being here to step in and seeing the old songs performed in the way they should be, will be as much of a treat for me as the rest of our listeners!

Thank you for all the friends and supportive fans I met along the way. I have much more in store for you all this year, so please no sadness

I wish the band great success in 2022 and beyond!"

Lisa Johansson adds:

With great excitement and with a humble heart, I rejoin DRACONIAN. I'm still a bit surprised that Johan called to ask me if I could consider touring with DRACONIAN again. Also that I said, without any hesitation, "Sure, I will!"

I wish my newfound friend Heike Langhans – who has the most beautiful voice – all the best of luck and prosperity in her future. I'll try my best to do her songs justice. See you on the road!"
Get your copy of Under A Godless Veil HERE!
[cover artwork by Natalia Drepina]
DRACONIAN's last full-length, Under A Godless Veil (2020), entered the charts in several countries. The prodigious album marks the unit's most successful record to date and delivers a captivating mélange of dreary doom and contrasting vocals, and mixes Heike Langhans' angelic voice with Anders Jakobsson's death growls.

Under A Godless Veil tracklisting:

1. Sorrow of Sophia

2. The Sacrificial Flame

3. Lustrous Heart

4. Sleepwalkers

5. Moon Over Sabaoth

6. Burial Fields

7. The Sethian

8. Claw Marks On The Throne

9. Night Visitor

10. Ascend Into Darkness

Under A Godless Veil is available in the following formats:

– 2 LP Gatefold Picture Vinyl

– CD Jewelcase

– 2LP Gatefold Black vinyl

– 2LP Gatefold Gold vinyl

– Bundle: Covershirt + CD

– Digital Album

In December 2021, DRACONIAN released atmospheric re-issues of their guiding full-lengths Where Lovers Mourn (2003) and Arcane Rain Fell (2005) on vinyl via Napalm Records.
Get your copies of Where Lovers Mourn and Arcane Rain Fell HERE!
DRACONIAN live 2022:

07.05.22 NO – Kopervik / Karmøygeddon Metal Festival

25.06.22 FR – Clisson / Hellfest

14.07.22 SE – Gävle / Gefle Metal Festival

22.07.22 SK – Revistske Podzamcie / Gothoom Festival

29.09.22 RO – Bucharest / Quantic Club

30.09.22 GR – Athens / Demons Gate Festival

01.10.22 BG – Sofia / Music Jam Club
DRACONIAN are:

Anders Jacobsson – vocals

Heike Langhans – vocals

Lisa Johansson – vocals

Niklas Nord – guitar

Johan Ericsson – guitar

Daniel Arvidsson – bass

Jerry Torstensson – drums