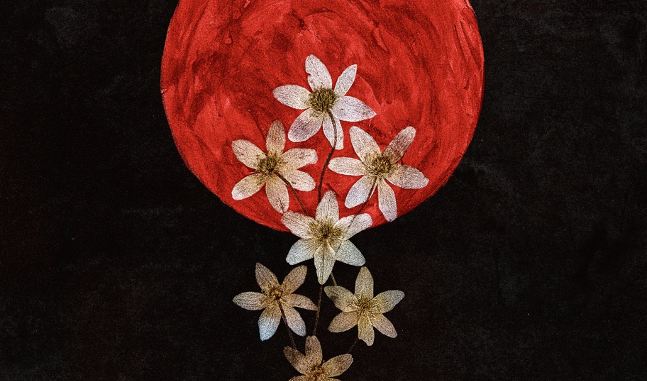 (November 19, 2021 – Jyvaskyla, Finland) – Finnish death-doom masters, SWALLOW THE SUN release the music video for "The Void" today. Watch the music video, which follows the release of "Enemy" and "Woven Into Sorrow" and is the first non-animated clip, HERE. SWALLOW THE SUN worked in cooperation with The National Museum of Finland, where the video was shot by Sam Jamsen, who directed, filmed, and edited the visual representation behind the story of the moonflower. The track is off the band's new album Moonflowers, which came out today worldwide via Century Media Records. 

To celebrate the release of Moonflowers SWALLOW THE SUN kick off their North American tour tomorrow in Mesa, Arizona, and wrap on December 19th. Following the North American tour, the band has a short seven-show run in Finland and then hits the road again in Europe to perform in 35 cities beginning on January 24th to February 27th.
Moonflowers will be available as Ltd. Deluxe sky blue 3LP+2CD & Art Print Box Set, Ltd. 2CD Mediabook, Gatefold black 2LP+CD and digital album (incl. Bonus album) and can be pre-ordered HERE.

The Ltd. Deluxe sky blue 3LP+2CD & Art Print Box Set is also available for pre-order and will be available on January 14th.

Watch all the already published classical Trio N O X versions of "Moonflowers Bloom In Misery – Classical Version", "Enemy – Classical Version", "Woven Into Sorrow – Classical Version", "Keep Your Heart Safe From Me – Classical Version", "All Hallows' Grieve – Classical Version", "The Void – Classical Version", "The Fight Of Your Life", and "This House Has No Home".

SWALLOW THE SUN Tour Dates:
North America
20.11.21 Nile Theater – Mesa, AZ
21.11.21 Launchpad – Albuquerque, NM
22.11.21 Trees – Dallas, TX
23.11.21 Come and Take it Live! – Austin, TX
24.11.21 Scout Bar – Houston, TX
26.11.21 The Haven – Orlando, FL
27.11.21 The Masquerade – Atlanta, GA
28.11.21 Metro Gallery – Baltimore, MD
29.11.21 Dingbatz – Clifton, NJ
30.11.21 The Monarch – Brooklyn, NY
01.12.21 Cafe Campus – Montreal, QC
02.12.21 La Source de la Martinière – Quebec City, QC
03.12.21 Velvet Underground – Toronto, ON
04.12.21 Montage Music Hall – Rochester, NY
05.12.21 The Sanctuary – Detroit, MI
06.12.21 The Crafthouse – Pittsburgh, PA
07.12.21 The Forge – Joliet, IL
08.12.21 The Crucible – Madison, WI
09.12.21 Cabooze – Minneapolis, MN
10.12.21 1867 Bar, Lincoln, NE
11.12.21 Herman's Hideaway – Denver, CO
12.12.21 Liquid Joe's – Salt Lake City, UT
14.12.21 El Corazon – Seattle, WA
15.12.21 Rickshaw Theatre – Vancouver, BC
16.12.21 Bossanova Ballroom – Portland, OR
17.12.21 DNA Lounge – San Francisco, CA
18.12.21 Stages – Santa Ana, CA
19.12.21 Whisky A Go-Go – West Hollywood, CA

Finland
05.01.22 Tavastia, Helsinki
06.01.22 Sawohouse, Kuopio
07.01.22 Kerubi, Joensuu
08.01.22 Apollo, Turku
13.01.22 Rytmikorjaamo, Seinäjoki
14.01.22 Lutakko, Jyväskylä
15.01.22 Pakkahuone, Tampere

Europe
24.01.22 Backstage (Halle), München, DE
25.01.22 Orto Bar, Ljubljana, SLO
26.01.22 Legend Club, Milano, IT
27.01.22 Secret Place, Montpellier, FR
28.01.22 Bóveda, Barcelone, ES
29.01.22 Sala, Caracol, Madrid, ES
30.01.22 Le Rex, Toulouse, FR
31.01.22 CCO Villeurbanne, Lyon, FR
01.02.22 Backstage, Paris, FR
02.02.22 Essigfabrik, Köln, DE
03.02.22 Matrix, Bochum, DE
04.02.22 Pumpehuset, Copenhagen, DK
05.02.22Nalen, Stockholm, SE
06.02.22 Parkteatret, Oslo, NO
07.02.22 Valand, Götebord, SE
08.02.22 Headcrash, Hamburg, DE
09.02.22 UT Connewitz, Leipzig, DE
10.02.22 Schüür, Luzern, CH
11.02.22 Caves Du Manoir, Martigny, CH
12.02.22 Undertown, Meyrin, CH
13.02.22 Le Ferrailleur, Nantes, FR
14.02.22 Underworld, London, UK
15.02.22 Slay, Glasgow, UK
16.02.22 Limelight 2, Belfast, UK
17.02.22 Voodoo Lounge, Dublin, IRE
18.02.22 The Bread Shed, Manchester, UK
19.02.22 Het Entrepot, Bruges, BE
20.02.22 Le Grillen, Colmar, FR
21.02.22 Universum, Stuttgart, DE
22.02.22 Colos-Saal, Aschaffenburg, DE
23.02.22 Doornroosje, Nijmegen, NL
24.02.22 Futurum, Prag, CZ
25.02.22 Drizzly Grizzly, Gdansk, PL
26.02.22 Proxima, Warsaw, PL
27.02.22 Hole44, Berlin, DE

SWALLOW THE SUN is Mikko Kotamaki (vocals), Matti Honkonen (bass), Juuso Raatikainen (drums), Juho Raiha (guitars), and Juha Raivio (guitars).