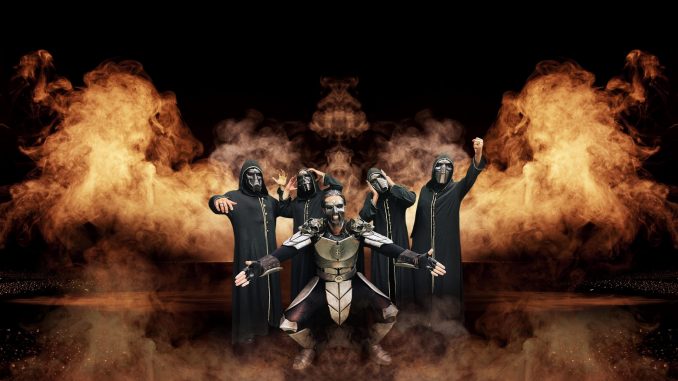 Good Day Brutal Planet faithful, today we have the unique opportunity to chat with Supreme
Unbeing. You can check the interview out below and as well as some links to music videos for some of the upcoming tracks on the album.

Brutal Planet Magazine: The band is a fairly new project with one album under its belt. Enter Reality was released during the height of COVID, how would you compare and contrast Enduring
Physicality and Enter Reality?
Supreme Unbeing: Greetings Eric, and thank you for having us! Enter Reality
was the output of observing the Earth, this reality, from the "outside", from the Realm,
the non-physical existence from where we all hail. The songs, messages, in Enter Reality
are thus within that broader scope of existence of coming into life and understanding it
from the outside. The next step, after entering reality is, is to endure this physical
existence which is why the album is appropriately named "Enduring Physicality", and the
messages being more towards the conundrums of living your life as a flesh-and-blood
entity. All our songs are important messages to the people of the Earth to inspire, to
guide, and to challenge the individual to gain further insight into what is the "self" and
what is the "society". We ourselves too, now as these physical entities, try very hard to
endure this physical existence, and we shall prove to prevail.

The sound of the band draws from a wide variety of influences. Who would you
consider some of your primary influences and share with us a couple that people might
not know or hear in your music?

One of the best things, as we have come to learn, of creating musical messages, is that you may create it in the way you want. In our case, we blend heavy and powerful riffs, that originate from the influences of metal icons Metallica and Megadeth, but we're also highly influenced of the rocky/bluesy sounds of
Guns N' Roses. Last but not least, the final touch being the melodies from the best Swedish rock band in history Europe.

Enduring Physicality has some amazing tracks on it including but not limited to "The
Devil Smiles," "Hide The Beast," and "Judgment Day," are there any songs on the album
that have any particularly special meaning to you and tell us the meaning behind on of a
song of your choice?
We're pleased to know you've taken a liking to these three, and as
we said, all our songs are different messages, this time corresponding to the state of
being a physical being trying to understand that we are not just the physical entity, we
are our mind trying to control this physical entity. That being said we will explain further
on a couple. First, the track "Deliverance Or Salvation" portrays the walk through this
world, the seeking, only to come to the conclusion that you are offered two equally
poor choices, if seeking on the outside. But if you seek from within, you will find what
you need. Second, "Their Chosen One", describes the true story of how life on earth
came about in the first place, and shall be the hidden revelation that we are all looking
for at some point in our lives. What remains to be known is if you can be their chosen
one.
I am assuming that you guys have not had the chance to play any of your material live.
What could fans expect from a Supreme Unbeing show, and when do you hope to take
this on the road?
There are a few reasons why we haven't played live yet. The first one
being that we arrived in this pop culture as animated characters, making it impossible
for the people of the Earth to grasp that we actually played "live" every time they
pushed play on Youtube to watch our videos (as reality is totally different as animated
characters). Now, as physical entities, we sure have the intention to play live, but the
pandemic is still affecting the world to a large extent, and instead of "just" playing live,
we are planning something spectacular. "Spectacular" being the expectation of a
Supreme Unbeing show.

Lastly with so many bands out there competing for a space on stages around the world,
how would you guys promote yourself to rise above the others?
We are not like other bands competing for space, we are innovators, creators of our own space, deciders of our own destinies. We are not just music, we are the prophets of Supreme Unbeing on a
quest to bring enlightenment to the people of the Earth through the medium of heavy
riffs, astounding solos and philosophically intriguing lyrics that will leave you pondering
about your own very existence. Come join us on our quest!