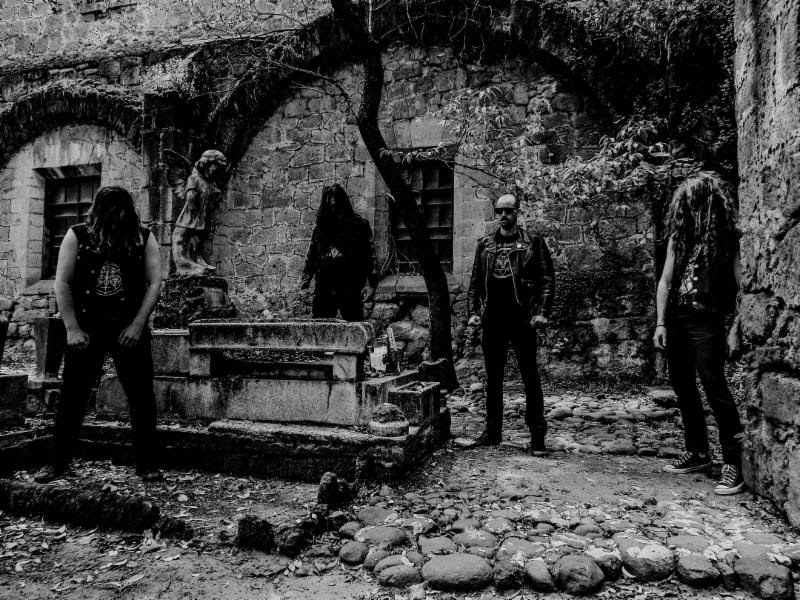 SUPERSTITION: The Anatomy Of Unholy Transformation To See June Release Through 20 Buck Spin; "Highly Attuned Beasts Of The Dark" Streaming + Tour Dates Announced
20 Buck Spin announces the impending debut LP from New Mexico-based death metal entity SUPERSTITION, confirming The Anatomy Of Unholy Transformation for worldwide release on June 21st. With the album's details and cover art, the label has issued an early single, "Highly Attuned Beasts Of The Dark." Additionally, SUPERSTITION has announced July tour dates on both the West and East Coasts, the latter with labelmates Tomb Mold.
Drawn from the alluvial darkness and consecrated in the materia prima of unconscious fear, SUPERSTITION has come forth as the archon of illimitable lunacy, the purveyor of spiritual violence and the demiurge of psychic malfeasance.
As the namesake suggests, SUPERSTITION has risen from the perennial mire like a psychological parasite, intent on invoking the ageless horrors of the collective unconscious and born to serve as a reminder that mankind still has much to fear of the dark. Armed with the sonic weaponry of the traditional pan-American sound, the band bears the torch of its bloodsoaked predecessors and ushers in a new era of venomous death metal.
Following the magnetic horror of The Surging Throng Of Evil's Might demo, SUPERSTITION is poised to unleash the next chapter of parademonic madness through the aural codex aptly named, The Anatomy Of Unholy Transformation. Presenting six sonorous incantations of funereal obsession, the band has perfected the violent belligerence promised through its rudimentary efforts. Driving the burning sword of damnation with searing speed, maniacal riffs and bellicose leads, The Anatomy Of Unholy Transformation delivers the inceptive sounds that originally marked death metal's ascendancy as the ultimate force of destruction; a standout and differing sound from the current crop of new death metal bands.
Transmitted by the malign consortium of 20 Buck Spin, The Anatomy Of Unholy Transformation will be resurrected on June 21st, 2019, manifested in LP, CD, cassette, and digital forms. Watch for preorders and additional audio samples to be issued shortly.
The Anatomy Of Unholy Transformation Track Listing:
1. Unholy Transformation Pt. 1
2. Highly Attuned Beasts Of The Dark
3. Spiritual Sunderance
4. Unholy Transformation Pt. II
5. Passage Of Nullification
6. Torn In The Outer Lands
7. Unreclaimed Blood (Phantom Swarm)
8. Unholy Transformation Pt. III
9. Charnel Pleasures
SUPERSTITION has booked a run of West Coast tour dates July 3rd through 6th, playing Portland and Seattle on their way to perform at Covenant Festival in Vancouver where they'll share the stage with Dead Congregation, Adversarial, Bell Witch, Mortiferum, Amphisbaena, and more.
A week later, SUPERSTITION will launch a tour of the Eastern US and East Coast with labelmates Tomb Mold. From July 11th through 21st they will caravan through Detroit, Chicago, Atlanta, Raleigh, Richmond, Washington DC, Boston, Philadelphia, Pittsburgh, and Brooklyn.
SUPERSTITION will also make its debut European appearance at Kill Town Death Fest and tour with Taphos in September. Watch for further tour announcements in the months ahead.
SUPERSTITION Tour Dates:
7/03/2019 High Water Mark – Portland, OR
7/05/2019 Highline – Seattle, WA
7/06/2019 Covenant Festival – Vancouver, BC
w/ Tomb Mold:
7/11/2019 Sanctuary – Detroit, MI
7/12/2019 Cobra – Chicago, IL
7/14/2019 529 – Atlanta, GA
7/15/2019 Slims – Raleigh, NC
7/16/2019 Gallery 5 – Richmond, VA
7/17/2019 Atlas Brew Works – Washington DC
7/18/2019 Once – Boston, MA
7/19/2019 Kung Fu Necktie – Philadelphia, PA
7/20/2019 Cattivo – Pittsburgh, PA
7/21/2019 Saint Vitus Bar – Brooklyn, NY
Review copies of
The Anatomy Of Unholy Transformation
will be issued shortly. For interviews and all coverage of
SUPERSTITION
in North America contact
dave@earsplitcompound.com
and internationally contact
wolf@sureshotworx.de
.