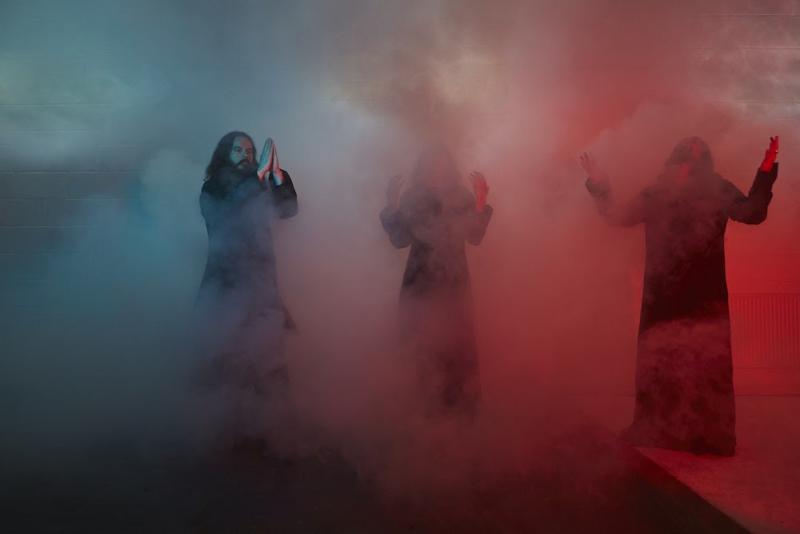 [photo ©2019 SUNN O))) & Ronald Dick]
Anderson and O'Malley gathered twice that spring for writing, conceptualizing, and riff woodshedding in the very building where the band was formed: Downtown Rehearsal in Los Angeles. Sonic cosmoses, flashes of abstract color (synthetic and objective), and themes emerged from the mastered depths of saturation and circuits between the two players and their mountains of gear. Themes developed in terms of brightness and energy, while visionary cues pointed toward subconscious areas of practice and the pair realized they were exploring other zones of consciousness via sound/time and sound/energy manipulation. In early summer, a pre-production session with full backline, as a trio with T.O.S. on Moog, was recorded at Dave Grohl's 606 studios, Northridge, California.
Tim Midyett, a close friend of Anderson and O'Malley since the Seattle days of the early '90s, and member of Silkworm, Bottomless Pit, and Mint Mile, joined in a foundational role tying earth to sound with wicked performances on aluminum neck bass and baritone guitars: instruments he helped pioneer playing back in the '90s alongside Steve and Shellac of course. Dark matter is reality.
1. Between Sleipnir's Breaths
2. Troubled Air
3. Aurora
4. Novae
4/17/2019 Agora Ballroom – Cleveland, OH
4/18/2019 Masonic – Detroit, MI
4/19/2019 Rockefeller Chapel – Chicago, IL
4/20/2019 The Caverns – Pelham, TN
4/24/2019 Underground Arts – Philadelphia, PA
4/25/2019 Brooklyn Steel – Brooklyn, NY
4/26/2019 College Street – New Haven, CT
4/28/2019 The Howard – Washington, DC