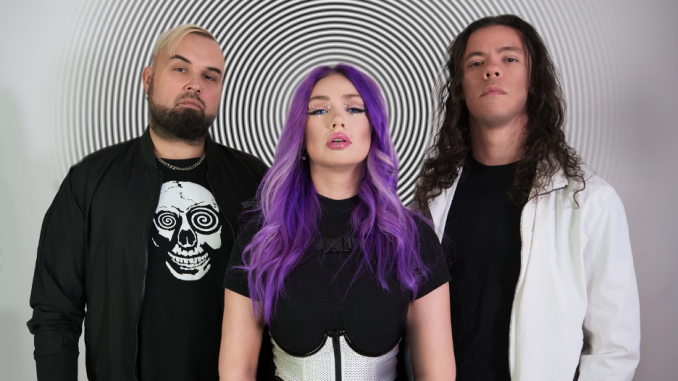 | | |
| --- | --- |
| Starting April 29 in Des Plaines, IL | |
After setting the music world ablaze last year with the release of their mind-bending full-length album, Initiation, fans have been chanting for SUMO CYCO to return to the road. Luckily, audiences won't have to wait much longer, as the band is preparing to kick off a six-week tour in North America this Spring! The first half of the tour sees SUMO CYCO supporting rock icons Buckcherry and special guests Blacktop Mojo, while the second half is a headlining run, with support from Black Satellite.
The first leg of the trek starts in Des Plaines, IL on April 29th and ends on May 20th in Birmingham, AL, while the second leg (headlining shows) starts on May 19th in Atlanta, GA and concludes in Chicago, IL on June 11th. A complete list of dates can be found below.
Frontwoman Skye "Sever" Sweetnam says about the upcoming tour:
"We are beyond excited to get back out on the road after two years! We feel like it's about time we reconnect with all of you in person and start the party again! We have the privilege of joining Buckcherry for some dates as well as taking the reins for our first headline shows in many cities. We're as hungry as the fans are for live music to thrive again. So watch out, we'll be blaring our Cyco sounds to a city near you!"
SUMO CYCO 2022 Tour Dates:
w/ Buckcherry, Blacktop Mojo
4/29/22 – Des Plaines, IL @ Des Plaines Theatre
4/30/22 – Kansasville, WI @ 1175
5/1/22 – Bloomington, IL @ Castle Theatre
5/3/22 – Indianapolis, IN @ Hi-Fi (The Annex)
5/4/22 – Lexington, KY @ Manchester Music Hall
5/6/22 – St Charles, IL @ Arcada Theatre
5/7/22 – Flint, MI @ Machine Shop
5/8/22 – Horseheads, NY @ The L Live
5/10/22 – Hermon, ME @ Morgan Hill Event Center
5/11/22 – Portland, ME @ Aura
5/13/22 – Rochester, NY @ Montage Music Hall
5/14/22 – Leesburg, VA @ Tally Ho
5/16/22 – Murrells Inlet, SC @ Suck Bang Blow
5/17/22 – Black Mountain, NC @ Silverados
5/18/22 – Athens, GA @ Georgia Theatre
5/20/22 – Birmingham, AL @ Iron City
HEADLINING DATES (w/ Black Satellite)
5/19/22 – Atlanta, GA @ Masquerade
5/21/22 – Greenville, SC @ Radio Room
5/22/22 – Greensboro, NC @ The Blind Tiger
5/24/22 – Pittsburgh, PA @ Hard Rock Cafe
5/25/22 – Harrisburg, PA @ HMAC
5/26/22 – Baltimore, MD @ Metro Gallery
5/27/22 – Clifton, NJ @ Dingbatz
5/29/22 – Hampton Beach, NH @ Wally's
5/31/22 – New Bedford, MA @ The Vault
6/1/22 – Montreal, QC @ Turbohaus
6/2/22 – Quebec City, QC @ L'Anti Bar & Spectacles
6/3/22 – Ottawa, ON @ Brass Monkey – REBEL 101.7 FREE SHOW
6/4/22 – Toronto, ON @ Hard Luck
6/6/22 – Buffalo, NY @ Iron Works
6/7/22 – Cleveland, OH @ The Winchester
6/9/22 – Westland, MI @ The Token
6/10/22 – Battle Creek, MI @ Music Factory
6/11/22 – Chicago, IL @ Reggies
About SUMO CYCO and Initiation:
Over the course of the past several years, Ontario, Canada's SUMO CYCO – featuring teen pop-superstar/songwriter turned rock goddess Skye "Sever" Sweetnam as well as producer/guitarist Matt "MD13" Drake and bassist Oscar Anesetti – have proven themselves as one of the hardest working DIY-to-overnight sensation stories in heavy music, boasting an undeniable following of fans with their impressive mixture of metal, pop and everything in between. Even after garnering early viral acclaim and signing to Napalm Records in 2020, the band's seasoned DIY attitude and self-starting viral savvy continues to propel their creativity at every step, converting audiences all around to their infectious world of sound!
Initiation invites a mass of new followers into SUMO CYCO's warped, dystopian-like world of "Cyco City"! As with their prior full-length albums Lost In Cyco City (2014) and Opus Mar (2017), and countless singles, Initiation is based in the imaginative conceptual location of the same name. Last fall, SUMO CYCO took the album a step further and dropped the official Digital Deluxe Edition of Initiation, featuring peppy new single "Sun Eater", plus additional limited edition tracks "New Jive", "We Are The Nation" and "Awakened".
Order Initiation & the Initiation Digital Deluxe Edition
HERE