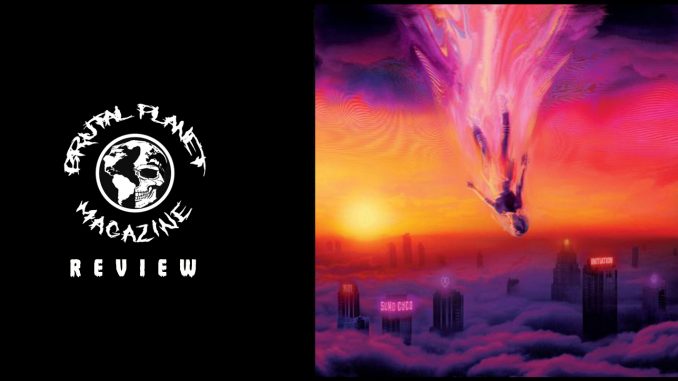 I admire the bands that you can't squeeze into a specific genre. Sure, you could try to describe what a band sounds like, but when you have to use more than two genres to define a band's sound, it just proves that the band is diverse and savvy enough to not let someone else define who they are. That's Sumo Cyco. This Canadian-based band emerged on the scene in 2011 when pop sensation Skye Sweetnam teamed up with a few guys and formed something new. Within two months, they performed their first show, opening up for Hollywood Undead, and have since shared the stage with acts such as The Offspring, Butcher Babies, and Coal Chamber.

Sumo Cyco has gone through a couple of lineup changes over the last decade but has been consistent in releasing music. Their first album, "Lost in Cyco City" debuted in 2014, followed by "Opus Mar" three years later. Now, after waiting over four years, Sumo Cyco fans are excited to hear the band's third album, "Initiation" which will be released on May 7 through Napalm Records.
The album starts out with the aggressive "Love You Wrong." As the Intro swells, Skye 'Sever' Sweetnam enters with a vocal delivery reminiscent of Sandra Nasic in Guano Apes' 1997 hit, "Open Your Eyes." The song continues to thrash around, both musically and in the vocal delivery. I think that is the thing that makes Sumo Cyco stand out from many other modern rock bands- you're just not sure which direction they will take in their songwriting; you just cannot anticipate if Sever will sing or scream or a combination of the two.
The first single to be released in 2021 was "Bystander." Again, it is hard to anticipate which musical direction will take the listener as the song progresses. This is a hybrid of metal, punk, and bubblegum pop. The official music video was released in mid-February and has over 400,000 views on YouTube. The other two singles released so far this year were "No Surrender" and "Vertigo." The former is a beat-driven single that fluctuates nifty guitar riffs while the latter is more of a standard heavy rock song. All three singles released this year have been solid and together showcase the flavor of what you will hear on this album."

The rest of the album consists of tracks filled with diversity and ferocity. "Overdrive" is a feel-good song that would be easy to jam at 65mph while on the way home from work. "The Dance is Doomed" is a heavy song that brings a lot of "boom" and is sure to be a live staple on the next tour. "M.I.A." is full of synths and loops but hits hard nonetheless, and "Cyclone" is a fast-paced, whirlwind of a song that really shows off the talent of Matt "MD13" Drake on the fretboard.
After catching Sumo Cyco on tour with The 69 Eyes in early 2020, I can testify that they are very fun to see live. They bring a lot of energy and Sever is a master at connecting with the crowd. It will be interesting to see which of these killer tracks make it to the live set, but I assure you that this quartet from Hamilton, Ontario will bring a good time. Sumo Cyco continues to impress with each album they release. "Initiation" is dazzling and ruthless. Head out and support this band!