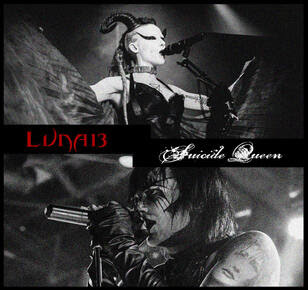 For Bandcamp Friday (September 4)
Both Groundbreaking Artists Are Signed To
Indie Industrial Imprint COP International,
Release Rare Split Single In Anticipation Of
Future Tour Dates In The Works For 2021
LUNA13 Set To Release New Album November 13
(Photo courtesy of COP International)
Two of 2020's most provocative emerging artists—Suicide Queen and LUNA13—are teaming up for a rare new split single release, coming out September 4 for the latest edition of Bandcamp Friday. The initiative kicked off in March to support artists impacted by the pandemic with distributor Bandcamp waiving its commission fees the first Friday of each month in order to put the money directly into artists' pockets for each sale.
Purchase the Suicide Queen x LUNA13 "Scarecrow/UNDED" split single
HERE
.
Both artists are signed to COP International—the label home of Stabbing Westward, Deathline International and Chiasm—and bring something wholly unique and provocative to the release.
Suicide Queen is the uncompromising trio from Oakland "carrying on the industrial torch with sounds resonating from the likes of Ministry and Skinny Puppy" says Dark Beauty Magazine. Featuring Kay Dolores on vocals, programming and guitars, Todd Buller on guitars and Ira Mortem on bass, they relish in turning pain into power with deafening noise as seen on their hellishly wicked new track, "Scarecrow."
Hailed as "the bass music scene's Slayer," Los-Angeles based dark lord duo LUNA13 whips up a forceful Black/Bass/Metal style that incorporates elements of electronica, black metal and industrial rock with the incredible ability to cross over from electronica to metal without using any guitars as heard on the gripping new single "UNDED." The act features Dr. Luna, who creates a voluminous sound solely with synthesizers and distortion pedals wrapped around sub-bass as well as frontwoman Lilith Bathory who brings the spectacle with brutal vocals and trance-inducing dance moves.
The two forceful acts had a substantial tour planned for across the States in 2020, which has since been sidelined due to the pandemic—though they look forward to bringing the darkly theatrical offering to stages again soon.
Says Suicide Queen of the dual effort, "We're excited to be showcasing our new track 'Scarecrow' on this split single with our friends and labelmates from Los Angeles, LUNA13. This is one of many projects on which we're very pleased to be working with them and we'll be looking forward to more in the future."
Adds LUNA13, "We look forward to showcasing one of our new songs 'UNDED' that should fit the mood of our current planet. Suicide Queen was one of the projects that perked our interest in signing with COP International. They are an awesome industrial metal band!"
LUNA13 also plans to release their debut full-length for COP International on November 13.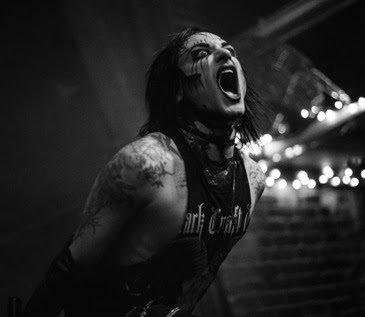 (Photo of Suicide Queen, credit: Rowan Levy)
(Photo of LUNA13, credit: Abraham Preciado)