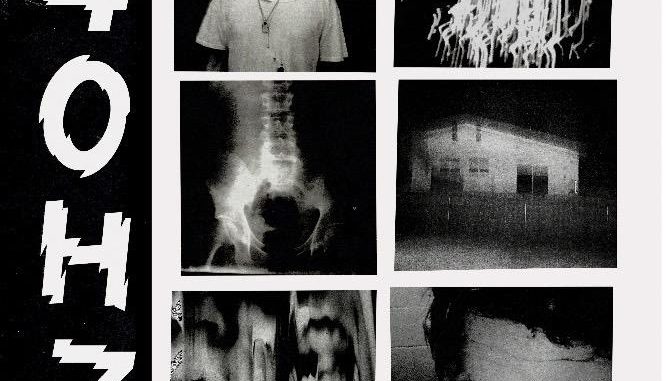 Listen HERE
On The Road Now with Dominic Fike!
New LP '40HZ' Out September 22
STU BROOKS has released a new single from his upcoming full-length album – fans can hear the prolific bassist's latest track, "Laughing Stock", which features guest vocals from hardcore punk icon Justin Pearson (The Locust, Dead Cross, Deaf Club).

"Laughing Stock" is the most recent offering in an ongoing series of singles dating back to last year that will make up STU's debut studio LP, '40HZ', which is due out September 22 on Dine Alone Records. Previous singles include "They'll Just Love You" (feat. Poppy + Danny Elfman) and "Sound The Alarm" (feat. Patrick Stump).

Commenting on the experience of working with Pearson on the new track, Brooks shares:

"I first heard of Justin when Mike Patton introduced me to his band The Locust back while we were on the road with Peeping Tom. I have been inspired and influenced by his work for about 15 years now. I only wish I could have found him sooner! He has been a punk noise legend for decades and dedicated his life to his art, numerous bands and his record label Three One G, which has a sick roster of punk and experimental music. I'm honoured that he was down to write this song with me and Matt Cronk (C*nts, Qui)."

Speaking on the collaboration with Stu Brooks, Justin Pearson adds:

"It's an honor to work on material with STU. It was only a matter of time till our orbits synced or collided, depending on how you look at it. And the fact that Matt Cronk is involved makes even more sense to me. Needless to say, STU is an artist who, like me, is fully capable of meshing in certain realms, but also willing to go berserk and do whatever he wants, for the sake of art… or whatever you want to call it. STU clearly is cut from similar cloth as me, so it is very comfortable collaborating on things with him. He rules."
Currently, STU finds himself on the road in North America as a part of Dominic Fike's live band for the singer/songwriter and actor's "Don't Stare At The Sun" tour, and will also perform with Danny Elfman's band for his upcoming California shows in August.
STU BROOKS
Tour Dates (Live Bassist):
w/ Dominic Fike
Jul 20 – Boston, MA @ Leader Bank Pavilion
Jul 21 – Baltimore, MD @ Pier Six Pavilion
Jul 23 – Raleigh, NC @ Red Hat Amphitheater
Jul 25 – Atlanta, GA @ Cadence Bank Amphitheatre at Chastain Park
Jul 26 – Nashville, TN @ Nashville Municipal Auditorium
Jul 29 – Miami, FL @ FPL Solar Amphitheater at Bayfront Park
w/ Danny Elfman
Aug 3 – San Diego, CA @ North Island Credit Union Amphitheatre
Aug 5 – Irvine, CA @ FivePoint Amphitheatre
w/ Dominic Fike (cont.)
Aug 6 – Phoenix, AZ @ Arizona Financial Theatre
Aug 8 – Los Angeles, CA @ Greek Theatre
Aug 9 – Los Angeles, CA @ Greek Theatre
Aug 10 – Stanford, CA @ Frost Amphitheater
Aug 12 – Seattle, WA @ Day In Day Out
Aug 13 – Vancouver, BC @ UBC Doug Mitchell Thunderbird Sports Centre
Aug 17 – Salt Lake City, UT @ The Great Saltair
Aug 18 – Denver, CO @ Mission Ballroom
Aug 21 – Des Moines, IA @ Lauridsen Amphitheater
Aug 22 – Minneapolis, MN @ The Armory
Aug 24 – Chicago, IL @ Huntington Bank Pavilion at Northerly Island
Aug 25 – Detroit, MI @ Michigan Lottery Amphitheatre at Freedom Hill
Aug 27 – Toronto, ON @ Massey Hall
Aug 29 – Cincinnati, OH @ The ICON Festival Stage at Smale Park
Aug 30 – Louisville, KY @ Iroquois Amphitheater
BIO:

Bass reverberates through the body and the reaction to those root notes and grooves actually manifests physically. Two-time GRAMMY® Award-nominated bassist, producer, songwriter, and Dub Trio co-founder Stu Brooks beckons this response every time he picks up a bass. Sharing the stage or the studio with everyone from Academy Award® winner Lady Gaga, Danny Elfman, Lauryn Hill, 50 Cent, and Mary J. Blige to Mike Patton, Pretty Lights, Mark Guiliana, Slick Rick, and even a posthumous recording for Tupac Shakur, his playing reverberates on an emotional and spiritual level.

Among early gigs, 50 Cent's G-Unit recruited STU for the 6-time platinum-selling 'Get Rich Or Die Trying'. He notably handled bass on Tony Yayo's platinum-selling 'Thoughts of a Predicate Felon' (#2 debut on the Billboard Top 200) and Lloyd Banks' gold-certified 'Rotten Apple' (#3 debut on the Billboard Top 200). Featuring his basslines, Yayo's single "So Seductive" [feat. 50 Cent] went Top 10 on the Hot R&B/HipHop Songs Chart and took home "Best Club Banger" at the BET Vibe Awards. "It was awesome…I was playing bass in those sessions like I was fighting for my life," he smiles.

Collaborations followed with Mobb Deep, Redman, Mike Patton's Peeping Tom, Lady Gaga, and Tupac Shakur on 'Pac's Life'. In 2014, he received a GRAMMY® Award nomination in the category of "Best Dance/Electronic Album" for his contribution to Pretty Lights' 'A Color Map of the Sun'. Along the way, STU lent his talents to the Saturday Night Live Band, notably appearing during a much talked-about Kanye West and Kid Cudi set In 2018. Beyond numerous studio sessions, he served as music director for Matisyahu for ten years, co-producing and co-writing albums such as 'Akeda' and 'Undercurrent' in addition to a handful of singles.

"I find commonality in all types of music, and I'm always trying to string different genres together," STU explains. "I believe there's a way to thread dub, reggae, punk, hip-hop, trap, industrial, experimental jazz, and rock all together. I'm drawing on all of these influences."

In 2022 he continued to expand his scope. He produced and co-wrote for the likes of Perry Farrell and Fever 333, and played a pivotal role in Danny Elfman's 'Big Mess' release and live band. Playing bass for Danny grew into executive production on more than 20 remixes. In that process he also produced several songs featuring guest vocalists including Trent Reznor and Iggy Pop.

Now, STU has signed his first ever solo deal with Dine Alone Records, and will release his debut solo album later this year – which he both wrote and produced on with his friends; including Patrick Stump (Fall Out Boy), Angelo Moore (Fishbone), Jason Aalon Butler (Fever 333), Paul Leary (Butthole Surfers), Perry Farrell (Jane's Addiction), and more to be unveiled very soon.