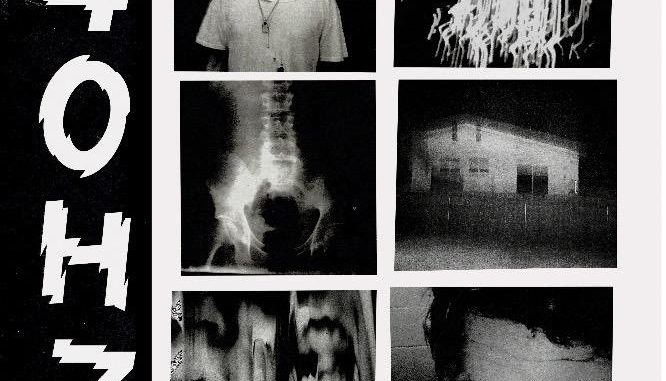 Watch HERE
Debut Album '40HZ' Out September 22nd
STU BROOKS has released another new single from his upcoming debut LP, '40HZ'. The Grammy-nominated bassist and Dub Trio co-founder continues to roll out an eclectic blend of songs (and collaborators) on his first solo project, this time partnering with familiar colleague and legendary composer in Danny Elfman, as well as genre-bending singer Poppy, on the track "They'll Just Love You".

BROOKS and Elfman are far from strangers to one another – on the contrary, STU served as bassist and executive producer on much of Danny's 'Bigger. Messier.' remix album (in addition to playing bass on the record's precursor, 'Big Mess'), which saw him producing on tracks featuring the likes of Trent Reznor (on "True" + "Native Intelligence") and Iggy Pop (on "Kick Me").

A stark contrast from the ethereal pop-gaze of the last single ("Everything She Wants"), "They'll Just Love You" continues to explore the dark industrial soundscapes that BROOKS and Elfman indulged in on the latter's 'Big Mess' (and subsequent 'Bigger. Messier.') LP. The new song is complimented by a horror-steeped music video, which was directed and produced by Dark Details Films.

Commenting on "They'll Just Love You" and the cast of collaborators involved, STU shares:

"Something about Danny and I just clicked when we first met, musically and personally. Now that it's been a few years of collaborating both live and on his albums 'Big Mess' and 'Bigger Messier', it feels full circle to have this new song together. Since this is his first feature ever on a record, it's an honour to collaborate with him on this.

He goes on to add, "When creating this song, I applied the same M.O. as I did with 'Bigger Messier', which is a collection of carefully curated collaborations. Poppy is such an incredible and unique artist that I knew she would be a perfect fit to duet with Danny. She went beyond my expectations. It was so fun to get in a room with her and composer Simon Wilcox and Matt Cronk, who are incredible artists in their own right."

Danny Elfman comments on the new song (and his first-ever feature on a track), saying, "I am so proud of STU. He's really upped his game. I was happy to contribute my voice for 'They'll Just Love You'. It's such a great new sonic arena for STU to play in and obviously he's flourishing there."
A seasoned studio bassist for some of the biggest names in music over course of his career, STU BROOKS will be busy on the road this summer. In addition to a limited run of shows in Southern California as part of Danny Elfman's live band, BROOKS will also continue in his role as bassist for Dominic Fike on the singer's "Don't Stare At The Sun" tour.
BIO:

Bass reverberates through the body and the reaction to those root notes and grooves actually manifests physically. Two-time GRAMMY® Award-nominated bassist, producer, songwriter, and Dub Trio co-founder STU BROOKS beckons this response every time he picks up a bass. Sharing the stage or the studio with everyone from Academy® Award winner Lady Gaga, Danny Elfman, Lauryn Hill, 50 Cent, and Mary J. Blige to Mike Patton, Pretty Lights, Mark Guiliana, Slick Rick, and even a posthumous recording for Tupac Shakur, his playing reverberates on an emotional and spiritual level.

"I think of it as getting hit with a massive telephone pole to the point where it changes your molecules and affects your body," he grins. "It takes the wind out of your lungs. I like changing the air in a space. There's nothing like the reaction when people are struck with sound. I love to play with emotion, but it also has to be a physical experience."

Among early gigs, 50 Cent's G-Unit recruited STU for the 6-time platinum-selling 'Get Rich Or Die Trying'. He notably handled bass on Tony Yayo's platinum-selling 'Thoughts of a Predicate Felon' (#2 debut on the Billboard Top 200) and Lloyd Banks' gold-certified 'Rotten Apple' (#3 debut on the Billboard Top 200). Featuring his basslines, Yayo's single "So Seductive" [feat. 50 Cent] went Top 10 on the Hot R&B/HipHop Songs Chart and took home 'Best Club Banger' at the BET Vibe Awards.

"It was awesome…I was playing bass in those sessions like I was fighting for my life," he smiles.

Collaborations followed with Mobb Deep, Redman, Mike Patton's Peeping Tom, Lady Gaga, and Tupac Shakur on 'Pac's Life'. In 2014, he received a GRAMMY® Award nomination in the category of 'Best Dance/Electronic Album' for his contribution to Pretty Lights' 'A Color Map of the Sun'. Along the way, STU lent his talents to the Saturday Night Live Band, notably appearing during a much talked-about Kanye West and Kid Cudi set in 2018. Beyond numerous studio sessions, he served as music director for Matisyahu for ten years, co-producing and co-writing albums such as 'Akeda' and 'Undercurrent' in addition to a handful of singles.

"I find commonality in all types of music, and I'm always trying to string different genres together," STU explains. "I believe there's a way to thread dub, reggae, punk, hip-hop, trap, industrial, experimental jazz, and rock all together. I'm drawing on all of these influences."

In 2022 he continued to expand his scope. He produced and co-wrote for the likes of Perry Farrell and Fever 333, and played a pivotal role in Danny Elfman's 'Big Mess' release and live band. Playing bass for Danny grew into executive production on more than 20 remixes. In that process he also produced several songs featuring guest vocalists including Trent Reznor and Iggy Pop.

That's just the tip of the iceberg. STU has signed his first ever solo deal with Dine Alone Records and he will release his debut solo album later this year, which he both wrote and produced on with his friends; including Patrick Stump (Fall Out Boy), Angelo Moore (Fishbone), Jason Aalon Butler (Fever 333), Paul Leary (Butthole Surfers), Perry Farrell (Jane's Addiction), and more to be unveiled very soon.